Lenovo Z41, Z51, Ideapad 100: laptops for diverse users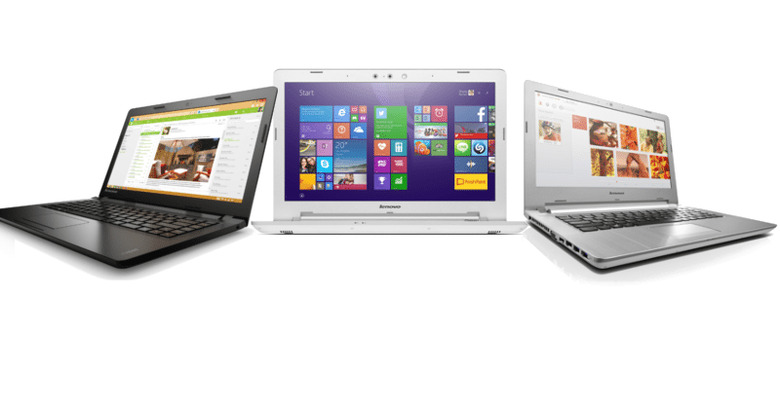 Lenovo just held its Lenovo Tech World, its first ever global event in Beijing, and there it unveiled three new laptops to fill up its shelves. Realizing that there is really no one size fits all when it comes to diverse laptop users, Lenovo revealed two sets to try to appeal to two broad groups. The Ideapad 100, which comes in 14 and 15 inch sizes, caters to those who mostly consume content, with a bit of office productivity on the side, while the Z41 and Z51 would sing to those who create them.
Lenovo Ideapad 100
Powered by a 2.16 GHz quad-core Intel Bay Trail M N3540, with the help of an integrated Intel graphics card, the Ideapad 100 may sound like a budget laptop. Especially when you consider the 1366x768 pixel resolution, which is the same for both 14 and 15 inch sizes. It does, however, support up to 8 GB of DDR3 RAM and up to 500 GB of HDD storage, or 128 GB for SSD. Plus its ebony hue, complemented by the 20.2 mm profile (22.6 mm for the 15-inch version), helps mask the fact that it is an entry-level computer.
The Lenovo Ideapad 100 is ideal for those who spend most of their computing time browsing the web, checking e-mail, or even some basic multimedia playback. With Windows 8.1 running inside, it can also be utilized as a productivity machine. That said, the 4 hour battery life severely puts limits on what you can do with this laptop.
Lenovo Z41
On the other end of the spectrum, the Lenovo Z41 and its practically identical twin, the Lenovo Z51, offer the bells and whistles not just for consuming multimedia content but also for creating them. The 14-inch Lenovo Z41 represents the base configuration of the two and already it exudes power. Running on the latest 5th gen Intel Core i7, the laptops can optionally include a dedicated AMD R7, or R9 in the case of the Z51, mobile graphics card. Supporting up to 16 GB of RAM and up to 1 TB of storage, this mobile computers are obviously designed to take a virtual beating. The Full HD display, true for both Z41 and Z51, are complemented by Dolby DS 1.0 Home Theater Surround Sound to flood both eyes and ears.
Lenovo Z51
While the Z51 and Z41 are mostly the same save in a few minor specs, the 15-inch laptop has one very distinct characteristic. It is compatible with an optional Intel RealSense 3D camera. This particular shooter, first seen also in a Lenovo product, brings objects to life, virtually. It allows them to scan real-world objects into 3D models, or convey a sense of depth even in still photos, which can later on be used to change focus even after the photo has been taken.
Availability
These three Lenovo laptops will hit markets in June. Which markets, Lenovo has not specified, but they can be purchased from the OEM's own online store. At the lowest run you will find the Ideapad 100 with a starting price of $249. The Lenovo Z41 and the regular Z45, on the other hand, start at $499. Throw in the RealSense 3D camera into the mix and you have a Z51 that starts at $599.