Lenovo Yoga Book with Chrome OS might be no more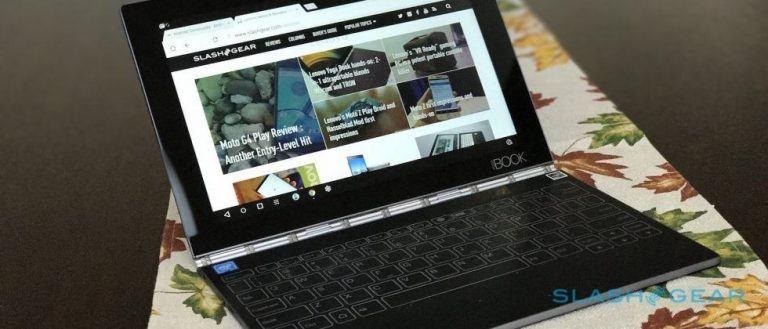 The rather innovative and daring Lenovo Yoga Book was somewhat great as a Windows 2-in-1 tablet and OK as an Android slate. It seemed, however, perfect for that other hybrid operating system, Chrome OS. Part desktop OS and soon part Android desktop, there have been signs that this other Google OS might be coming to the Lenovo Yoga Book soon. All those hopes, however, may have been dashed by a source code change that hints, but doesn't confirm, that a Chromebook Yoga Book is, for all intents and purposes, dead.
It's honestly not that hard to see the appeal of a Yoga Book running Chrome OS. The device itself, while sleek and light, doesn't exactly lend itself well to Windows 10, given its specs. Android 6.0 Marshmallow, on the other hand, isn't conducive for a laptop use case.
Chrome OS sounds almost perfect for it, however. The OS is as lightweight as Android and was designed for laptop use in mind. It has become more touch friendly of late, thanks to Chromebook OEMs pushing for touch screens, and with the addition of Android apps, it will make for a makeshift Android tablet. Plus Adobe's newly optimized apps would work great with the Yoga Book's Real Pen.
Sadly, that might never come to pass. A commit in the Chromium repository, on which Chrome OS is based, fixes an issue for the touch_keyboard of the Pbody, a reference to the Yoga Book and its Halo Keyboard. However, the commit also says that the Pbody is dead.
It isn't yet known why or who pulled the plug on this variant of the Yoga Book. The reasons are perhaps both technical, considering how the Yoga Book's hardware is non-standard, as well as business-oriented, as the Yoga Book, after an initial period of hype, seems to have faded into the background. While there might soon be third-party means of bringing Chrome OS to a Windows or Android Yoga Book, unofficially, that product is dead.
VIA: