Lenovo Yoga 720 Review -- A Slim, Premium Laptop With Thunderbolt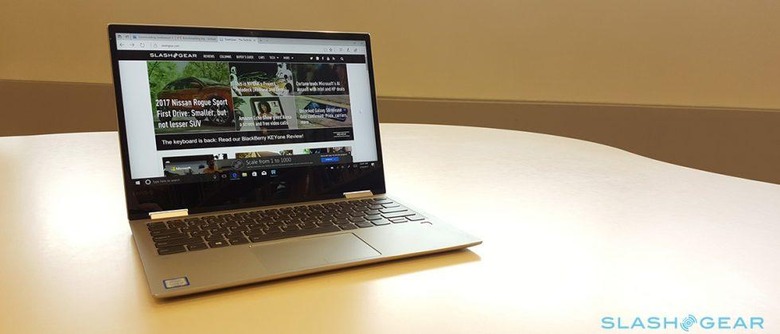 EDITORS' RATING: 8/10
Lenovo has updated its Yoga 700 product line with a new model, the Lenovo Yoga 720. This model is best described as sleek, silver and slim, if you'll forgive the alliteration, and it comes with a sub-$1,000 price. There's a lot to like about this laptop, and you can spot some of them upon first glance — the ultra-slim bezels are a great start, as is the ultra-flexible hinge. Is the latest Yoga model worth the upgrade, though? Read our full review to find out!
Hardware & Design
If you've ever used a Yoga laptop, you'll have an idea of what to expect: namely a very flexible hinge that enables the display to rotate back to various degrees including into a tablet mode. This facilitates a handful of possible arrangements, including placing the keyboard down and the display up for unfettered access to the touchscreen. The display itself is shrouded with very slim bezels and coated with a glossy surface.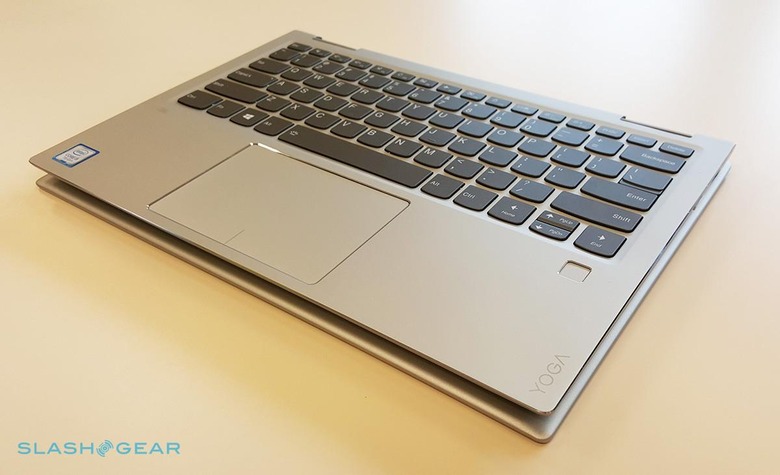 Turning attention from the display to the keyboard, users will find a comfortable and attractive design that is easy to type on. The keyboard layout is fairly traditional and I didn't have any issues using it — no adjustment period necessary. The keys also have a nice amount of resistance without unnecessarily loud clicking or clacking. The surrounding surface is metallic and clean with a very slightly abrasive texture; this leads to polished metal edges cut at a slight angle, as well as polished chrome edges surrounding the smooth trackpad.
It would be fair to describe the Yoga 720's design as both premium and minimalist, the combination of which is very aesthetically pleasing. The laptop's left edge features two slim USB-C ports and an audio jack; the right edge has a USB-A port and the power button. The underside, meanwhile, contains two speaker grilles and four rubber feet.

The design ultimately complements the display, which is the Yoga 720's true attention-grabber. The high level of gloss can make it difficult to see the screen if you have it angled upward in a bright room, but that issue aside I found it very pleasing. Colors are well-saturated — but not excessively so — and the brightness can be set very high.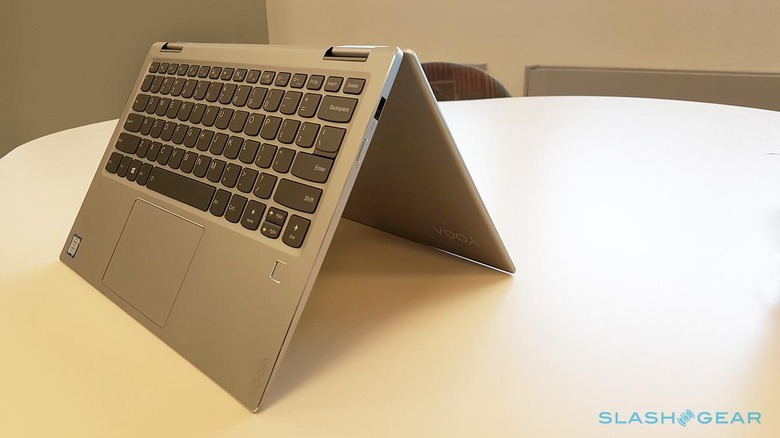 TECH SPECS

Processor: Up to 7th Gen Intel® Core™ i7

Operating System: Windows 10 Home

Display: 13.3" FHD (1920 x 1080)

Graphics: Up to Intel® HD Graphics 620

Camera: HD 720p

Memory: Up to 16 GB DDR4

Storage: Up to 512 GB PCIe SSD

Battery: Up to 8 hours with FHD display

Audio:

- 2 x JBL speakers

- Dolby® Audio Premium

Security: Fingerprint reader

Ports:

- 2 x USB Type-C with Thunderbolt

- USB 3.0

- Audio jack

Connectivity:

- 802.11 a/c WiFi

- Bluetooth® 4.1

Dimensions: 12.2 x 8.4 x 0.6"

Weight: 2.9 lbs

Colors: Platinum Silver
Software & Performance
The Yoga 720's performance was great during general usage — Internet browsing, streaming, mild photo editing, downloading and uploading, etc. The laptop is available in multiple configurations and your own experience will depend on the hardware your particular laptop possesses. Our particular review unit features an Intel Core i5 processor, though buyers can choose up to a Core i7. As far as battery goes, the laptop managed to get me through a full workday, but not much beyond it. Lenovo says you can expect up to 8 hours on a charge, and that proved true.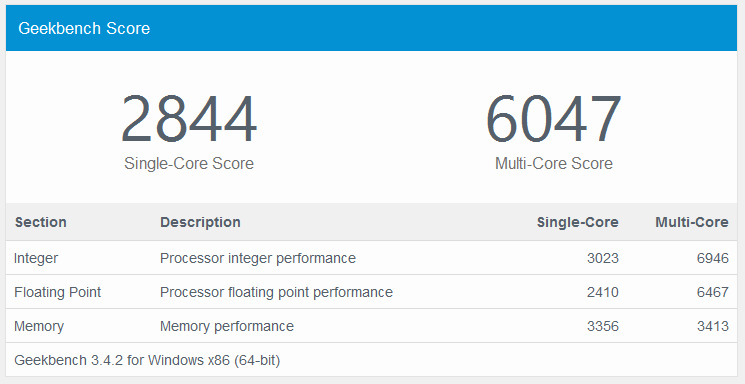 Software, meanwhile, includes some Lenovo applications like Companion and App Explorer. There are also some preinstalled things like Candy Crush and March of Empires, but overall it isn't too bad. The Yoga 720 runs Windows 10.
What we like
There's a lot to like about the Yoga 720 and pinpointing any particular feature as best is difficult. The overall design is quite attractive; the keyboard is comfortable and quiet; the touchscreen is very sensitive and accurate; the audio quality is good as far as laptops are concerned; the inclusion of a fingerprint sensor helps make a good laptop great.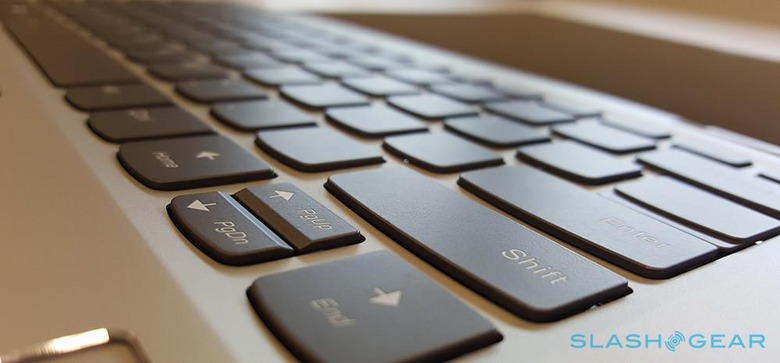 Two USB-C ports help eliminate some of the adapter-centric issues, in that users can charge and use one other device at the same time without an adapter. This does lead into a potential issue, though, which is covered in the next section.
Issues
Overall, I really enjoyed using the Yoga 720. The only thing I didn't like was the fan which activated shortly after turning the laptop on despite not yet opening any applications. Though it may not be noticeable in a regular work office, it was loud in the quiet library and would likely also be heard by others in a classroom setting.
The only other potential issue for some users is the relative lack of ports. This reality is no doubt due to the inclusion of USB-C, which is capable of handling many tasks. As with certain MacBook users, though, anyone who frequently uses dongles and peripherals will have to carry around an adapter to utilize certain connector types like HDMI.
Wrap-up
The Lenovo Yoga 720 is a sleek laptop with a premium feel and an attractive design, and that's just the start of things to like about it. Features like a fingerprint sensor, touchscreen, and a 360-degree hinge help set the latest Yoga model apart. Whether this laptop will ultimately suit your own needs is for you to determine, but anyone in need of an ultrabook would be well advised to give this model a chance.
Price starts at $780 USD on Lenovo's website.