Lenovo Yoga 700 Review: A Beautiful Update To A Solid Laptop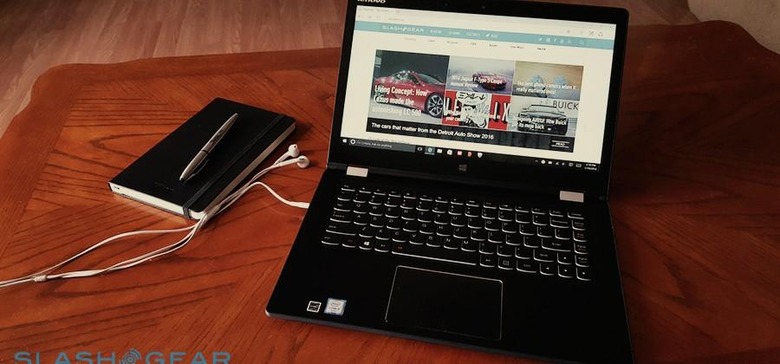 Lenovo is back with an update to its Yoga 3 14, and the successor comes by the name Yoga 700. This model brings with it all the best things a Yoga laptop has to offer, but alongside updated hardware and overall improvements that make for a solid model update. We recently got our hands on the Yoga 700 and took it for a spin; read our full SlashGear review for all the details!
Hardware
The Lenovo Yoga 700 resembles, at first glance, the ThinkPads that dot Lenovo's notebook roster. It has some elements that are different, though, in terms of design. Most notably, the Yoga 700 has a brush metal interior around the (backlit) keyboard, the latter of which is low-profile and pleasantly textured. The lid and the rest of the outer shell are more plain, in our case being solid black excepting the hinges.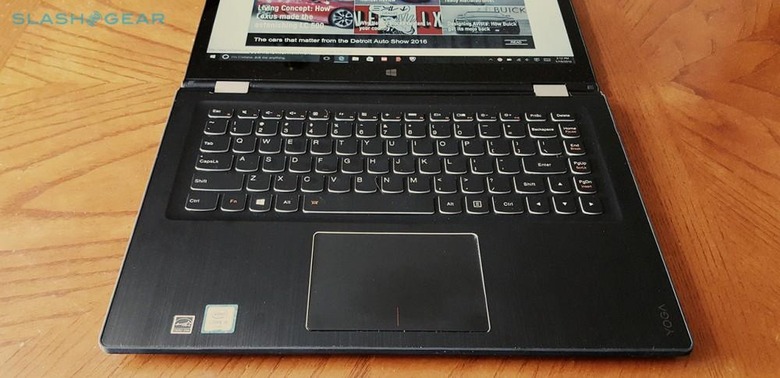 The trackpad's design is also notable, featuring a single thin line and shiny trim around the edges. There are no bumps or ridges or unnecessary buttons (that is, there are no buttons at all), making for an overall elegant element smoothly contrasting the brushed metal design around it. That same sort of refined construction is presented with the keyboard, which has keys surrounded on the edges by a lighter color — the contrast this gives isn't in-your-face, but does provide a pleasant, if not modern-looking, flavor.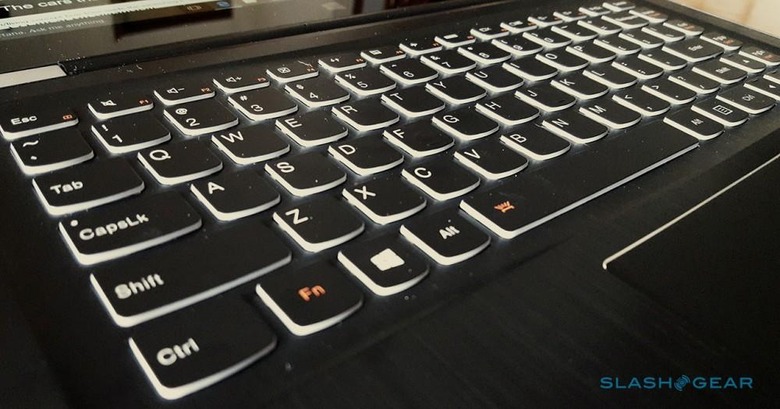 The buttons and various ports are in a row down the right and left edges of the laptop; the right side features the volume rocker, power button, HDMI, USB, and some LED lights. As you can see in the images, the edges also have a different texture than the rest of the laptop, featuring a dot-like design.
The left side doesn't have as many ports, featuring the 4-in-1 SD card slot, a couple of USB ports, and the audio port.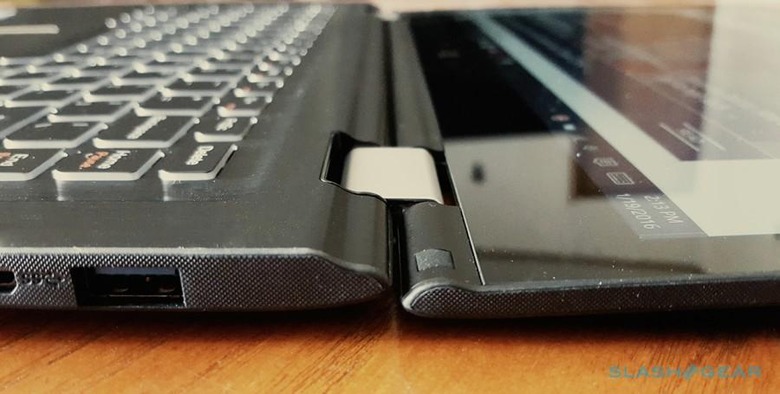 Of course, the Yoga 700 is just as flexible as Lenovo's other Yoga laptops; you can push the display back to lie flat, and can then continue pushing it back until, at the most extreme, the laptop has been converted into tablet mode. The display can also be positioned so the laptop is in "Tent" and "Stand" modes, as well, each suitable for different types of activities (you might put it in Stand mode if you're playing a game, for example, and Tent mode if you're watching a movie.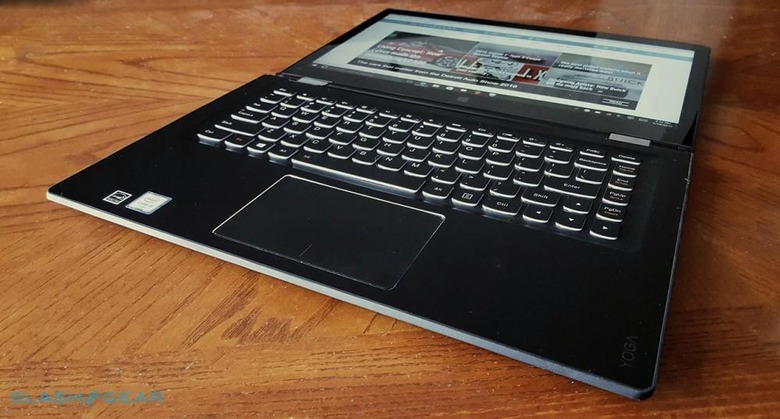 Tech Specs:

Processor: Up to 6th Generation Intel® Core™ i7 Processor

Operating System: Windows 10 Home

Graphics: Integrated Intel® HD / Up to NVIDIA® GeForce® 940M 2 GB

Storage: Up to 256 GB SSD

Audio: Stereo Speakers with Dolby® DS 1.0, Home Theater® Certification

Display: 14" FHD (1920 x 1080), IPS

Dimensions: 13.18" x 9.03" x 0.72"

Weight: Starting at 3.5 lbs (1.6 kg)

WLAN: Non-Intel® WiFi 1 x 1 802.11 a/c or

Non-Intel® WiFi 2 x 2 802.11 a/c, Intel® WiFi 1 x 1 802.11 a/c + Bluetooth® Combo Card

Connectors: 2 x USB 3.0, 1 x USB 2.0 with D/C-in

4-in-1 Card Reader (MMC, SDHC, SDXC and SD)
Software & Performance
As expected, the Yoga 700, which runs Windows 10 Home, comes preloaded with some applications, in this case mostly Lenovo's own various offerings. There's Lenovo OneKey Recovery, Companion 3.0, Photo Master, SHAREit, and REACHit. As well, and less welcomed, is the inclusion of McAfee LiveSafe, though of course it can be uninstalled if you don't want it.
The Lenovo Yoga 700 has slightly better performance than the Yoga 3 14, which isn't surprising given that it runs an Intel i5-6200U processor whereas the Yoga 3 14 has an i5-5200U. That change serves to underscore the type of hardware improvements the Yoga 700 brings over the Yoga 3 14; the laptop's performance is overall very speedy and presented no issues during use.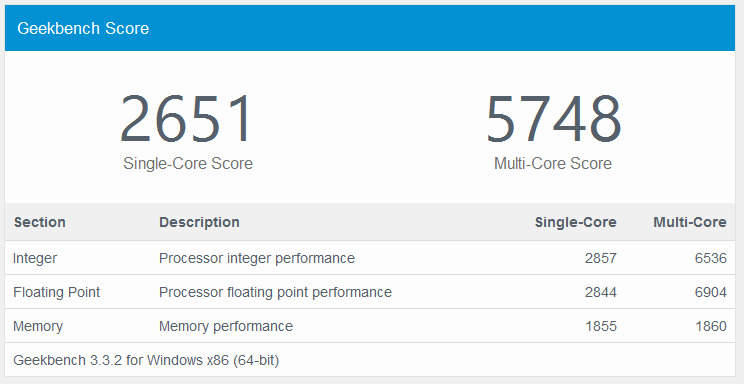 Conclusion
If you liked the Yoga 3 14, you'll love the new Lenovo 700. The laptop is both refined and powerful, offering a hint of personality in the design without looking cheap alongside overall solid hardware. The laptop feels sturdy in the hand and comfortable to type on, and won't look out of place in a professional environment. This is merely the latest in a large array of new laptops Lenovo has introduced this year; be sure to hit up our Lenovo portal for all the latest news and reviews!
Price starts at $800 USD on Lenovo's website.