Lenovo ThinkVision Brings Android To Your Desktop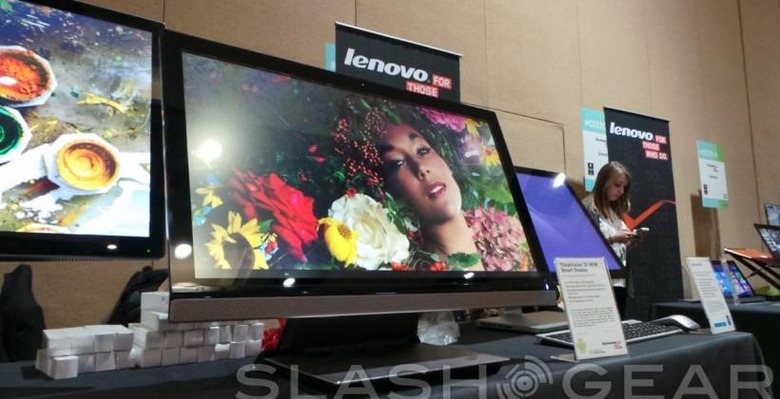 Looking for an Android desktop? Look no further than the Lenovo ThinkVision. Lenovo has built a gorgeous Android desktop, and it's touch capable to boot. With a display the size of a small TV, the Lenovo ThinkVision is a step in a new direction. It might be the first time we don't want to use a keyboard and mouse combo on a desktop.
The 28-inch screen boasts a magnificent 3840x2160 resolution, or what Lenovo dubs 4K2K. Colors shine and even blacks look true to form. The touchscreen was responsive, too, and supports 10-point touch for those games or apps that require it. From a pure productivity standpoint, the Lenovo ThinkVision might be a good option.
It's running the "next generation" NVIDIA Tegra chipset, which is probably the 4i. If you're a KitKat fan, not to worry — this one has it. To round out the cool factor, it supports Miracast for wireless display support.
WiFi connectivity, Bluetooth 4.0, and NFC round out the quick-look at the feature set. The stand can go from zero to 90 degrees, too, so it'll adjust to you in just about any form you like. It has Play Store support, making it the most brilliant Android desktop we've seen.
We'll be bringing you more news from CES 2014, so be sure to stay tuned. If you like, feel free to bookmark our CES 2014 tag and check back often! The Lenovo ThinkVision is just the first in a long line of awesome devices and neat gadgets we'll be bringing you all week.