Lenovo ThinkPad X300 Up For Pre-Order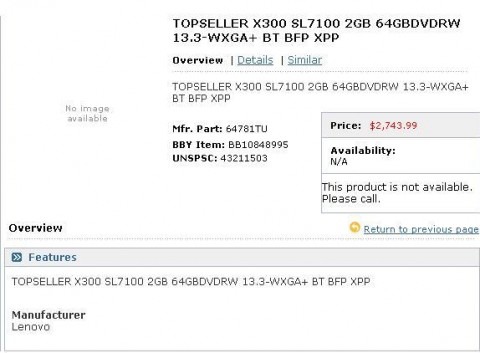 Lenovo still hasn't officially announced the X300 that has been rumored for sometime. It looks to be a Windows (or Linux) version of the MacBook Air with a rumored 2.5 pound weight and the fact it will be using a similar processor as the MacBook Air.
You'll be able to get it with a 64GB SSD, it also comes with a LED backlit LCD that's 13.3 inches in size. The best buy add also suggests it will have 2GB of memory and come with XP Pro. The rumors include Wireless USB and WiMAX, but there aren't any listings I saw with any more details about either of those 2.
Other pre-order adds ad that it will have WiFi a/g/n, a 3 cell battery, camera, Bluetooth, and they all say something about SL7100, I don't know if that is the model name for the new small package Merom processors or if its part of the notebooks model number. This notebook will clearly not be cheap as the highest pre-order price is $3081 and the cheapest is $2574, good luck moving a lot of those Lenovo.
[via electronista]