Lenovo ThinkPad X131e specs detailed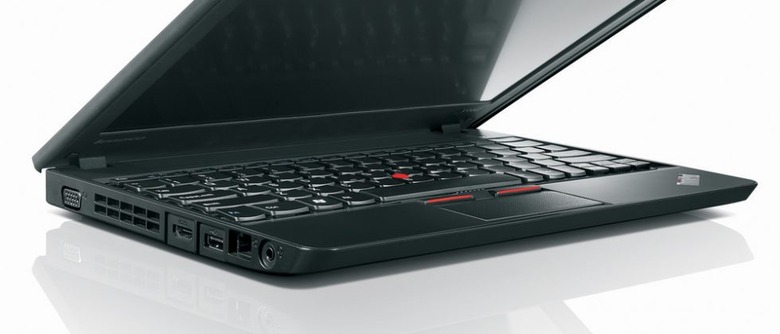 We may receive a commission on purchases made from links.
Netbooks may have had their five minutes of fame, but it looks like Lenovo still thinks life left in the category. Netbook News has spotted specs for the upcoming Lenovo X131e, the successor to the X130e that was running AMD's Zacate platform. The X131e looks to have the new Brazos 2.0 APU, featuring either a E1-1200 or E2-1800 CPU, plus boosted Radeon HD 73xx graphics. Just like the X130e, there will be an optical ULV Core i3 option too.
In terms of design, not much has changed: the 11.6-inch notebook still has a 1366x768 display, but the specs and port selection have been tweaked. Options will include a dual-core E1-1200 clocked at 1.4Ghz, or a E2-1800 clocked at 1.7Ghz. The GPU on the E1-1200 will be a HD 7310, while the E2-1800 gets a HD 7340 with slightly higher clock speeds and a turbo boost mode. TDP for both options is said to be 18W. There will also be an option for a Sandy Bridge Core i3 ULV CPU which will come with the integrated HD 3000 GPU.
Up to 8GB of RAM can be configured with X131e, although speeds get a bump to 1600Mhz, up from 1333Mhz. The notebook also adds two USB 3.0 ports and HDMI v1.4 in addition to the single USB 2.0 port, Ethernet jack, VGA port, and 4-in-1 card reader. Hard drive options include either a 320/500GB drive at 5400/7200RPM, or a 128GB SSD. The whole thing weighs 3.92lbs, and the 6-cell battery is rated for up to 8.5 hours of runtime.
There's no word on exact pricing, or even a firm release date, but the current X130e runs around $500, so expect a similar starting price for the X131e. Lenovo's landing page for the X131e only lists "September 2012" right now, so you'll have to hold tight if this sounds like the right portable notebook.