Lenovo ThinkPad Tablet Review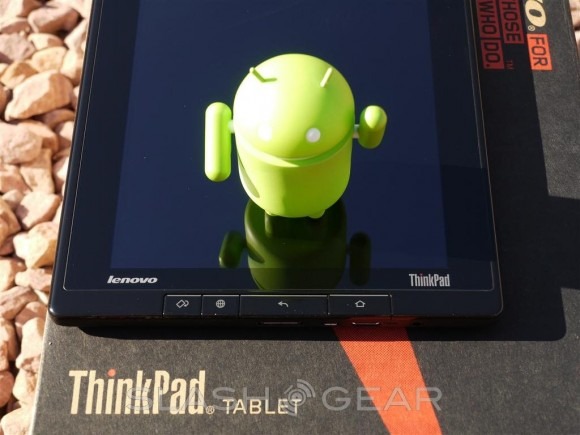 Today we have the Lenovo ThinkPad tablet on the review board. The ThinkPad has the body of a tablet but the head for business. Running on Android 3.1 Honeycomb, but filled with years of business and consumer laptop thoughts and ideas thanks to Lenovo. The ThinkPad tablet helps power users and business professionals alike do more on the go, while managing to stay extremely portable even if it's a bit heavy. We've gave it a quick glance and have plenty of photos and video after the break, so dig in and enjoy.
Hardware
To start with the hardware we have a quick video for you below, as well as our hands-on and unboxing post you can see here. What you get is an Android 3.1 Honeycomb tablet with a bright and vivid 10.1" 1280 x 800 resolution IPS display. The IPS looks bright, vivid, clear, and has great contrast. Like most IPS displays the viewing angles are also quite excellent so that is another plus. Powered by the all to familiar NVIDIA Tegra 2 dual-core processor at 1.0 GHz, 1GB of RAM, 32GB of internal storage (16 and 64GB versions also available). Coming in around 14.5mm thin and weighs 1.65 lbs. It may be heavier than most but it also has a wide array of ports for any users needs. More hardware specs and pics can be found after the video.
Lenovo ThinkPad Tablet hands-on
[vms 16e0238f741fab228fec]
With all the ports you could ever need for full productivity and having stylus support this truly is a do-it-all tablet. Based on the buttons, ports, and labels on bottom we can assume Lenovo expects this to spend much of its time in portrait mode so I'll go over the hardware as such. On bottom we have 4 dedicated buttons, something we don't see often with Android Honeycomb tablets. While I've found them a bit useful at times, they get in the way more than they are helpful — just my honest opinion. They are a screen orientation toggle, a web browser launch button, then the standard Android back and home buttons. They also seem a bit hard to push needing the right angle since they click toward the display rather than going down so sometimes I feel i need to almost roll my finger to get it to recognize the input.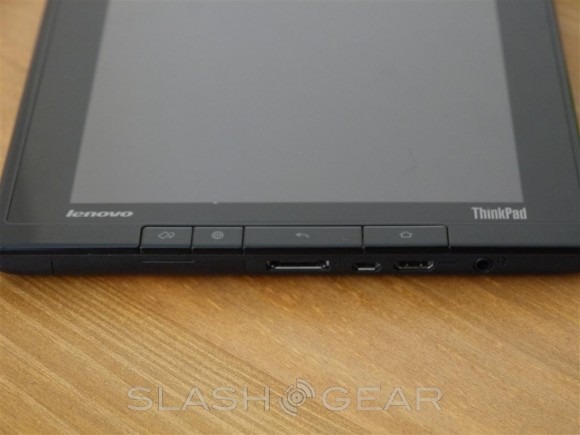 Along with the hardware buttons the bottom also features all those convenient ports we mentioned above. With a 3.5mm headphone jack, mini-HDMI, micro-USB, a 30 pin dock connector, then a door with a full sized SD card slot as well as SIM support for 3G connectivity.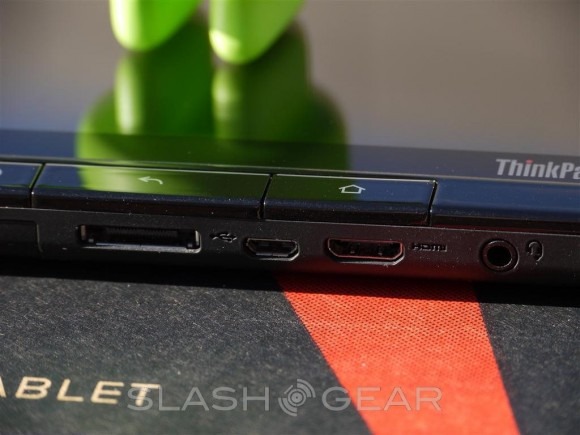 Around to the left side (bottom for landscape) we have a full-sized USB port and a single speaker grill and that is about it. Very simple design and not a lot to it, but that doesn't matter when you have tons of ports and are aimed at productivity right?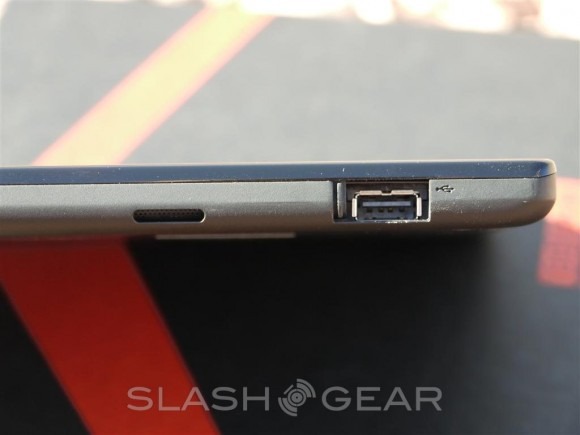 The on top and the right side we have the volume up/down rocker as well as the power button. The top (or bottom left in landscape view) has a dedicated cutout and hole for the included stylus. the stylus fits neatly away and is for the most part out of sight. If you happen to lose the stylus or forget it, the hole where it belongs gets very irritating and can actually bother you depending on how you hold the tablet so I'd recommend leaving it in place. It has a nice design and is easy to slide in and out so that shouldn't be an issue.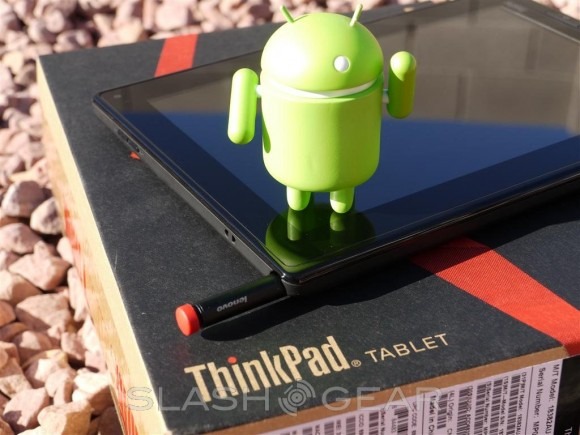 Software
Enough about the hardware, lets talk about software and what you can do with the stylus. First off I'll mention we have Android 3.1 Honeycomb — mostly stock with a few small changes and "enhancements" from Lenovo like an additional home launcher type widget for quick and easy launching of most used applications and more. User interface is clean, neat and performs as expected for an Android 3.1 Honeycomb tablet. Just like the IdeaPad K1 tablet from Lenovo the unlock screen has a good 1-3 second delay from when you hit the wake button, to when the screen will actually recognize your swipe to unlock the device on-screen. This isn't a deal breaker but seems to slow down usage a bit as you have to wait for it when you shouldn't need to.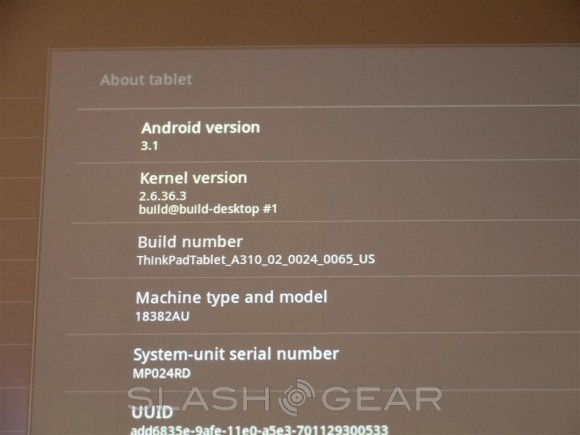 Clearly a lot went into making this tablet near ready to go right out of the box. Lenovo has provided tons of application for both regular users and business professionals both. With stylus support and memo pad apps, to Documents to go and more. The pre-loaded applications are in no way bloatware and are almost all things most users would want, need, or download at some point. Below is a few screenshots of the included applications.
More of the many apps included straight out of the box are Netflix, and Angry Birds HD. Both of these many users will indeed use and how can anyone possibly call Angry Birds "bloatware" right? Lenovo also has what they call the Lenovo Launcher, and the Lenovo App Wheel — both right on the homescreen for quick and easy navigation to all your favorite or most used applications. Here are a few pictures of those as well as a hands-on video right from the Lenovo product announcement.
Lenovo Launcher and App Shop details
[vms 8c6aa018e86dac21d360]
Performance
The performance of the NVIDIA dual-core processor is to be expected, performing right on par with most Honeycomb tablets thus far. Nothing is really any different here and just as we expected it seems stable, fast, and average in benchmarks. We won't see anything too crazy until we get faster processors and quad-cores in our tablets. We've ran a few benchmarks as we always do — those being Quadrant Advanced, CF Bench, and Vellamo. Surprisingly the ThinkPad actually scored higher than any tablet I've tested thus far stock out of the box in the Vellamo tests.
Quadrant – 2011
CF Bench – 9332, 2399, 5172
Vellamo – 989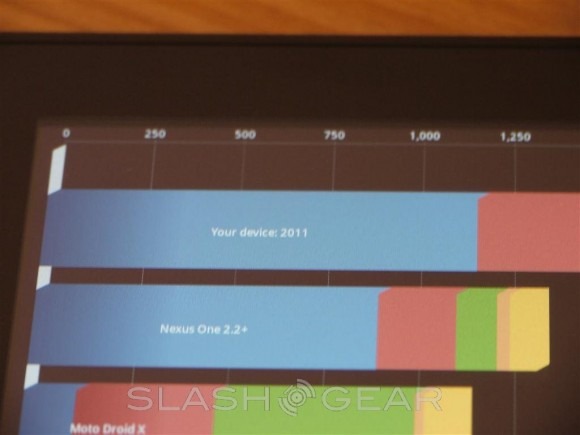 ThinkPad Pen
The ThinkPad Pen (aka Stylus) is actually quite convenient for daily use. Most of the time I'm perfectly happy with using my hands, especially on an OS designed for touch input but the stylus works extremely well for note taking and drawing applications. Equipped with a comfortable pressure sensitive pen you can feel free to doodle when bored, or note take during those important meetings.
We have a nice application pre-installed called Notes Mobile and after messing around with it, the features it provides are awesome for business users, or even students. While you can scribble away as much as you'd like (and as messy) you can also opt for the tablet to automatically convert your writing into not only a neat and readable font, but digital format that can be saved and emailed to others. The picture below will show a few different things. The first line being the automatically converted words into a neat font provided by Lenovo — I wrote it sloppy and it adjusted to be readable and look good both. The second line is the same thing wrote by myself with no changes from the software, just as the stylus allowed. Input is very smooth, accurate and fluid. The response is fast and I could see myself writing quick notes in class with ease here. The last line I attempted to show the pressure sensitivity. "Slash" is wrote with less pressure, and "Gear" I'm applying a bit more for a bolder ink look.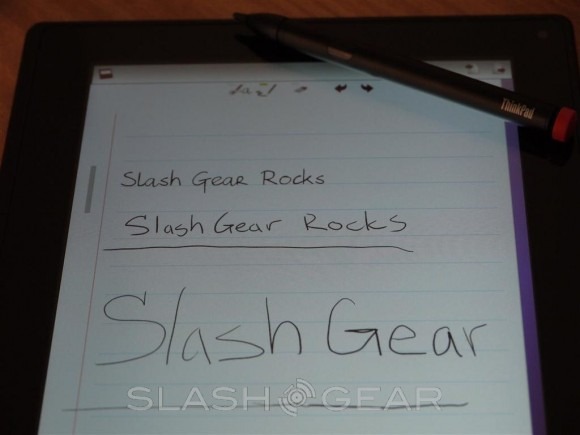 Everything is adjustable from font size, style, color, and we even have a bold option. One thing worth noting for all you lefties out there (myself included) is in settings Lenovo has provided a left hand options. The ThinkPad has something called "Palm Rejection" and when the stylus is active and you place your hand fully on the display it will only recognize the pen input. This was a little goofy at first until I found the left hand palm rejection option under settings.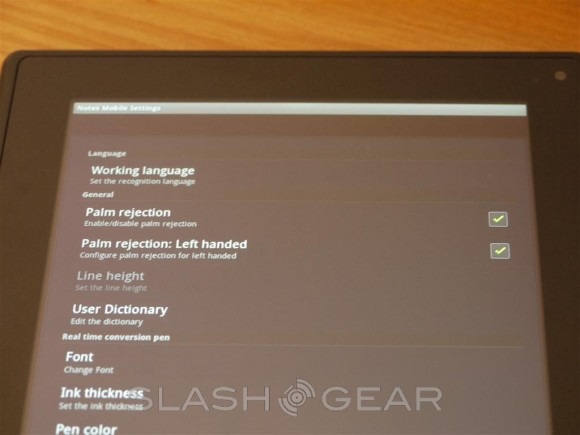 While not activated on my tablet out of the box Lenovo provides a 3rd party keyboard that will enable users to quickly swap from touch input, to stylus input. Writing emails, and more can all be done with the stylus should you choose not to do the "hunt and peck" thing with the on-screen keyboard.
Security
I didn't try these features myself but Lenovo has also added a few very neat security features for business users on the ThinkPad. We have Absolute Software recovery, and McAfee Mobile Security both installed. Absolute Software will allow security commands to take complete control of the ThinkPad tablet if lost or stolen — even if the thief wipes the device back to factory state. Included is data backup as well as full remote deletion of data for those important business documents. Absolute Software will also be able to trace the tablet using the included GPS and recover a stolen device, but this is nothing new, just an added benefit of buying Lenovo.
McAfee Mobile security also proved addition support and safety while browsing the web, and also features many of the same lost or stolen features mentioned above, including data backup/restore.
Camera
The Lenovo ThinkPad features a 5 megapixel camera around back (sadly with no LED flash) and a powerful 2 megapixel camera around front for video conference and chatting. Having a better camera on the front is one more reason the ThinkPad is geared toward business professionals that need the option to video conference. Here are a few example photos with the camera for an idea of its performance.

Then a quick shot with the 2 MP front facing camera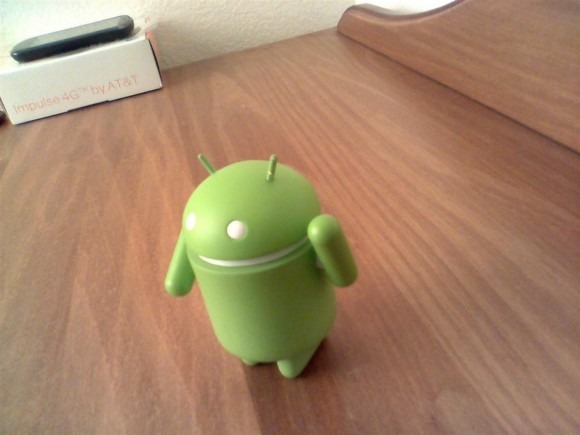 Battery Life
Powered by a 3250 mAh battery we have averaged pretty respectable battery life so far. While it doesn't compare to the Galaxy Tab 10.1 and its 7100 mAh battery the ThinkPad has performed quite well. The image below isn't fully accurate as far as what all I've ran because there should be plenty of games and benchmarks listed but it does give you an idea of what to expect. I used the ThinkPad tablet off and on throughout the day. Picking it up when needed, and leaving in standby when not in use and I've managed about 22 hours from a single charge with 10% remaining. For continuous use it wont last that long, and you can expect to see about 7-8 hours of straight up usage. One thing to note is the screen-dim feature where the tablet will automatically sleep the screen was set by default to 30 minutes — most tablets are 1 minute. First power up I left it alone for about 20 minutes and returned surprised it was still on. I'd turn that down first thing.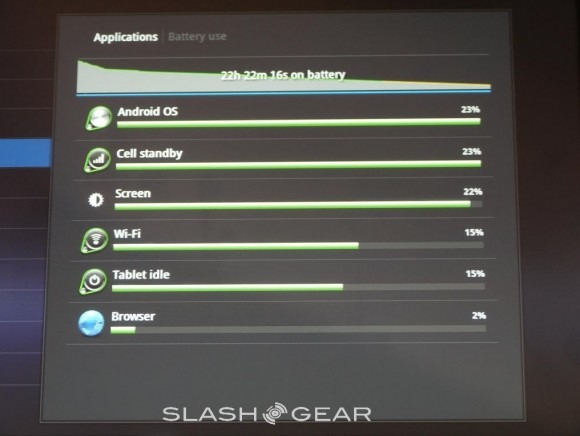 Wrap-Up
This tablet is pretty decent and should be great for business users and professionals. While the stylus works for full navigation everywhere the user needs from swiping through homescreens and choosing apps and more. Certain applications have no use for it, like Documents to Go — it has no doodle or stylus support so the stylus us useless here. We can expect to see more apps take full advantage of the pen in the future and the Lenovo App shop has a few that are confirmed to support it also.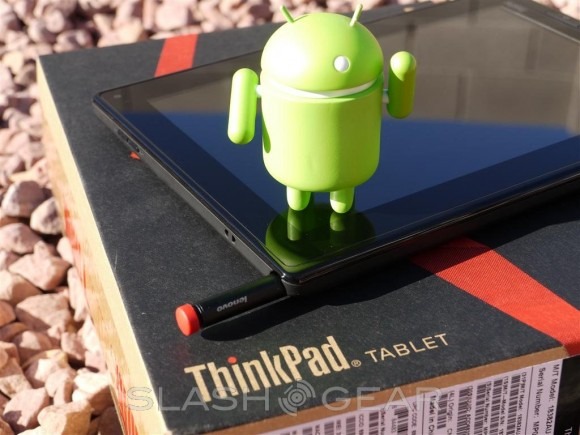 While the ThinkPad tablet offers a great overall user experience for many users, the added features I just don't see being all that useful unless you truly need them. I've enjoyed the time I've spent with it but would be equally happy with the Transformer. On a more business or student side of things this is a great tablet and has enough features to make it worth the added bulk and weight over other tablets on the market. This all comes down to personal needs and someone wanting a tablet will all the options and ports under the sun, that also has stylus input support as well as the latest Android 3.1 Honeycomb — this is the tablet for you.
The Lenovo ThinkPad Tablet is available now starting at just $499 by heading over to lenovo.com