Lenovo ThinkPad Tablet 2 Review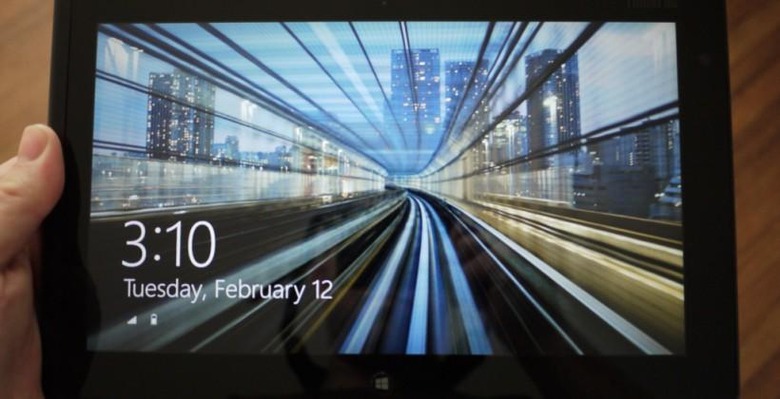 The first Lenovo ThinkPad tablet ran Android and wasn't quite as popular as the company was expecting, but that didn't stop them from delivering a quality product with round two. Today we have the new Lenovo ThinkPad Tablet 2 Windows 8 Pro hybrid on the SlashGear test bench to share with you all. Everything we loved about the original, including stylus support and 3G connectivity has been delivered on this new full-fledged Windows experience device. Read on to find out our thoughts on the re-imagined ThinkPad Tablet 2.
Hardware and Design
At first glance you could easily mistake the new Tablet 2 for just another Windows tablet, but its whats at the core that separates this from the others. Running on Intel silicon it is powered by a 1.8GHz Intel Atom Z2760 processor, 2GB of RAM, and has 64GB of storage under the hood all enjoying the full Windows 8 Pro experience. No arm-based processor here, yet not the full Core i5 of the Surface Pro.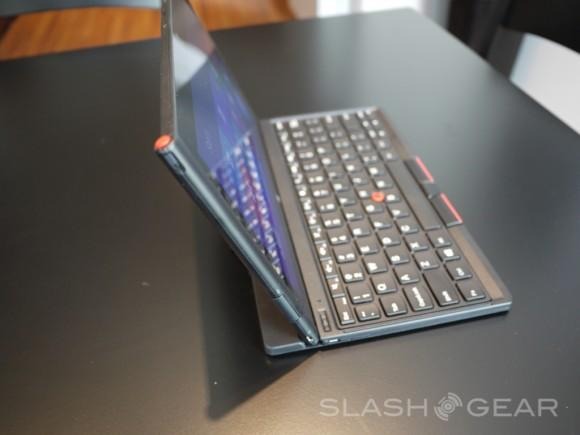 Everything about this slate that doubles as a PC is perfectly in line with the traditional Lenovo design. Right down to the ThinkPad soft touch matte black rubber, red accents (on the stylus and optional keyboard) and a simplistic yet elegant design. The usual "ThinkPad" logo with a glowing red i is present, and the optional Bluetooth keyboard has the all too familiar red Lenovo trackpoint. More on the keyboard below. While this helps with Windows 8, you'll be swiping and using the touch sensitive display most of the time, then if you opt for the stylus supported Tablet 2 that option is also available.
Now lets talk look and feel. Of course this looks like a Lenovo and it even feels like one. Add in the fact that they managed to squeeze an Intel Atom inside, an 8 megapixel camera, 64GB of storage, stylus, 3G/4G connectivity and more yet deliver something lighter than the original — we were happy to say the least. Weighing just 1.3 lbs this is lighter than the original, and certainly lighter than the Surface Pro coming in at just under 2 lbs. Daily use as far as a "tablet" goes was extremely comfortable here. The soft touch design, rounded edges and more all made for a ergonomic design that was complimented by the light weight yet durable build quality. There's still a little flex in the rear using softer materials, but nothing worth docking points for.
We have the 30 pin port down on bottom accompanied by a mini HDMI-out option for streaming and screen sharing. The right side employes the screen rotate lock, volume up/down, and the 3.5mm headphone jack. Wrap around to the top left and you have the power/wake button follow by a door accessing the micro-SD slot for extra storage (which will be needed) and the optional 3G/4G SIM slot for those paying extra for connectivity. Then there's the stylus, and the left bezel happily has a full-sized USB 2.0 port as well as micro-USB. The back has two small stereo speakers that get relatively loud, but are in odd places and not uniform, then you'll enjoy an 8 megapixel camera with flash, but results were average at best. More on that below. Check out the video below for an idea of the hardware we'll be working with.
In the end the hardware is a toss up in terms of comfort, design, and quality. The lightweight plastic makes it easy to hold, comfortable, and lightweight compared to the Surface Pro, yet obviously doesn't feel as durable. In the end any previous Lenovo or ThinkPad owner will find it a joy to use.
Specs and Options
The ThinkPad Tablet 2 comes to market with an entry level price of $579, then from there the options are fully customizable. Ranging from 32 and 64GB of storage, stylus support, 3G/4G LTE connectivity and more. Then their mediocre bluetooth keyboard will run you $120 which was great, but is only a keyboard and offers no extension to battery life. You'll enjoy a 10-inch 1366 x 768 HD resolution display, the next gen Intel Atom 1.8 GHz processor but it only comes with 2GB of RAM as a top option. Full size chart is 10.1" x 6.9" x 0.34" and it weighs in at just 1.25 lbs.
One thing you might want to consider is if you opt for the Stylus and digitizer model with 3G/4G support it will increase to 1.3 lbs, and you'll also lose NFC which is available on the WiFi model. A fair trade off for business professionals needing the best of both worlds. This option runs you $679 instead, but is well worth it. The rest includes an 8 megapixel rear camera with flash, 1080p video support, 2 megapixel front camera for video conferences, full-size USB 2.0, micro-USB, and HDMI out as mentioned above. You'll enjoy 10 hours of battery life according to Lenovo.
Display, Keyboard and Stylus
The Tablet 2 rocks some impressive specs, but we'd love a higher resolution display. Offering 10-inches with a 768p resolution it's still HD, but we'd enjoy seeing 1080p these days. Lenovo's equipped it with a beautiful IPS panel with wide viewing angles, inky blacks, and vivid colors that really enhances the beautiful tiles in Windows 8. The screen glare was minimal, but there's no anti-glare option available either.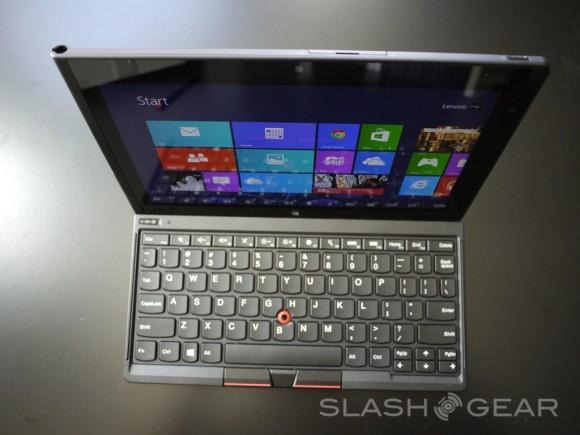 Now with a 5-point multitouch display you'll be gesturing and enjoying Windows with ease, but they also offer the stylus for those opting to pay $50 more. While the experience didn't seem as fluid or polished as the Surface Pro, it was enjoyable. The stylus is pressure sensitive but was a little hit and miss for us. It offers a unique experience some other Windows 8 tablets can't provide, has shortcuts for screen capture and snippets, but is it worth it? In the end the feature is here, and great for those who need it, but personally we'd go without.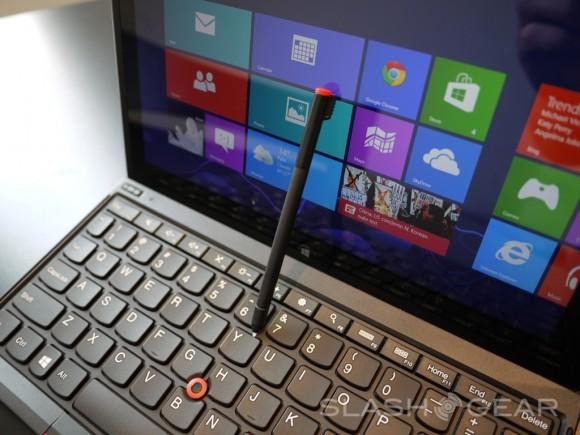 The optional keyboard dock from Lenovo is actually pretty nice, although it doesn't enhance battery life in any ways. Being built of cheap plastic you'll lack that premium feel, but it's the usability that makes it worth the $120 price. This makes it a real ThinkPad — in a sense. Using Bluetooth you'll be paired in seconds, enjoying the trackpoint for a full Windows Mouse-like experience, and the chicklet style layout is actually extremely comfortable. Cramming all those keys and 6 rows on a 10-inch slate size space we were worried, but this is one of the better ones we've tried as of late.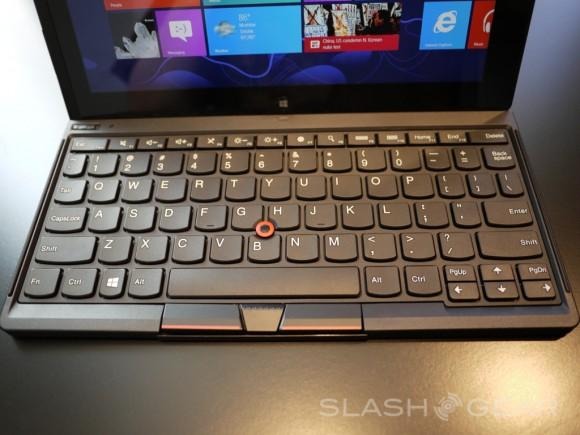 Their layout and ease of use replicates many of their previous laptops, even though they are obviously saving space. I managed to miss the backspace button often due to the smaller than usual size, but all the top keys for shortcuts sure are nice. Overall the keyboard has a familiar and comfortable feel, and should handle daily abuse with ease. Our only complaint would be the lack of angles, as well as it simply resting in place. Be careful while moving from the couch to your desk as it could fall out with ease. We'd love a magnetic latch, or even a Transformer-like option to extend battery life. For now this is just an expensive Bluetooth keyboard that gives it that Lenovo look and feel we know many love.
Windows 8 and Performance
Running the full version of Windows 8 Pro here you'll be able to enjoy all those Windows 8 app store apps, as well as the full array of programs we're used to. That aside, the Tablet 2 is essentially just another Windows PC — which there's nothing wrong with — so feel free to check out our in-depth Windows 8 Review. The tile-based UI is a breeze with the touchscreen, and using the stylus was quite pleasant as well.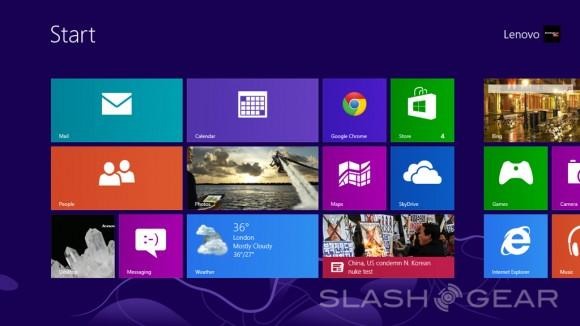 Running on the Intel Atom things certainly were speedy, but not quite Surface Pro speed since it rocks the Core i5. Prime example: installing Google Chrome (which we did immediately) took about 4-5 minutes on this machine. Flipping through pages of apps from the store, flowing over tiles and more was all extremely smooth and buttery. The multi-tasking worked like a charm and in general there was no noticeable slowdown. We did have a hiccup or two while using the front facing camera, but that was a one time event. Coming with 64GB of flash storage things were quick, but then you'll only get around 33 GB or so left out of the box due to some bloatware.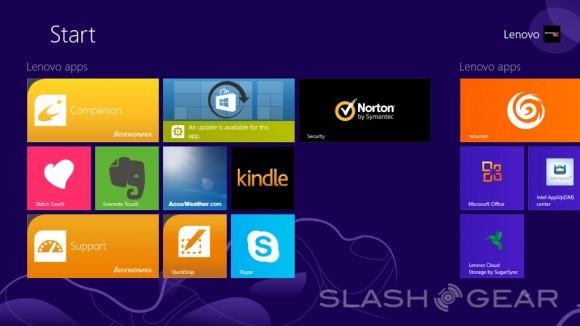 Lenovo didn't go Acer crazy, but we still have all those Lenovo companion apps and bundles. Lenovo apps, Norton Anti-virus trial (please opt for something else) Kindle, Skitch, Evernote, as well as Accuweather and Skype for video conferences. Overall they weren't too bad on bloatware, so we give them a thumbs up for that.
We gave it a thorough rundown over the past few weeks, enjoyed some casual games from the Xbox list, did a Skype video call or two, and the usual daily activities all without a hitch. While we didn't get into anything extremely processor intensive any hard video or photo editing might prove to be a big task for the Atom under the hood. However, for the average user this should suffice. Being a hybrid many other devices run on the same Intel Atom Z2760 CPU, so the performance should already be known for most. Here's a quick Geekbench test.
[sgbenchmark id=200 show=score]
[sgbenchmark id=200 show=system]
Overall using Windows 8 Pro on a full fledged device was a nice change of pace compared to some of the others. While regular PC programs struggled on occasion to grasp the touchscreen and stylus uses, it's something you'll need to get use to that's for sure. While we'd love a Core i5 here, in the end the Lenovo Tablet 2 handles the majority of Windows 8 with ease, and was quite pleasant for day to day tasks.
Camera and Sound
Lenovo equipped this slate with a mediocre 8 megapixel rear camera with LED flash, it's capable of 1080p video as you'd expect but was stuttered and blurry at times. Essentially it was on-par with other tablets with a camera of this caliber, and their 2 megapixel front shooter worked great for Skype calls. Again we have an odd glitch or two of freezing in Skype the first few tries, but that eventually went away. As far as regular camera shots the low light performance was terrible and grainy, and the shutter speed was a bit too fast. Usually we like a fast shutter, but it was hard getting clear images without some noticeable grain.
The device is a tablet, so sound will only be as good as the little speakers, but here the stereo speaker output was quite decent. Obviously not as loud as we'd like, but on par with most tablets. We'd love to see front facing speakers like the Galaxy Tab 10 from Samsung, but no other tablets have been taking that route quite yet. It got loud enough for a YouTube video or a small conference room, but with any talking or things going on the audio will be overwhelmed in most circumstances.
Battery Life
Lenovo quotes this Atom-powered Windows 8 PC tablet as having roughly 10 hours of battery life, and they were dead on. Most manufacturers are a little generous on their suggestions, but we averaged over 9 hours on a seriously heavy day of almost continues use and looping video. However, using the Tablet 2 occasionally throughout the weekend I've not put it on the charger once in 3 days and I'm still sitting with about 36% remaining.
For those that may be doing some light photo editing or even downloading a few torrents (Linux distros of course) while streaming video or the full experience to a larger screen and playing Netflix the results may differ. It's safe to say this had some of the best battery life of all the Windows 8 tablets we've tested as of late.
Wrap-Up
The Lenovo ThinkPad Tablet 2 starts at $579 with the Atom processor, 32GB of storage, and no stylus but is probably sold out in most places like Lenovo's online store. Then the 64GB model bumps up to $679 but you also get that stylus, and lastly you'll be entering the $900 range for 3G/4G connectivity — something we feel should be much cheaper to integrate.
With the 128GB iPad available, a 64 and 128GB Microsoft Surface Pro, and many other Windows 8 tablets on the scene the choice might not be clear. Previously we haven't been too happy with many of the Atom-powered Windows 8 machines, but this time Lenovo delivers an all around solid and usable product. The Samsung ATIV Smart PC comes with AT&T connectivity out of the gate and similar specs, so you could venture that route for $750. We still would rather go with the 64GB Tablet 2 for the stylus support and elegant yet simple design. In the end the Lenovo Tablet 2 is obviously geared at business professionals with the stylus and 3G connectivity, but we'd go as far as to suggest this to anyone looking for a Windows 8 slate.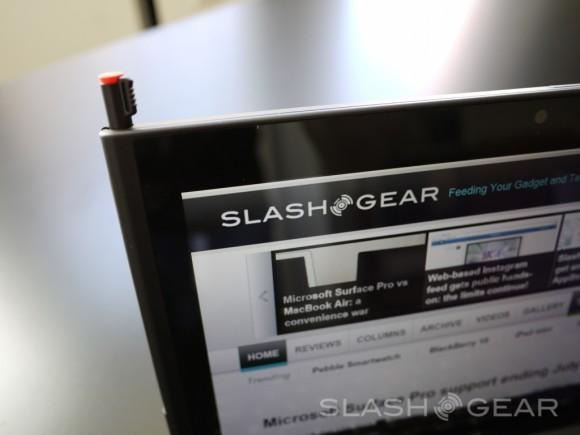 For those comfortable with Windows 8 who needs the full PC experience without compromise, yet still in a sleek and lightweight portable option the Tablet 2 should be near the top of the list. Add the usual ThinkPad elegance and this is aimed to please. If you were looking for a good alternative to the Surface Pro, this certainly is it. Get it today and enjoy the rest of the photos below.