Lenovo ThinkPad T400s laptop review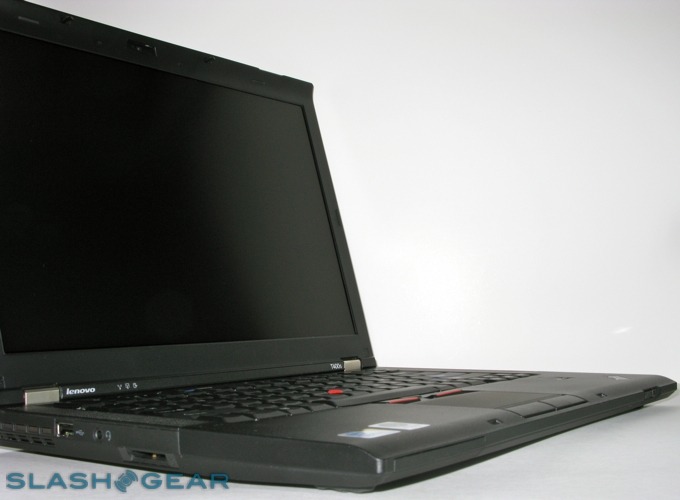 Straddling the divide between ultraportable and mainstream notebook, Lenovo's ThinkPad T400s squeezes a business-friendly 14.1-inch LED-backlit display, Intel Core 2 Duo processor and integrated WWAN into a chassis just 0.83-inches thick. SlashGear had the opportunity for a pre-release hands-on; check out our first impressions after the cut, together with some preliminary T400s benchmarks.
There's no mistaking the T400s for a CULV notebook when you look at the spec sheet. Lenovo offer a choice of standard-voltage Intel Core 2 Duo processors, either the 2.4GHz SP9400 or the 2.53GHz SP9600chips, plus either up to 256GB of SSD or 250GB of HDD storage and up to 4GB of DDR3 RAM. There's also an integrated optical drive, a 9.5mm slim line DVD burner or Blu-ray player, plus a 34mm ExpressCard slot or 5-in-1 multimedia card reader. Graphics are courtesy of Intel's GMA 4500MHD chipset, with no higher-spec options. Lenovo also fit WiFi as standard, and offer optional Bluetooth, WWAN (either AT&T HSPA or Verizon EVDO Rev.A, using Ericsson or Qualcomm chipsets respectively), WiMAX or ultrawideband connectivity. That's a decent list, but we wish Lenovo had used Qualcomm's Gobi chipset, which would've supported not only HSPA and EVDO in the same modem, but GPS as well.
The display runs at WXGA+ 1440 x 900 resolution and is now LED backlit. Meanwhile ports include DisplayPort and VGA, together with two USB 2.0, a combo USB/eSATA, audio in/out and gigabit Ethernet. One of the USB ports remains powered even when the T400s is shut off, for charging peripherals and PMPs, while there's also a fingerprint reader for security. Cleverly, the fingerprint reader can also be used to simultaneously power on and log into the T400s, in a single swipe.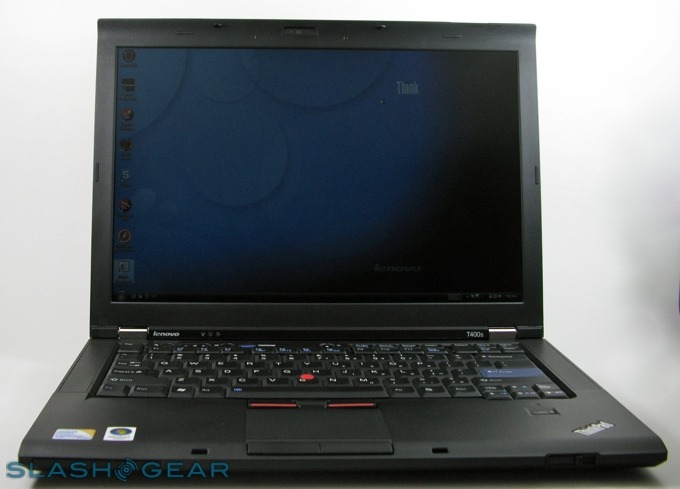 As well as that more obvious security, the T400s also has a number of more advanced options should your ThinkPad get stolen. You can set the notebook to ping a remote server periodically, and if you report it stolen then – assuming you've encrypted the hard-drive, which is relatively easy to do – you can lock up or even entirely wipe the T400s. It's not something we tested out on our review unit, but from Lenovo's demo it seems a straightforward process.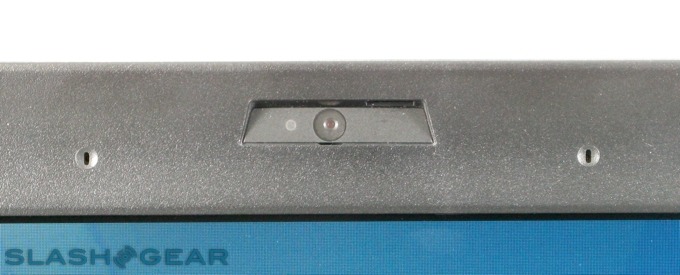 The webcam has been upgraded to a 2-megapixel sensor, and the dual digital microphones have been shifted up to the top of the display so as to avoid fan noise. There's also a heavy emphasis on potential VoIP use, with separate speaker and microphone mute buttons, together with a dedicated VoIP app shortcut key combination. Lenovo claim the speakers on the T400s are more than twice as powerful as those on the T400, and we can well believe it; more impressively, it's only at the very top end of the scale that you'll notice any crackle or distortion. Voice pick-up in Skype was clear and free of background noise, while the webcam – although a little over-saturated for our tastes – preserved more detail than those on many notebooks we've tested.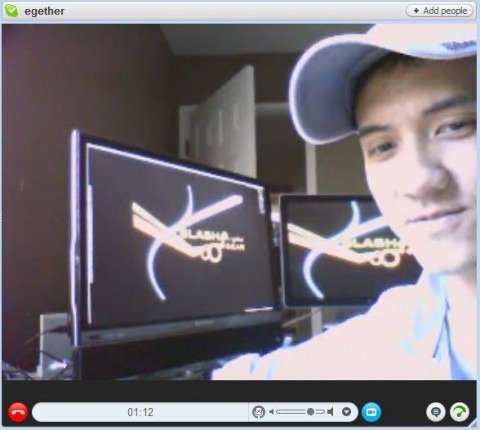 The keyboard has also been slightly tweaked over the last-gen model. The usual ThinkPad quality is still there, but gaps between the keys have been tightened up so as to avoid crumbs, and the oft-used delete and escape keys have been pretty much doubled in size to avoid missed-stabs. This might not be a fashionable chiclet keyboard, but it's an incredibly usable, tactile one, obviously designed for heavy use. If you manage to keep crumbs out but still spill your drink across the T400s, the keyboard drain system funnels liquid out through purposefully created channels.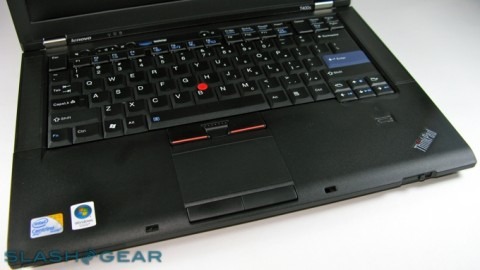 Lenovo have boosted the touchpad too, flush-fitting with the palm-rest, though despite a 27-percent size increase it's still smaller than what you'll find on a MacBook. Like the Apple range, though, the T400s' pad supports multitouch gestures, including scroll, pinch and zoom. This work as you'd expect, plus as you can see from the pictures there's also the much-esteemed trackpoint nubbin for those who prefer it.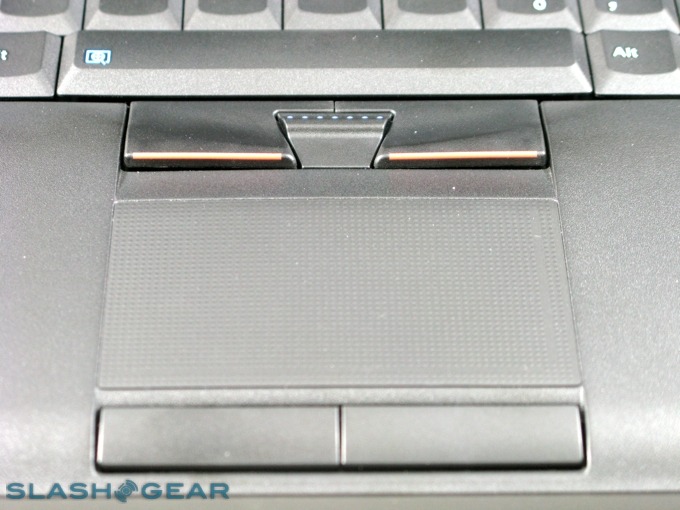 There's only one main battery option at launch, a 6-cell Li-Ion pack which Lenovo claim is good for up to 5.5hrs runtime. Switching out the DVD or Blu-ray drive for a secondary battery adds a further 3-cells into the mixture, and ramps that runtime up to 8.5hrs. We haven't had the secondary battery to test, but from the main pack alone we've managed a little over five hours of casual browsing over a WiFi connection. Considering there's a full-spec processor under the hood, that's a decent showing.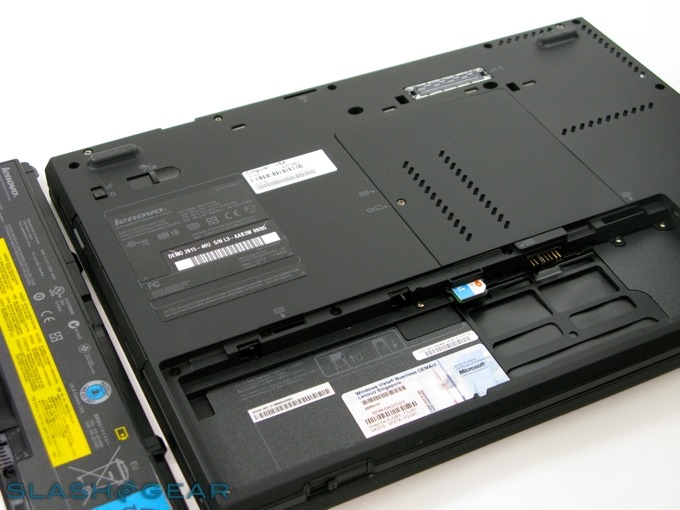 With that full-spec processor, we had relatively high hopes for the T400s' Geekbench performance. Our test machine has the 2.53GHz CPU with 2GB of RAM; despite that, it racked up an overall Geekbench score of 2864. That's worryingly just 20 points more than the last-gen 2.40GHz MacBook Pro from November last year, and almost 1,000 behind the more recent 2.53GHz P8700 MacBook Pro (albeit with 4GB of RAM). Interestingly, the ThinkPad's Geekbench Integer score actually nudges ahead of the Apple machine, but is let down by its Floating Point score.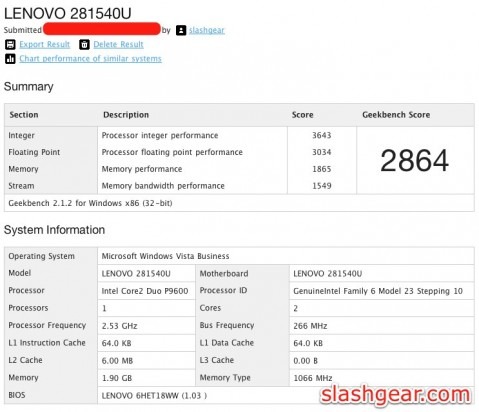 Would we pick the Lenovo ThinkPad T400s over an Apple MacBook Pro? Admittedly there's no directly comparable screen, falling in-between the 15.4-inch MacBook Pro and the newly promoted 13.3-inch version, but either offers similar specifications and, while strikingly different stylistically, similar build quality. Your choice will likely come down to an OS preference, though there's no mistaking the benefit of the extra wireless options and Blu-ray potential of the T400s over the MacBooks, while Apple strike back with more powerful performance and graphics. We'd be interested to see how the T400s fares with its RAM maxed out, too.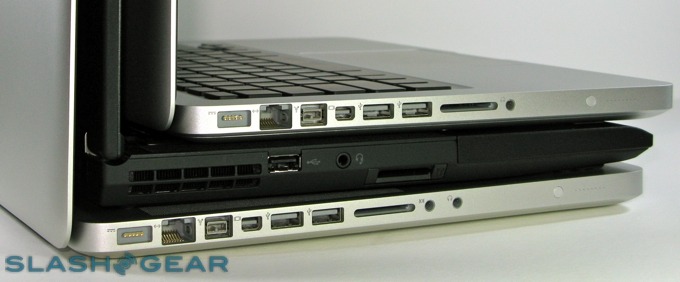 Of course, for many enterprise users it's Windows or nothing, and as long as you're not expecting to do any major video crunching the T400s should prove a highly capable machine. The extra screen space, more powerful processor and improved port selection above the T301 come with a relatively minor bulk and weight increase, which the sober casing hides well. We can't help but wish that the 9-cell battery option of the T400 was available, but the ability to hot-swap the optical drive for a second battery (or a second hard-drive) goes a long way to making up for it. With prices starting from $1,599, the Lenovo ThinkPad T400s certainly isn't a cheap machine, but if you want something with reasonable processing capability but in a near-ultraportable form-factor, it's a definite contender.
Lenovo T400s Product demo
[vms 4b7642959dc0c4c740ab]
Lenovo T400s Run over by 26,000lb DOW truck!
[vms fa04aaf37f137a1d9d3e]
Lenovo ThinkPad T400s Goes Tornado Chasing
[vms 0cefee4967c67ccb099d]