Lenovo ThinkCentre Edge 91z AIO leaks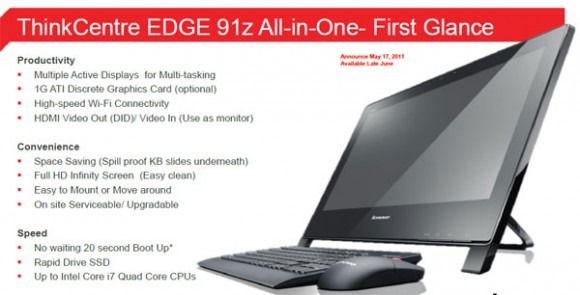 We may receive a commission on purchases made from links.
The desktop computer has slowly been replaced by many people by the laptop or netbook. Some folks are even moving to tablets instead of your traditional computer. One of the categories of desktop computer that continues to sell well is the all-in-one machines. The AIO segment is where many of the new desktop products have been surfacing for a while now. A new AIO from Lenovo has leaked with an official reveal date set for tomorrow.
Interestingly Lenovo itself has leaked the machine via PDF that is on its partner page. The AIO is called the ThinkCentre Edge 91z. The AIO has a 21.5-inch screen and will support multiple displays. It can be fitted with an optional ATI discrete graphics card with no mention of what particular video card is available. The 91z will also have WiFi inside and HDMI output to allow the use of a second screen. The machine is designed to allow the keyboard to slip underneath to get it out of the way.
That keyboard is also spill proof to protect it from your morning coffee. Other features include a speedy 20-second boot process when the 91z is fitted with the optional 80GB SSD. CPUs include a variety of offerings up to the Intel Core i7 quad core parts. It appears that the mouse and keyboard that the 91z uses are both wireless. There is no indication of price, but the leaked PDF shows the machine to be announced officially tomorrow with a launch in late June.
[via Engadget]