Lenovo tackles enterprise with new business desktops lineup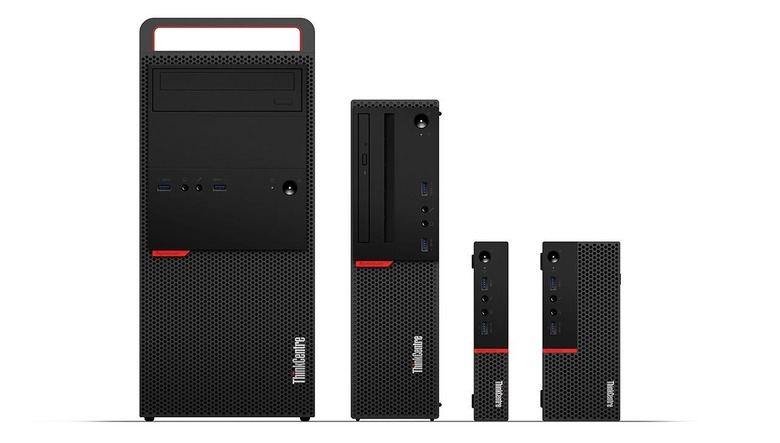 In addition to its consumers lineup of tablets and laptops, Lenovo has bunch of new desktops to add to the mix, including an all-in-one offering that is targeted at enterprise users and small form factor PCs that would work equally well at home as they would in the office. Each machine is its own beast, some of them big, some small, but all worth checking out if you're considering a new desktop in the near future.
The "Tiny" PCs are the same thin, angular offerings we've seen from Lenovo in the past. There's the ThinkCentre M900, M700 and M600 Tiny. The higher of the three models can be had with up to a 6th-generation Intel Core Processor, while the M600 can be had with up to an Intel Pentium Processor. The M900 starts at 4GB of RAM and the M700 at 2GB — both can handle up to 32GB, however. The M600 model starts at 1GB and offers up to 8GB.
The trio of tiny ThinkCentre systems also feature Intel HD Graphics, SSD/HDD/SSHD options, up to Windows 10 OS, and features a variety of ports, including a pair of audio jacks, 4 USB 3.0 ports, HDMi, VGA, and more. The M700 and M900 are both Mil-Spec tested, as well.
The size steps up from there to the ThinkCentre M900 Tower and the similar small-form-factor M900. Both offer 6th-generation Intel Core processor, 4GB of RAM (up to 64GB), Intel integrated graphics, up to Windows 10 OS, and a slew of ports, including six USB 3.0 ports and VGA. There are also optional features like a pair of USB 2.0 ports and card reader.
Finally there's the ThinkCentre M900z AIO computer, an all-in-one system with powerful hardware all packed into a hefty display.
The system features a 23.8 inch Full HD wide LED backlit LCD with 10-point multi-touch support and antiglare. There's 6th-generation Intel Core processor available up to the i7, up to 32GB of RAM, Intel HD Graphics, HDD up to 12TB (dual), SSD up to 512GB, a 9-in-1 card reader, combo audio jack, four USB 3.0/back and two USB 3.0 ports/side, and more.