Lenovo TAB3 10 Business kicks off new tablet lineup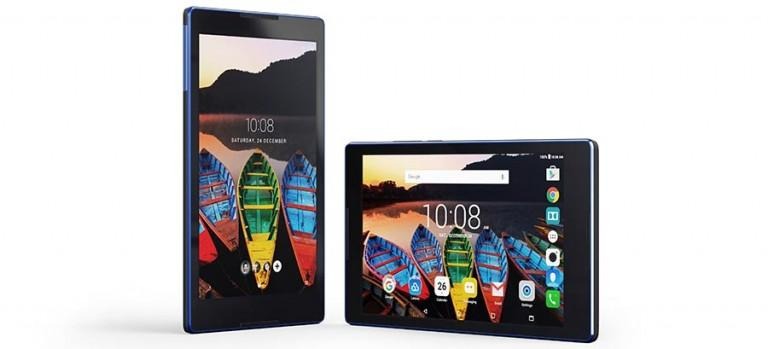 As part of its MWC 2016 announcements, Lenovo has taken the wraps off its new line of TAB3 tablets, the most notable of which is the TAB3 10 Business, an Android slate designed specifically for businesses. Joining it are the more general TAB3 7 and TAB3 8 tablets, the latter two of which Lenovo describes as its first "series of family-friendly tablets." All three tablets will be launching this upcoming summer.
TAB3 10 Business
For businesses, the TAB3 10 Business is the most exciting among the three new tablets. This model features both software and hardware that have been optimized for commercial applications. There's Android for Work, as well as Android for Work apps, a Kiosk Mode for use with customers, and Google Play for Work. Other software features include support for e-health and classroom management, and point of sale usage.
As far as hardware goes, the tablet features Gorilla Glass 3, IP52 for splash and dust resistance, a 1.3GHz quad-core processor, and a 10-inch full HD IPS display. Both an 8MP rear camera and a 5MP front camera are included, as well as a 12 hour battery, array of ports, and Dolby Atmos audio.
The Lenovo TAB3 10 Business will be available this upcoming June starting at $199 USD (Wi-Fi only), $249 (2GB / LTE) and $299 (3GB / LTE).
TAB3 8
Joining the new business tablet are two new slates designed for families, both of which are relatively budget-friendly and packed with features targeted at kids.
The TAB3 8 is the larger of the two with an 8-inch HD IPS display, a pair of speakers on the front, and Dolby Atmos audio. Under the hood lies a 1.0GHz quad-core processor, 5MP rear camera, 2MP front camera, and optional 4G LTE.
It, as with the TAB3 7, features a kid's mode that includes a safe Internet browsing feature and parental controls for restricting usage during certain days and times. As well, the tablet has a multi-user mode, making it easier for multiple people (a whole family, for example) to share the same tablet. Other features include an Adaptive Display that can filter blue light, as well as adjust to things like ambient light and content.
The Lenovo TAB3 8 will be available in June starting at $99 (Wi-Fi only) and $149 (LTE).
TAB3 7
The TAB3 7 is very similar to the TAB3 8 model, but features a 7-inch standard-definition IPS display, as well as a water repellant coating. This model will be available in June starting at $129 (16GB / LTE).