Lenovo smart shoes eliminate the need for a wrist wearable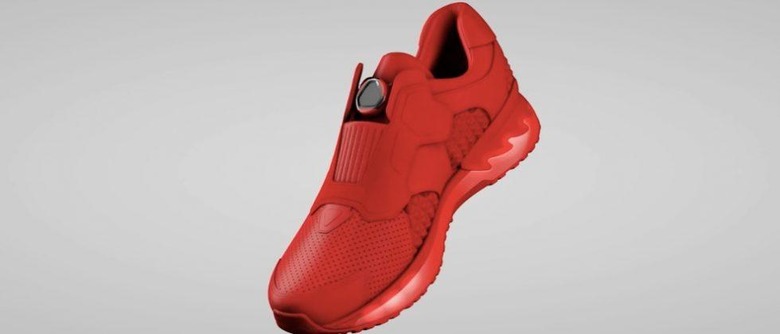 At its Tech World show in San Francisco yesterday, Lenovo revealed a pair of smart shoes, that, while a concept prototype, are fairly close to a finalized product. Adding a new layer to the term "wearable," the running shoes offer most of the same features that a wrist-worn fitness tracker or smartwatch would have, including number of steps, distance, calories burned, and activity tracking.
A full list of specs wasn't made available, but the shoes were designed in collaboration with Vibram, which manufacturers outsoles, and are powered by an Intel Curie chip. A row of LED lights line the bottom for nighttime running, while the 3D-printed insoles can be customized to a wearer's foot shape.
Several other features were described by Lenovo, but weren't actually shown in demonstration. This includes that the shoes can offer control input for games: imagine something like moving your feet in accordance with a rhythm game, or motion tracking to determine when a jump is made.
As the running shoes are prototypes, Lenovo didn't reveal possible pricing or release date details, but it's clear the company has something like this in mind for a consumer product. And hey, at least they resemble a pair of realistic sneakers, as opposed to some far-out design that no one would ever consider putting on their feet.
SOURCE Lenovo