Lenovo Smart Clock Brings Google Assistant To Your Bedside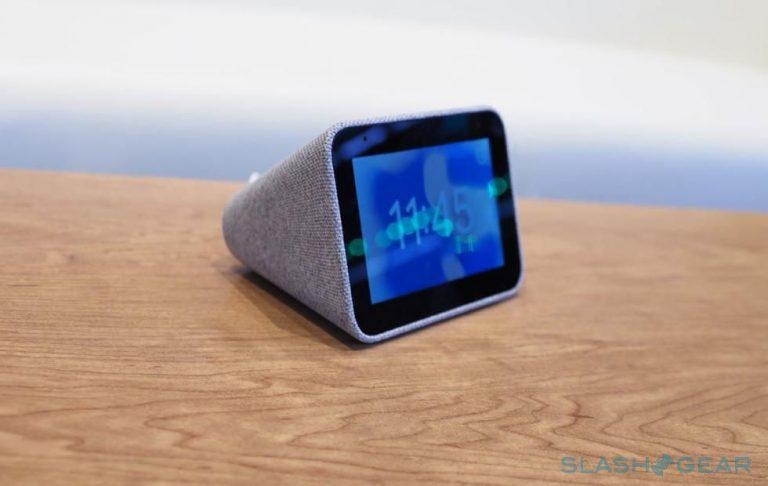 Smart speakers have gone beyond simply being speakers. It was really only a matter of time before many realized they actually also wanted to see what's going on rather than just hear about it. But not everyone may want a large display that may or may not be watching them all the time. That's where a new class of "smart clocks" come in. Like the new Lenovo Smart Clock with Google Assistant, a smart touch screen device you keep by your bed to somewhat ironically help you get better sleep.
It has become more or less an accepted modern-day fact that spending more time on screens, like your phone, before bedtime leads to reduced quality of sleep. While blue light filters try to minimize the damage, prevention is still better than cure. But since you're not going to be reading off the Lenovo Smart Clock's screen before bedtime anyway, how does this new smart home appliance help improve your sleep hygiene?
Not by itself, mind, but through the help of Google Assistant. With a simple "Hey Google, Good Night" phrase, the Lenovo Smart Clock can dim the lights, put connected devices into silent mode, and, for peace of mind, display the next calendar event on its face. Now you're sure not to be interrupted by unnecessary notifications in the middle of your peaceful slumber. And when it's time to wake up, Google Assistant will also slowly brighten the light and trigger your morning routine.
The Lenovo Smart Clock is pretty much a smaller companion to the company's other smart home products like the Lenovo Smart Display and the Lenovo Smart Home Essentials. Featuring a 4-inch touch screen in a full fabric soft-touch cover, the Smart Clock has just enough room to let you see and perform basic tasks and nothing more. Of course, you can always just use your voice but if you don't want the Smart Clock to listen, flick the mute switch on its back for some private moments.
Despite its diminutive size, the Smart Clock is a speaker in its own right. A full range 6-watt speaker and two passive radiators turn it into an audio entertainment device capable of filling even a large bedroom. Connect via Chromecast or via other wireless speakers and you're sure to never miss a beat, a podcast, or the news even if you're just chilling in bed.
With the Lenovo Smart Clock, you can still get the best of Google Assistant even when you're in bed while being assured you'll be able to detach from your other screens to get the best sleep you can. The smart home device will be available this spring and will retail for $79.99.