Lenovo reveals new displays aimed at professionals and gamers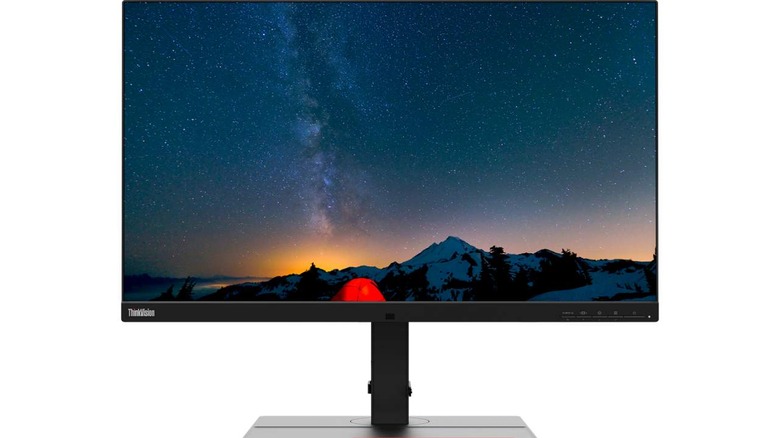 Lenovo has revealed a new series of displays at Tech World 2021. The new products include the ThinkVision P27u-20 professional display along with new gaming monitors, including the G27e-20 and G24e-20. The P27u-20 is aimed at professional users needing a monitor that has a wide color gamut.
The color gamut of the P27u-20 covers 99.1 percent of the DCI-P3 gamut and 99.5 percent of the Adobe RGB gamut. The display is factory calibrated for color accuracy and is aimed at creators working with photography, video, and graphics. Intel Thunderbolt 4 docking display capability is integrated, providing up to 100W of power to the laptop and connecting other available ports. The monitor is Energy Star 8.0 compliant. The 27-inch Ultra High Definition IPS screen has a native resolution of 3840x2160.
Lenovo has also revealed a pair of new gaming monitors, including the G27e-20 and the G24e-20. The numbers in the product models indicate the screen sizes, and they have the same technology. Both promise smooth and tear-free low latency gaming with a Moving Picture Response Time of 1ms.
Other features ideally suited for gaming including a 100Hz high refresh rate and up to 120Hz overclock both models. Lenovo also has built-in features that make the displays ideally suited not only for gaming but also for working, school, and watching movies. The G27e-20 features a 27-inch screen size, while the G24e-20 is a 23.8-inch display. Both have 300 nits of brightness and cover 95 percent sRGB gamut.
Both of the displays also have the same fully HD 1920x1080 resolution. To help protect the user's eyes during long sessions of usage, both integrate technology for reducing blue light exposure and are Eyesafe Certified. The ThinkVision P27u-20 will ship in December, starting at $769. Lenovo's G27e-20 will ship in October, starting at $239.99, with the G24e-20 shipping the same month starting at $209.99.