Lenovo planning a dual-boot ThinkPad X1 Hybrid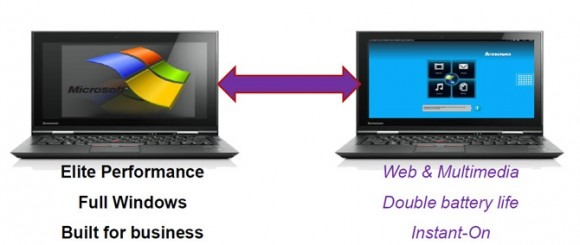 Lenovo is planning to release a new version of its 13-inch ThinkPad X1 notebook that will be able to dual-boot Windows 7 or a special instant-on operating system, which could be Android, Splashtop, or some other operating system entirely. Plans for the new notebook, which will be called the ThinkPad X1 Hybrid, were revealed from a leaked PDF slideshow that was intended for only Lenovo's channel partners.
The ThinkPad X1 Hybrid is expected to offer up to 10 hours of battery life for surfing the web and about 8 hours of battery life when it comes to watching videos. This is a big improvement from the slightly over 4 hours you get with the current ThinkPad X1. The ThinkPad X1 Hybrid is expected to arrive sometime this month.
Additionally, the PDF revealed that Lenovo is planning to release super thin ThinkPad Ultrabooks by mid-2012 right around the time Intel will be releasing its next-gen Ivy Bridge chips. Lenovo will also be launching an 11.6-inch ThinkPad X130e as a sequel to its X120e notebook next month.
[via LaptopMag]