Lenovo Phab 2 Pro will finally do the Tango next week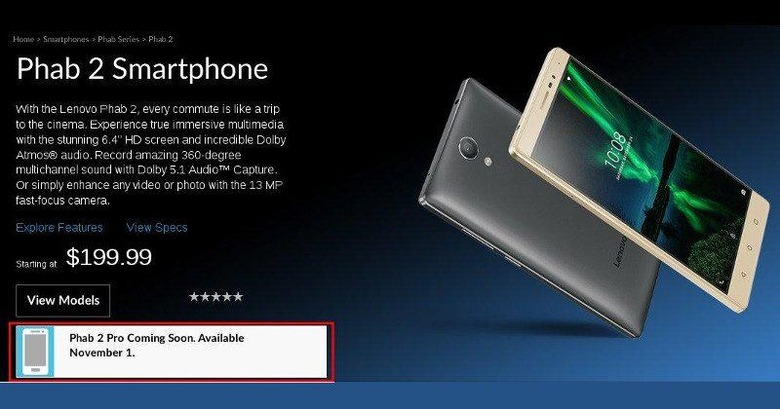 Google may have dropped the ball on the modular Project Ara, but its other big mobile project is now just a few days away. Well, actually Project Tango has been around for quite a while now, but available only for a select few researchers and developers. Next week, however,m will mark the first time that the technology will be landing on consumers' hands, via the delayed but finally coming Lenovo Phab 2 Pro.
Lenovo unveiled the Phab 2 trio at its Tech World conference last June, and while the other two are quite fine as Android smartphones, the real star is, of course, the Phab 2 Pro. And not just because it's ridiculously large. That size, however, is in the service of Project Tango.
For those unfamiliar with it, Project Tango is Google's attempt at bringing computer imaging and vision to consumer devices. The very same tricks and parts that make it possible for augmented reality to function can be found, in a smaller way, inside the Phab 2 Pro. Of course, that isn't just for AR cases only. Tango can also be used to measure depth and convey real 3D space, as opposed to the flat 2D picture that smartphones and computers usually see.
As for the smartphone itself, the Phab 2 Pro features a large 6.4-inch 2560x1440 display and is powered, amusingly enough, by a mid-range Qualcomm Snapdragon 652, which Qualcomm and Lenovo assures has been fine-tuned exactly for Tango. There's ample 4 B of RAM and 64 GB of storage, plus a large 4,050 mAh battery.
The product page for the plain Phab 2 reveals that the Phab 2 Pro is coming November 1. No further details have been provided, but the price tag is expected to be at $499.