Lenovo Phab 2 Pro review: Google Tango has landed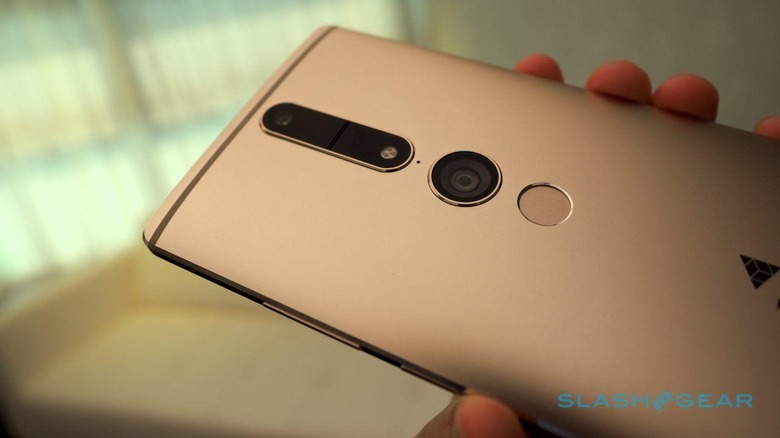 Google's Tango augmented reality platform is getting its first real-world application with the Lenovo Phab 2 Pro. We're venturing into a territory that's largely unknown, and the Phab 2 Pro is the first of its kind: a phone built around the idea that augmented reality can be more than just a novelty. What does the Phab 2 Pro say about the future of Tango and the phones produced to support it? Read on for our full review.
Design
When you open up the Phab 2 Pro's box for the first time, it immediately becomes clear that it deserves the "phablet" moniker. This phone is absolutely huge, with a display that comes in at 6.4-inches. It's easily the largest phone I've ever held, and that certainly takes some adjusting to if you're used to using anything with a screen south of six inches.
On top of that, at 9.14 ounces, it's also one of the heaviest phones I've ever used. I don't have a problem with the added weight, but some might – when the size and weight are counted together, it will definitely feel unwieldy to some.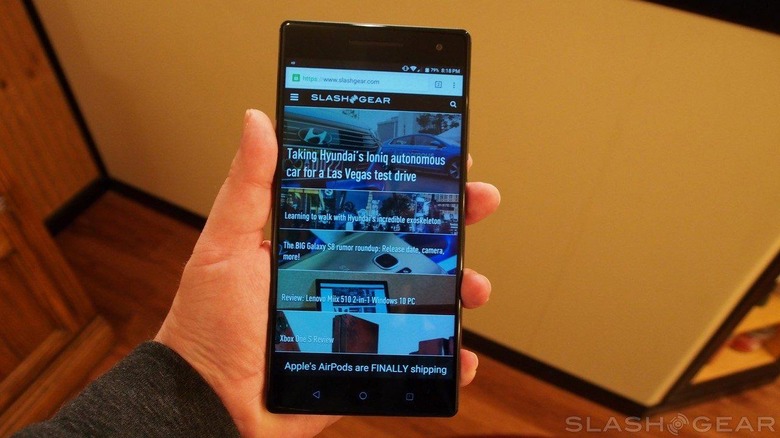 I tested the Gunmetal Gray version of the Phab 2 Pro, though the phone also comes in Champagne Gold. I think I prefer the Champagne Gold color, but there's nothing wrong with Gunmetal Gray. The phone as a piece of electronics design doesn't do a whole lot to catch the eye, but as a result, it has an unoffensive look that doesn't make it stand out like a sore thumb.
The volume rocker and the sleep/wake/power button are situated along the right side of the device, with the fingerprint scanner around the back. Those of you who use a Pixel, V20, or G5 will likely be comfortable with a rear-facing fingerprint scanner, though it should be noted that this button doesn't serve any other purpose.
Unlike the V20, you can't press this button to turn the screen off, which is both strange and refreshing. While I've tried pressing it more times that I'd like to admit, the Phab 2 Pro avoids an annoying problem I had with the V20, where I'd lock the screen and then immediately unlock it because I let my finger linger on the button just a split second too long.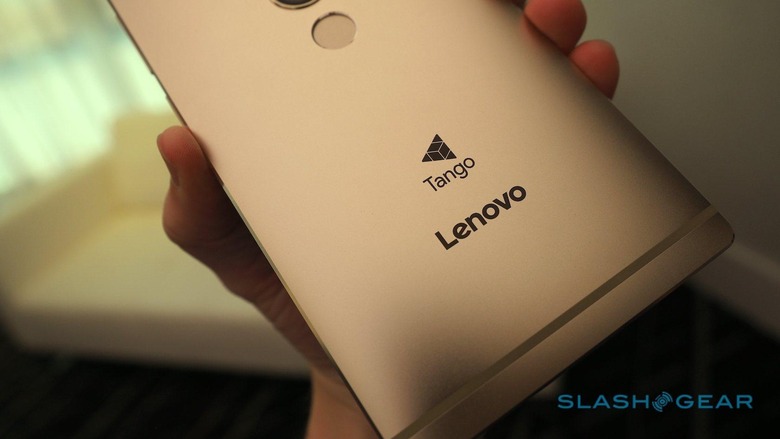 The scanner is also situated closer to the middle of the device than many of you will be used to, and given the extra sensors on the back that can get confusing. I found myself placing my finger on the motion sensor instead of the scanner, only to realize my mistake as I stood there wondering why my phone wasn't unlocking. It isn't the end of the world, but it is another thing to get acclimated to as you make the jump to the Phab 2 Pro.
Overall, though, the fairly by-the-books design hides just how important it is as a device. That isn't necessarily a bad thing – a phone's functionality is far more important than any kind of statement it makes, after all – but those looking for an attention-getter probably won't find it in the Phab 2 Pro. Its design won't turn heads, but its size definitely will. I feel I need to stress again just how massive this phone is, because it's honestly too big to use comfortably in some situations. I'm a six-foot-four behemoth in nearly every sense of the word, and it's too big even for me. Have a look at the Phab 2 Pro side-by-side with the LG V20 to get a better sense of what I'm talking about: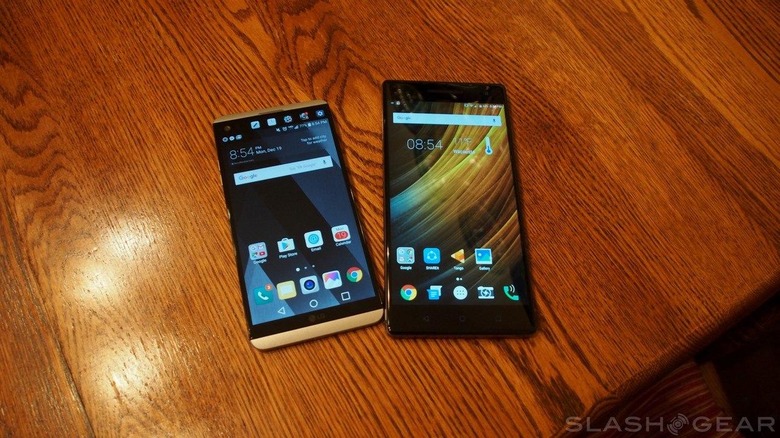 The Phab 2 Pro makes the V20 look small, and the V20 is just on the cusp of what I would consider to be a comfortable size. Unless you're LeBron James, there's no chance you're going to use the Phab 2 Pro with one hand. Considering the aluminum back makes this one slippery phone, trying to grapple with it only using one hand is just asking for tears. Assuming you don't just drop it straight away, using it one-handed will only be an exercise in frustration as you inevitably open other apps or back out of active ones trying to reach for something.
Performance
At the end of the day, aesthetics aren't everything. A phone can take some missteps in the design department but still be a homerun thanks to its hardware and the show it puts on. Unfortunately, the Phab 2 Pro's hardware is only middling in terms of power, and while that's okay for now, it has some negative implications for getting years of use out of it.
First, let's start off with the good: the Phab 2 Pro's display is solid all around. Lenovo went with a 6.4-inch 2560x1440 IPS Assertive display, and for the most part, I think it's successful. In general, colors look nice and the brightness range is good. At 50% brightness, things still look plenty bright, and I didn't have any issues using the phone in broad daylight. That's always a bonus.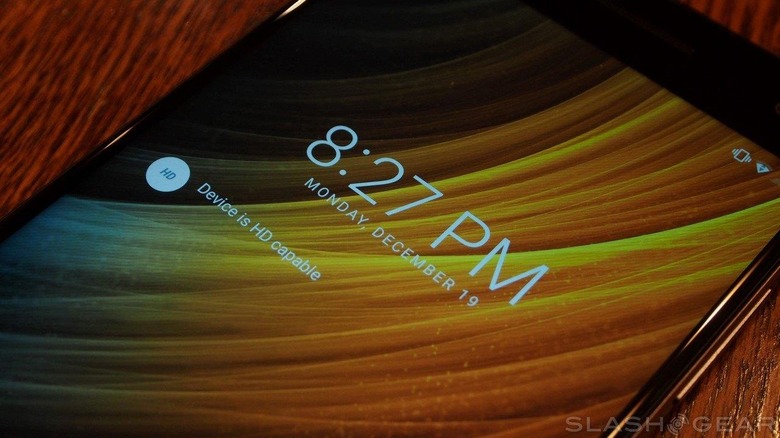 The Phab 2 Pro also features an appropriately large battery. To test the 4,050 mAh battery that resides within the Phab 2 Pro, I put screen brightness down to 50% and began streaming video over WiFi. It was five hours before the battery made it to 50%, which is a pretty excellent result. With that in mind, streaming video and using augmented reality apps that are camera and CPU-intensive are different things, but 4,050 mAh should be enough to give you plenty of AR time before you need to plug it in for more juice.
Lenovo has included a quick charge feature with the Phab 2 Pro, and with the device turned off, I was able to bring it from 0% all the way up to 100% in just under an hour and a half. That's a solid recharge time (it's on a similar level to my Galaxy S7 and the LG V20), but I'm disappointed to see that it uses regular micro USB instead of USB-C. If for no other reason than the fact that USB-C is reversible, it would have been nice to have.
I'm also quite pleased with the speakers on the Phab 2 Pro. Using Dolby's Atmos technology, they succeed in offering a fuller sound than most smartphone speakers. They won't necessarily rock your socks off, but with decent basses and an overall sound that doesn't get as tinny as most at high volumes, they're pretty good.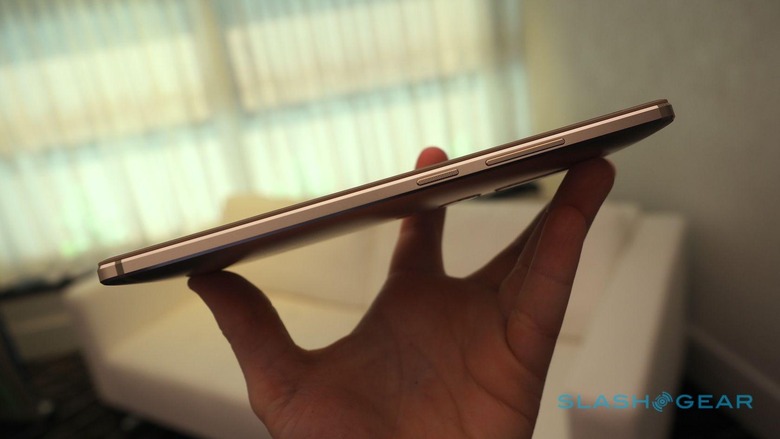 For the most part, the Phab 2 Pro's Snapdragon 652 SoC (with Adreno 510 graphics) and 4GB of RAM keep things running fairly smoothly. Dropped frames were few and far between when swiping through screens, and though there were a few, I think Lenovo's relatively bare-bones wrapper for Android helped keep things snappy.
However, internal hardware is where we start running into issues. Running this through Antutu shows us just how middling the hardware is, giving us a score of 83,580. That places the Phab 2 Pro just below the Galaxy Note 5 in terms of overall power, and just above the iPhone 6.
Now, there's nothing inherently wrong with that, as the Galaxy Note 5 and iPhone 6 still make for good devices. The problem is that the Note 5 is now more than a year old, while the iPhone 6 is more than two years old. Having a brand new phone net similar hardware ratings is a little worrying, especially since this is the first Tango phone to hit the market.
The Phab 2 Pro has a retail price that starts at $499.99, so we should obviously be expecting some concessions when it comes to specifications, especially since you're also getting all the extra sensors Tango requires. For what it's worth, the hardware seems to perform fine with the Tango apps that are currently available, so it isn't an issue for now. What worries me is what these benchmarks imply for the not-too-distant future, where developers have achieved a certain level of comfort with Tango development and there are other phones on the market that offer better hardware. Will the conservative internals of the Phab 2 Pro be left behind? Maybe they will, maybe they won't. It's hard to say when the AR segment is still so young.
We get a better idea about the shortcomings of the hardware when we compare individual test results to phones that are close to the Phab 2 Pro in Antutu's ratings. We see the Phab 2 Pro taking home higher marks when it comes to user experience, along with better scores in multi-core CPU tests. That's an encouraging result for augmented reality.
However, one place where the Phab 2 Pro disappoints is in 3D rendering, and I wonder how much of an effect that will have on certain Tango apps. As I said, for now the Phab 2 Pro seems to be fine, but at some point, we'll see increasingly complex 3D models make their way into Tango apps. It's then that Lenovo's hardware may begin to show its shortcomings.
Tango
Look beyond hardware and aesthetics, though: Tango functionality is star of this show. If you've not been following the Google-developed computer vision technology from its skunkworks origins back in 2014, it's effectively a system by which a device can figure out where it is in the world without relying on GPS. The Phab 2 Pro gets three different sensors on the back of the phone to accomplish what Tango requires: from top to bottom, a 16-megapixel RGB camera, a depth camera, and finally a motion sensor.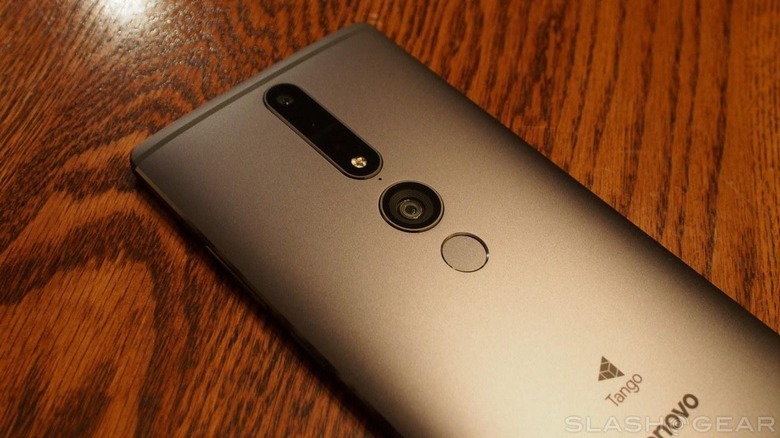 These three sensors work in tandem to visually track the space you're in, from that calculate your movements, and thus make sure that using AR Tango apps is as smooth as possible. For the most part, they're successful with that, and motion tracking on the Phab 2 Pro is a noticeable step above what you'll find in, say, Pokemon GO or the few augmented reality games offered on the Nintendo 3DS.
The Phab 2 Pro clearly has the hardware it needs to do augmented reality well – for now at least – but the issue of being an early adopter is present here all the same: at the moment, there just isn't much being offered in the way of Tango apps. It's a problem every new technology faces, and hopefully the level of excitement surrounding Tango means that we'll be able to quickly move past this sparse stage in the platform's life.
There are, of course, some bright spots. One of the coolest apps is Dinosaurs Among Us from the American Museum of Natural History. In it, you can pull up 3D models of dinosaurs and see them – through the Phab 2 Pro's display – in the real world. The angular models are in no way realistic, which the museum has previously said is because we're still not 100-percent sure what real dinosaurs looked like, but they're detailed enough to give you a solid idea of the different species.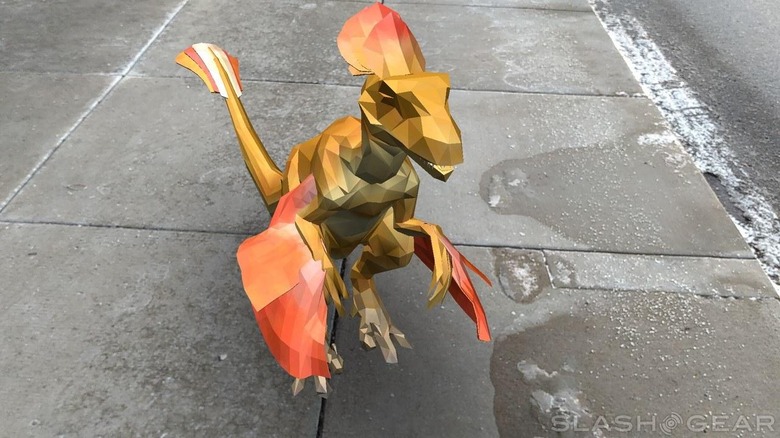 You aren't just limited to looking at models of these dinosaurs though, as you can pull up tappable points on each dinosaur's body to read facts about that species and how it lived. As a kid, I was an absolute fanatic when it came to dinosaurs, so this app is just plain awesome. There are only four types featured in the app for now – Archaeopteryx, Caudipteryx, Omithomimus, and Velociraptor – but there's plenty of scope for adding more models later on down the road.
For instance, most of these dinosaurs are small-to-medium-sized, with Ornithomimus standing roughly eye level with humans. What would be really impressive is if we could get models of larger dinosaurs such as Tyrannosaurus or Brachiosaurus added to the app. Seeing AR models of these prehistoric beasts within our real-world surroundings would give us a true sense of their massive size, and if nothing else, it could be a good learning tool for kids who aren't growing up with movies like Jurassic Park to spark their interest.
Another app that shows off the utility of augmented reality is WayfairView. With it, you can select from hundreds of different home furnishings and decor items, and place them in your home: when you hold the Phab 2 Pro up and look at its display, you see the virtual item correctly scaled in your actual room. This gives you a good idea of what will work with your existing decor and what won't, and presents one of the first clever uses for augmented reality beyond gaming.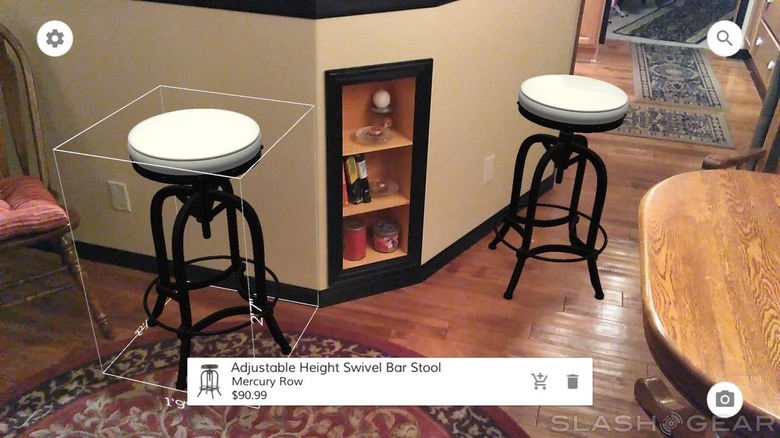 I'm not a fan of furniture shopping in general, but I found myself playing around with WayfairView nonetheless. You can browser Wayfair's sizable catalog or narrow down your search to a specific type of item – barstools, for example. Then you simply select an item from the search results and it's unpacked right in front of you. From there, you can reposition it to find the perfect placement, take a picture to send to other people involved in making furniture decisions, or add the item to your cart if you know it's something you must have.
The app works well – better than I expected, in fact. When you have an item highlighted on screen, you're presented with its dimensions, allowing you to take more precise measurements to know for sure that it'll fit. The price for each item is also listed on screen, and changes as you select different items. Rotating and placing items in augmented reality is easy and intuitive, so hats off to Wayfair for giving us an early example of AR done correctly.
There are, of course, a number of AR games to pick from, and one I was drawn to is a Unity title called Raise. Developed by IguanaBee, you can think of Raise as a Tamagotchi pet for 2016. You're introduced to a virtual pet that you'll need to feed, play with, and otherwise keep happy, but the major difference is that this pet is placed in your own world instead of one that's entirely digital.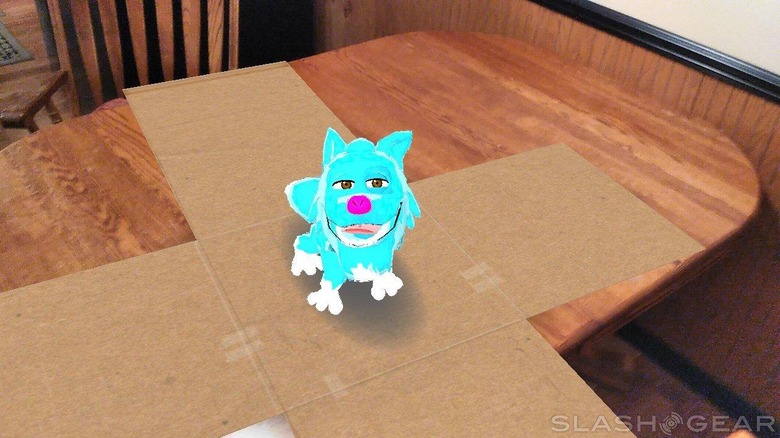 It's an interesting app, though it can be difficult to get a handle on the controls as first. It's also very much a mobile game, requiring you to earn coins to progress. Considering it's being offered for free, though, that isn't entirely surprising.
Even though Raise isn't unique in its approach – we've had pet raising simulations on many platforms in the past – AR does give it a certain depth that other implementations of the idea lack. Assuming Tango and AR in general take off, we'll likely see a lot of that, with developers taking tried and true gaming formulas and moving them into the real world to add an extra touch of realism.
Though the list of AR experiences you'll have with Tango is short for now, the platform as a whole is still something I'm excited about. The problem we have at the moment is that apps, while good, deal in situational niches and mostly rely on novelty. There's nothing that really strikes me as truly must-have today, even though there are plenty of fun experiences to be had with Tango in its current state.
It's going to take us a little while to get there, too. Augmented reality is still a largely untouched sector, so it's going to take developers some time to become comfortable making apps and games for it. Until that happens, we're likely to just see more games – which can be tiring to play when you need to consistently hold the phone in a certain position – and apps that focus more on utility – handy, but not necessarily something that will see frequent use.
Wrap-Up
All of this begs the question: is the Phab 2 Pro worth it? Considering the hardware the phone offers and the current state of Tango, I'd only say it is if you're the kind of person who wants to be right there at the starting line as a new technology comes online. For most regular consumers, the Phab 2 Pro's talents may well be wasted. If you're a technophile who loves emerging technologies, though, or a developer looking to get going with AR, then the Phab 2 Pro is easier to recommend. You just have to keep in mind that you're getting a fairly mainstream phone that happens to run current-day AR apps well.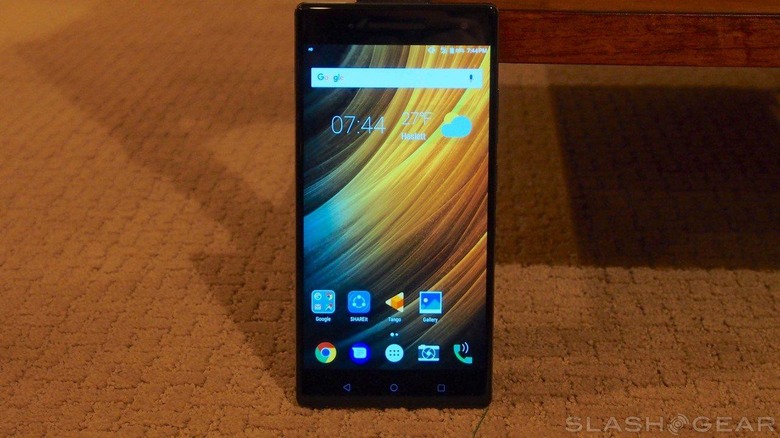 As a standard phone, the Phab 2 Pro is nothing special. Indeed, it's entirely too bulky and you'll likely be limited to just a couple of years of use before the hardware begins to show its mid-range limitations. The few redeeming qualities it has – those being the quality of the display and the excellent battery life – are overshadowed by a finished package that is often-times frustrating to use.
As the first Tango phone, however, it's going to be a must-buy for some people. Make no mistake: Tango is definitely something I'm excited about, so in some ways I can relate to the folks who will buy this phone just to get in on the ground floor with the technology. If that sounds like you, then I don't think you'll be disappointed with the Phab 2 Pro, but I also don't know that you'll be singing its praises from the hilltops either.
Everyone else – the folks who may be interested in augmented reality but don't have the overwhelming urge to check it out this moment – may be better served waiting for the next Tango phone to come along. The Lenovo Phab 2 Pro is the first out of the gate, and the creation process for Tango phones will only get better from here.