Lenovo Miix 320 Review: A Tiny $200 Windows 2-In-1 Laptop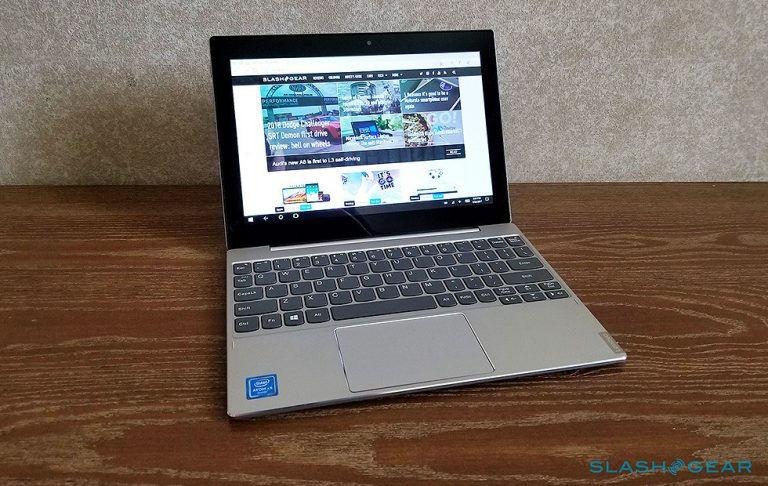 EDITORS' RATING: 7/10
People love cheap, usable notebooks. Rewind a decade or so and 'netbooks' were just becoming a hot item. Things like the Sony Vaio P existed. Consumers gobbled them up, and though the market as a whole eventually moved on from the ultra-tiny laptop trend, the fact remains that a portable, inexpensive laptop is almost always a desirable option to have. Thus enters Lenovo's new budget-friendly 2-in-1 Miix 320 convertible laptop.
Hardware
The Miix 320 is a 2-in-1 laptop, which means the display can be detached and used as a standalone tablet when that's all you need, and it can be connected to the keyboard for the times you need a laptop. We've seen great implementations of this design and we've seen some pretty bad ones; as far as Lenovo's latest Miix model goes, the design is pretty great.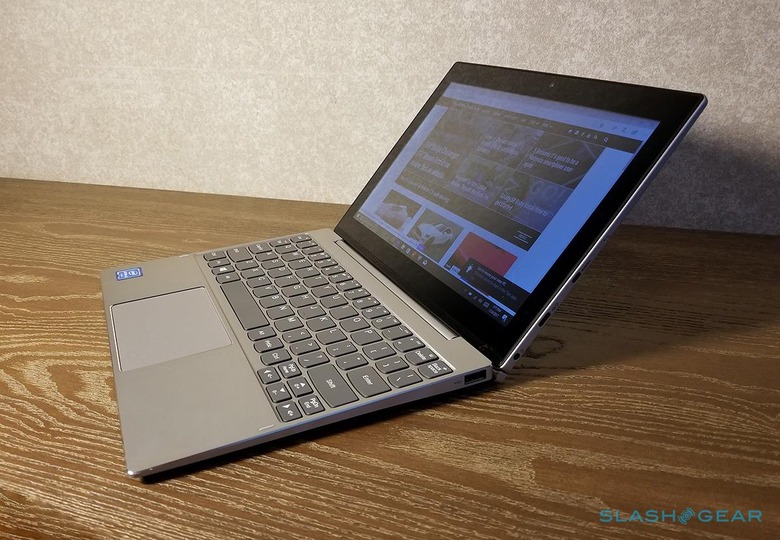 While many of these 2-in-1 models generally fall into higher price ranges, Lenovo is fleshing out the budget-tier category with the Miix 320. This model is no doubt for those who more commonly use their device as a tablet rather than as a laptop — it is very small, relatively speaking, and the keyboard is teetering on the edge of what some people would consider too small.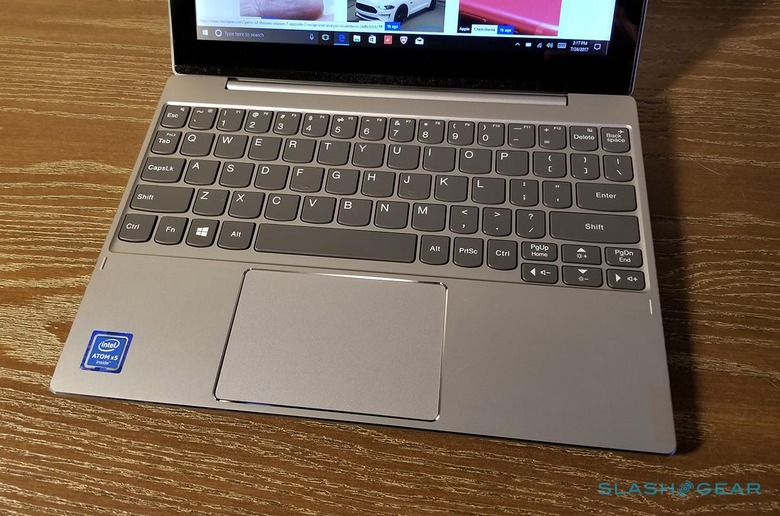 While it is possible to type on the Miix 320 at a decent speed, the non-letter keys are very small, and it's easy to hit the wrong ones. There is definitely an adjustment period when it comes to typing on this model. That's not to say that it is unusable, though; far from it. Just understand that you're not getting a full-sized keyboard and you will have to dedicate some time to adjusting.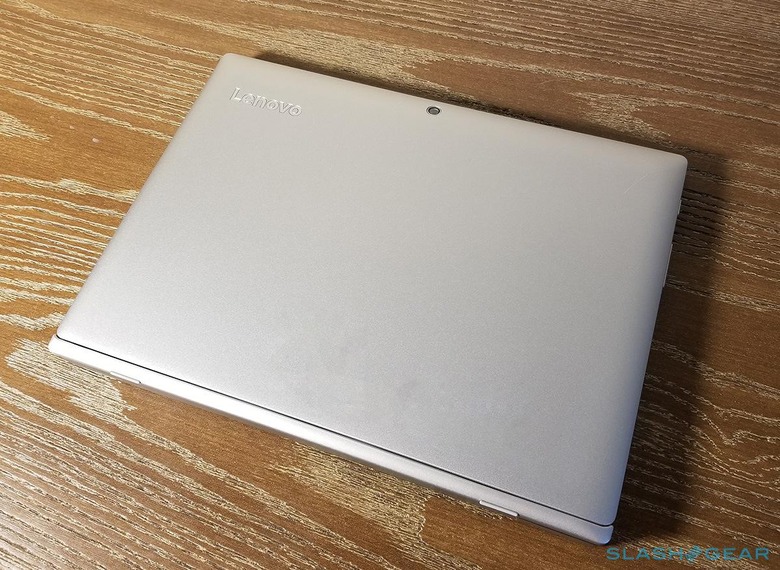 The keyboard aside, the Miix 320 is everything you'd expect in a laptop, but with the typical top-heavy design that results from transforming a fully functional tablet into a display. The image above shows the display opened fully; it opens just enough to use it as a laptop, but don't expect to extend it back fully.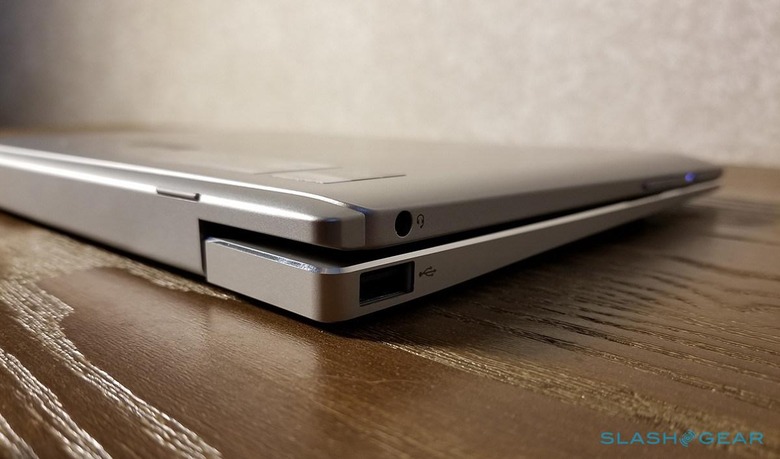 I enjoyed using the Miix 320 as a tablet far more than as a laptop — truth be told, I don't think I could handle using this model as a regular laptop due to the tiny keyboard, though I imagine a child or someone with small hands could do so. As a tablet, though, the Miix 320 is just the right size, being notably larger than a phone but not so large as to be cumbersome.
A long speaker bar along the bottom edge of the tablet projects audio forward toward the user, another aspect I like, though the audio is tinny (as we'd expect from such a small, inexpensive slate). Attaching the tablet to the keyboard is simple thanks to a pair of deep slots and a powerful magnet in the hinge.
The keyboard portion of the Miix 320 features a pair USB (type A) ports, while the tablet portion has USB-C, mini-HDMI, the port for the charger, and a 3.5mm audio port. The tablet can be transported, charged and used entirely independent of the keyboard for those times you're traveling light.
TECH SPECS

Processor: Intel Atom X5

OS: Up to Windows 10 Pro

Graphics: Intel HD Graphics

Memory: Up to 4GB

Cameras:

- Front: 2MP w/mic

- Rear: 5MP w/AF

Storage: Up to 128GB

Audio:

- Stereo Speakers

- Dolby Advanced Audio

Battery: Up to 10 hours' local video payback

Display: Up to 10.1" FHD (1920 x 1200), touchscreen

Thickness: 17.5 mm / 0.7" = Tablet: 9 mm / 0.3" (tablet) + Dock: 8.5 mm / 0.3"

Weight:

- With keyboard: Starting at 1020 g / 2.2 lb

- Without keyboard: Starting at 550 g / 1.2 lb

Connectivity:

- 802.11ac (2 x 2)

- Bluetooth® 4.2 combo w/ Wi-Fi card

Ports:

- USB Type-C 3.0

- 2 x USB 2.0

- Micro HDMI

- Micro SD

- Nano SIM

- Audio combo jack
Software & Performance
The Miix 320 packs Windows 10 and the assorted apps that come with that, as well as the Lenovo apps Companion and Account. As far as performance goes, the Miix 320 is adequate but not something you'd want to use for any intensive tasks; this is definitely a laptop/tablet combo for the casual user who primarily watches videos, surfs the web, and plays simple games like Candy Crush.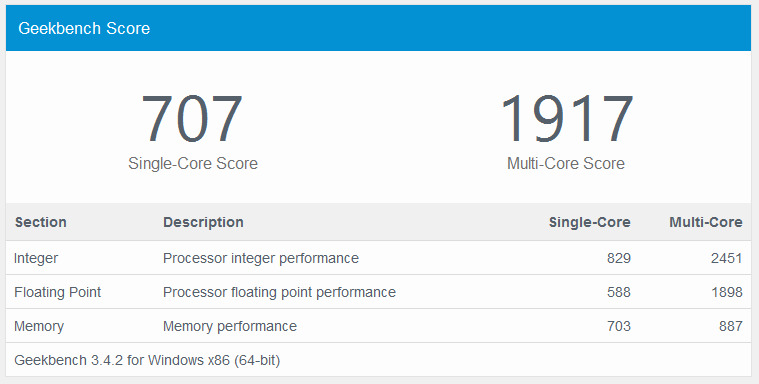 I did run into some performance issues while casually using the Miix 320, though. Attempting to load YouTube for the first time, for example, was a slow, frustrating experience. It took several seconds for the home page to load, and then another several seconds for a video to load. Once it did, though, it played smoothly. I experienced similar hesitation at times waiting for certain web pages to load, and it took more than a full minute for Candy Crush Soda Saga to load...meaning you shouldn't expect to do much more than just the basics with this tablet.
Things we like
The Miix 320 is very small and quite thin, and that combination makes it appealing as a travel device for times when you know your computing needs will be minimal. If you're heading out on vacation but may need to hop onto a system for 10 – 20 minutes to peck out some text, the Miix 320 would be a great way to both do that and keep carry-on size to a minimum.
I also like, as mentioned above, that the speaker faces the user when they're holding the tablet, allowing the volume to be kept low and decently containing it to the user rather than projecting it at others nearby. As well, I found the touchscreen to be very responsive and the keyboard hinge to perform very well.
Issues
The downsides are mentioned above, and the biggest one is slow performance. Waiting for things to load is an exercise in patience. As well, anything even moderately intensive will cause the tablet to get warm quickly; ten minutes of Candy Crush, for example, turned the right side of the tablet into a makeshift hard warmer.
Our review model features the modest 1280 x 800 display option, which is nothing at all to write home about — it's just a basic display for those who couldn't care less. If you're wanting something to edit photos on the go, watch movies, or similar, you'd be better off making sure to get the highest resolution available (Full HD).
Wrap-up
The Miix 320 is a budget laptop, and it's important to keep that in mind when evaluating what it offers. At $200, you can't expect too much, and in fact you're getting a pretty decent model at this price point. Think of the Miix 320 as being a Chromebook alternative, only with the more capable Windows 10 operating system. This is the kind of laptop you consider for the kids, or as a secondary device when your main machine won't do.
In light of that, the biggest issue you should keep in mind is the cramped size. The keyboard is much smaller than what you'd find on, say, a 13-inch laptop (this Lenovo model only has a 10-inch display), and typing can be difficult. The model is available now from some online retailers, such as Newegg, for $199.99 USD.