Lenovo introduces new tablets, AIO desktops & laptops at CES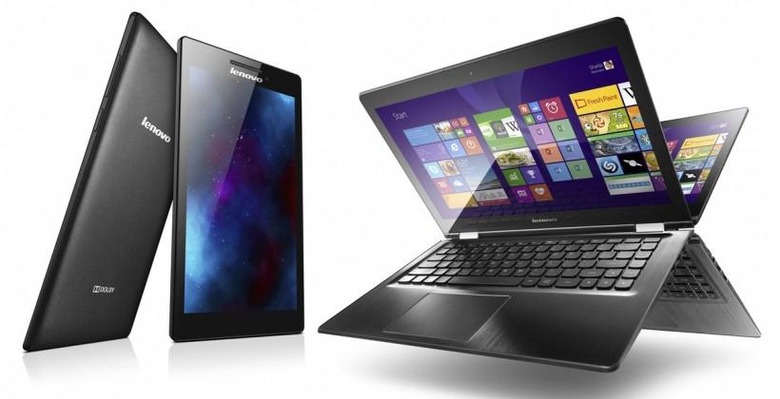 At CES, Lenovo has brought with them another full product line meant to entice first time buyers and impress long-standing users. Their A-series tablets are aimed squarely at the first-time tablet owner who wants something affordable than can keep up. Their C-series all-in-one desktops fit any home or office, and are priced to suit any budget as well. The S41 laptop strikes a nice balance between desktop power and portability, and like we trust Lenovo to do, keeps the price-point low.
The Lenovo A7-10 runs Android 4.4 out of the box, and check in at 9.3mm thin and 269 grams. Lenovo wasn't ready to say how big the battery is on the tablet, but they are promising all-day battery life. The screen boasts a 1024 x 600 IPS display, and the A7-10 has 32GB storage, which is expandable via a MicroSD slot. A MediaTek quad-core processor keeps things humming along.
Lenovo's A7-30 has all the same prowess as the A7-10, but also packs 3G connectivity and a SIM card slot. The A7-30 is also a touch slimmer at 8.9mm.
The A7-10 comes in Ebony Black, while the A7-30 comes in four colors: Aqua Blue, Cotton Candy, Pearl White, or Ebony Black. Both tablets come pre-loaded with Lenovo's DOit app suite.
Lenovo's S41 laptop is a 14.1-inch Windows 8.1 powerhouse. At a mere 19.5mm thin and weighing less than 1.8kg, you may not even know you're carrying it. You can get yours with an Intel Core i7 processor, NVIDIA GeForce graphics, and Dolby Home Theater for big sound. There are also the optional 1 TB SSHD or 256 GB SSD.
Desktops can be expensive, but Lenovo's C-series all-in-ones will leave you with something left in the tank. They're also perfect for a variety of users.
With two screen size options — 21.5-inches or a 23-inch model — the C40 and C50 also pack 10-point touch-screens. The two screens are full HD, and house a 1920 x 1080 resolution. Windows 8.1, a DVD burner, and front-facing speakers keep your media library chugging along. An optional NVIDIA GeForce or AMD R5 graphics engine and Intel Core i5 processor keep your multitasking and gaming breezy, and Lenovo is promising the memory and storage options will be adequately substantial.
The Lenovo A7-10 will hit shelves this month, and carries a $99 price tag. the A7-30 comes out in March, and costs a mere $129.
Lenovo's S41 laptop arrives this June, starting at $799. The C40 and C50 start at $429 and $729, respectively, and will hit retailers in March.