Lenovo IdeaPad Z370 Review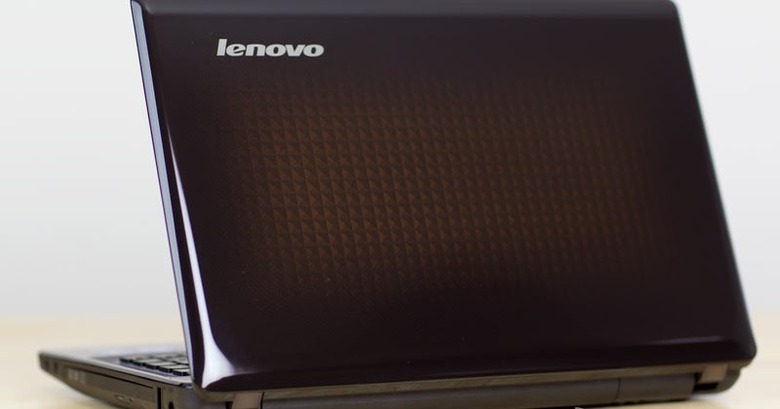 The Lenovo IdeaPad Z370 is an all-purpose 13.3-inch budget-friendly laptop that's intriguing on the eyes and easy on the wallet. It comes in either a muted dark brown or a flashy aqua blue, both with a holographic matrix design on the lid and a stylish brushed metallic interior. The Z370 configuration we got to test packs an Intel Core i5 processor at a price of $622. Continue after the cut for our full review.
Hardware
The Charcoal Brown Z370 model we have sports a dark glossy top lid with a subtle holographic pattern and a silver Lenovo logo. The act of lifting open the lid is surprisingly pleasant. Perhaps it's the combination of good hinges and a very thin lid in contrast to a hefty bottom. Whatever it is, it opens smoothly and closes just as nicely, snapping down by itself towards the end.
The keyboard and palm rest areas are a continuous surface with a brushed gunmetal material with a slight purple hue. The surface sinks down slightly for the chiclet style keyboard, but these aren't your typical isolated keys. They have a unique shape with a slightly contoured bottom edge. They are not backlit though, but the physical power button and five capacitive touch controller buttons above the keyboard are.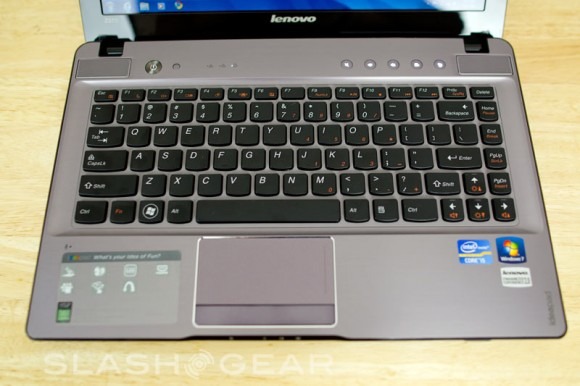 The five controls include mute, volume up, volume down, display setting, and thermal control setting. The display control allows you to choose between three settings of Normal, Movie, and Intelligent, while the thermal control lets you choose between four settings of Standard, Super Silent, Efficient Thermal Dissipation, and Dedusting. Other items along this area above the keyboard include two speakers, a physical reset button, and three LED status indicators.
The trackpad has a rough texture almost like sandpaper that takes getting used to. This is supposedly for more accurate tracking, but is not as comfortable to use. The multitouch pad supports two-finger scrolling and pinch-to-zoom, while a smooth horizontal button below supports right- and left-clicking.
The 13.3-inch backlit LED display with a 1366 x 768 resolution has a glossy black bezel with an embedded 2-megapixel webcam. In daylight conditions, the camera takes nice crisp images, but in lower light conditions, the camera is pretty useless.
When it comes to connectivity, the Z370 offers two USB 2.0 ports, one USB/eSATA port, HDMI, Ethernet, VGA, Bluetooth 2.1, and Wi-Fi. For multimedia, there is a DVD optical drive as well as an SD card slot. Other ports include your standard slot for use with a security cable lock and your microphone and headphone jacks.
[sgbenchmark id=138 show=system]
Software & Performance
The Lenovo Z370 laptop comes running Windows 7 Home Premium along with Microsoft Office Starter and a 60-day free trial of McAfee VirusScan Plus. It's also preloaded with various utilities, including Lenovo's Veriface face-recognition software, Direct Share, and OneKey Rescue & Recovery.
The Z370 configuration we have sports a 2.3GHz Intel Core i5-2410M processor with 4GB of RAM and boasts some decent performance numbers. Using the synthetic benchmarking tool from Geekbench, the Z370 scored a 6441, which is slightly above average for a laptop of this category and shows that it will support most all your multimedia, multitasking, and gaming needs.
[sgbenchmark id=138 show=score]
The two large stereo speakers with Dolby Advanced Audio that are built-in at the top corners of the keyboard produce decent quality sound for a laptop at this budget. The sound is loud, clear, and full enough to enjoy your multimedia needs such as streaming music, watching online videos, or playing DVDs. Lenovo's Upgraded OneKey Theater II button also makes it easy to adjust the display and audio for an optimized movie viewing experience.
Battery
Sporting a 6-cell replaceable Lithium-Ion battery, the Z370 has a battery life rated for up to 5 hours. In our testing, which involved playing a DVD on the "Movie" display setting with 100 percent volume, there was still about 72 percent battery remaining after an hour in. That translates to about 3.5 hours, which is enough to get you through two movies while on the go and away from an outlet. Regular email and web browsing usage should yield better results.
Wrap-Up
The Lenovo Z370 packs great performance in a small package with the latest Intel Core i5-2410M CPU with integrated Intel HD 3000 GPU. It's not targeting business use, especially with its flashy design option in blue, but that doesn't mean it can't handle all your work and multitasking needs. It's 13.3-inch size makes it nice and portable but it is a bit thick and hefty. Also, the battery life is a bit lacking compared to other laptops in this category. Overall build quality and finish looks solid and for a price at around $629, it's definitely worth considering.