Lenovo IdeaPad Y900 Review: surprising power in a big package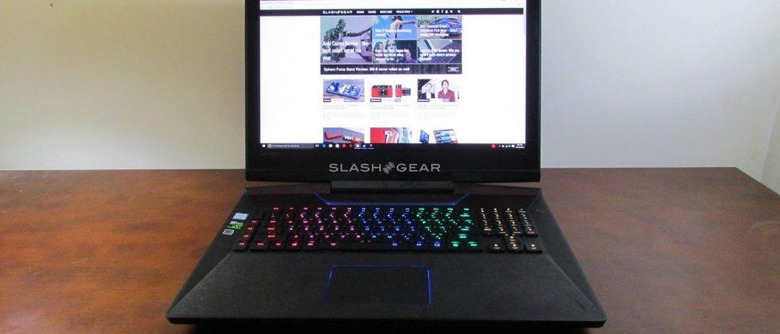 EDITORS' RATING: 8/10
I've always found it difficult to wrap my head around gaming laptops, and when I first opened the Lenovo IdeaPad Y900 notebook, I didn't think my feelings were going to change. I found myself almost immediately wondering why I would use such a bulky laptop when I have my own gaming desktop at home. Still, there's more to a computer than its size, and once I really dug in and got to playing around with it, there were a few things that caught me by surprise. The question then was whether the IdeaPad Y900 was enough to change my opinion on gaming laptops, or if I'd end the review process with the same opinions I had at the start.
Design
In a world where gaming laptops usually seem to fall somewhere between "loud" and "absurd" on the design spectrum, I find that I rather like the look of the IdeaPad Y900. With the display closed, the whole package looks rather sleek, with nice definition on the the brushed aluminum face that doesn't immediately scream "I play games and this is my ridiculous machine!" Red accents on the hinges tie the whole look together, and when opened, the single "Y" badge on the face of the laptop glows red. These are nice touches that, again, don't overdo it.
Once you open the laptop up, you're greeted by a whopping 17.3-inch 1080p display, a keyboard that takes up most of the real estate it's given, and a trackpad that's flanked on either side by a soft pad, giving you plenty of room to rest your wrists where they won't be laying on the harder aluminum. Make no mistake, this laptop is a behemoth, and that 17.3-screen is leading the charge.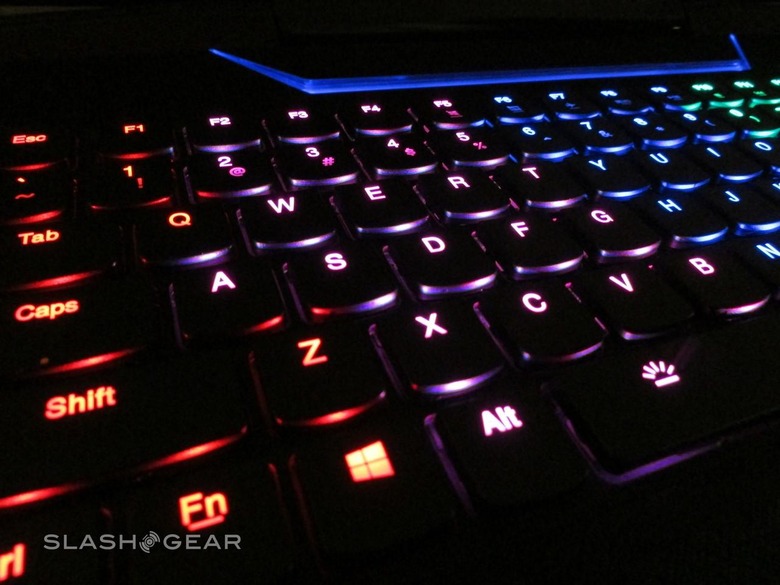 The mechanical keyboard, in my opinion, is great. The customizable backlighting looks good and it feels comfortable to type with. It doesn't feel as cramped as some laptop keyboards can, and that's one of the advantages of this laptop's size.
The trackpad, on the other hand, isn't really suitable for gaming. You'll more than likely want to get a bluetooth (or wired) mouse for most of the games you'll want to play. There's nothing terrible about the trackpad itself – it's entirely serviceable and inoffensive – but its gaming applications will be very limited. The nice thing is that there's plenty of room to use a small bluetooth mouse to the left and right of the trackpad, so if you don't have a suitable surface to use a mouse on, you'll have enough space on the computer itself.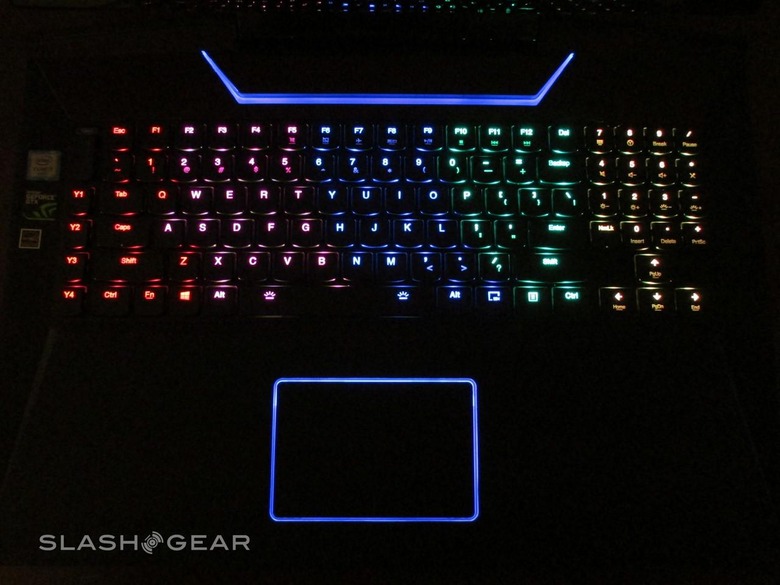 On the right side of the notebook, you have a variety of ports. On this side, you've got OneKey Recovery, a 6-in-1 card reader, jacks for headphones and microphones, two USB 2.0 ports, and the Kensington Security Slot. Jumping over to the left side, we have AC Power, DisplayPort, HDMI, Gigabit Ethernet, USB 3.1 Type-C, and two USB 3.0 ports. In a world where some notebook manufacturers are saying "less is more," Lenovo scoffed and went in the opposite direction – you'll likely not want for additional ports while using the IdeaPad Y900.
This IdeaPad is missing a built-in optical drive, but it actually ships with an external one you can connect to the computer via USB. This, I think, was a good decision. It saves some space in an already big computer, and optical drives are becoming less of a necessity in an increasingly digital world. It's nice to have, but no longer required by any means.
Performance
This being a gaming laptop, performance is paramount. Here are the specifications for this IdeaPad Y900 unit:
Intel sixth-gen Core i7-6820HK @ 2.7GHz

NVIDIA GeForce GTX 980M (8GB of VRAM)

16GB DDR4 RAM @ 2133MHz

1TB HDD 5400RPM

256GB Samsung SM951 NVMe PCIe SSD

JBL Stereo Speakers (2 Watt x 2, 3 Watt x1) with Dolby Audio

6 cell, 90 Wh battery

16.73" x 12.4" x 1.42", 10.1 lbs
You're working with some serious hardware here, and in-game, that shows. While the 980M may soon be showing some signs of age thanks to the arrival of the 10 series, it's still a very powerful GPU that doesn't disappoint here. The Lenovo IdeaPad Y900 ships with Lenovo Nerve Center software, which lets you track CPU and GPU performance and overclock both by flipping the "turbo" switch on the keyboard.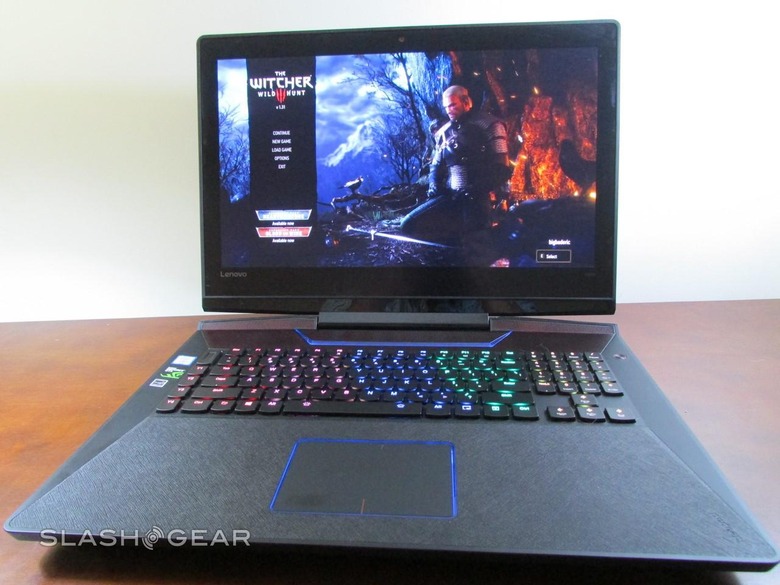 With the IdeaPad's turbo mode activated (and the laptop plugged in), we see strong performance in a variety of games. In Overwatch, that hardware translates to a framerate that fluctuates between 65 and 75 fps with Epic graphics settings – the highest preset Blizzard offers.
Jumping over to The Witcher 3, framerate does take a hit, but not as much as one might initially expect. With video settings at Ultra and post-processing effects on High (essentially, we're got everything cranked up except NVIDIA Hairworks, which was off), we see framerates between 30 and 55 fps. Framerates stayed near 30 when there was a lot of action on-screen, which was impressive considering the video settings I was rolling with.
Middle Earth: Shadow of Mordor makes things a little easier, as it ships with in-game benchmarking tools. After installing the game's HD texture pack, I experienced an average framerate of 67 fps, topping out at 89 and dropping to a minimum of 48.
Honestly, these results are pretty impressive, since these framerates were captured with max video settings for all three games. Dropping those settings down just one tier will benefit framerate even more while keeping graphics looking pretty. Where a lot of gaming laptops ultimately result in an exercise in compromise, there isn't much need for it here.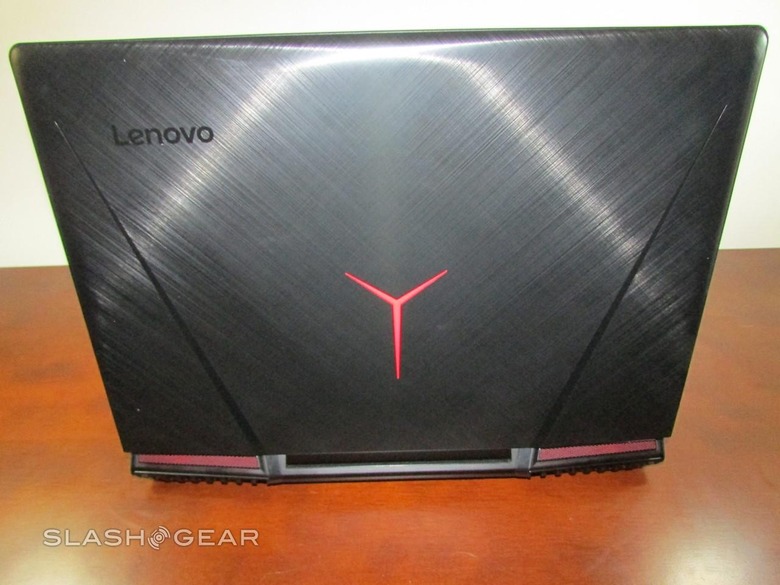 In testing the battery, I charged the computer up to 100% and then sat down to play World of Warcraft until the computer shut off. By the time that had happened, I had been playing for 2 hours and 33 minutes. This is with graphics setting at high and screen brightness at 50%. That's not terrible, but keep in mind that World of Warcraft isn't the most demanding game around – in fact, far from it these days. While your mileage will vary depending on what you're playing or what you're doing, you probably won't want to stray too far from an outlet.
I think it's also worth noting the quality of the speakers here, too. While laptop speakers aren't usually anything to write home about, these one actually sound pretty good. Obviously, notebook speakers will rarely be a suitable replacement for a good pair of headphones, but these ones get the job done fairly well.
The display is also quite good. I thought colors were vibrant and graphics were sharp at a range of different brightness settings. Lenovo says that the display is "anti-glare" and while I did notice a reduction in glare over other glossy notebook displays, it wasn't quite as good as a matte display would have been. Of course, those are pretty rare these days since glossy displays look more sleek than matte ones, but it would have been nice to see Lenovo take its anti-glare campaign all the way.
Wrap-Up
All in all, I think the Lenovo IdeaPad Y900 has swayed me on gaming laptops as much as any one machine can. I like the look, I'm very pleased with the performance, and while I think the price is a little high at $2500, there are definitely other notebooks out there that offer you less for similar prices.
There is one major hang up for me, though, and that comes with the weight of the device. At 10.1 lbs, I have a hard time imagining this as a daily driver. It's simply too large and too heavy to be what I would consider easily portable.
But that's the thing, isn't it? If we're going to pack these laptops with hardware on this level, there has to be a trade-off somewhere, and here that comes with the weight. Since this comes with a price tag of $2500, buying a Y900 and another, more lightweight notebook (or even a tablet) isn't really going to be an option for a lot of people.
So it's here that you have to ask yourself if you think you can use a laptop that weighs 10 lbs and measures nearly 17 inches across as your daily workhorse. If the answer is yes and you're okay with the price, then the IdeaPad Y900 is a fairly easy recommendation. If the answer is no, then you may want to consider picking up a more mid-range laptop and doing your more intensive gaming at home.