Lenovo IdeaPad S10-3t Review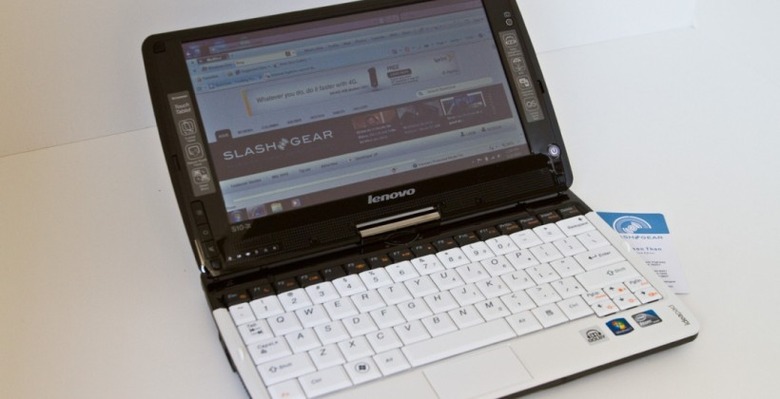 While Lenovo have long offered tablet PCs in their ThinkPad range, CES 2010 saw the surprising debut of several more consumer-focused touchscreen devices. The Lenovo IdeaPad S10-3t lacks the eye-catching removable display of its U1 sibling, but still promises the company's legendary build quality along with the benefits of capacitive multitouch. Does the IdeaPad S10-3t tick all our tablet boxes? Check out the full SlashGear review after the cut.System Overview
Like other IdeaPad netbooks, the S10-3t eschews Lenovo's blocky ThinkPad styling in favor of rounded edges and high-gloss, fingerprint-grabbing plastics. Build quality feels high, and the hinge is sturdy; unfortunately there's more than the usual degree of flex in the keyboard and the trackpad's frustrating integrated mouse-click buttons made us wish for a traditional Lenovo TrackPoint nubbin. The 10.1-inch netbook measures in at a reasonably-slender 282 x 202 x 15-35 mm, with thickness depending on which battery you opt for. The 8-cell pack will boost runtimes, of course, but adds significant girth over the slimmer 4-cell version; our unit came with the latter, and proved reasonable comfortable to hold for moderate periods in tablet orientation.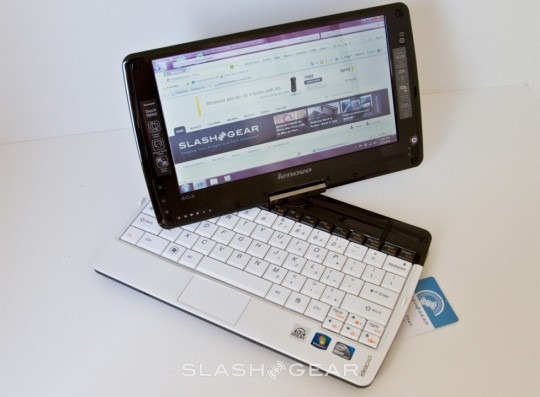 Intel's Atom processor runs the show, and Lenovo offer two versions of the chip in the S10-3t. Entry-level models get the 1.66GHz N450, while our review unit had the 1.83GHz N470 paired with 2GB of memory and GMA 3150 graphics. There's also a 250GB 5,400rpm hard-drive, WiFI b/g/n, Bluetooth 2.1+EDR and a copy of Windows 7 Home Premium 32-bit. Sticker price is $649, though the S10-3t range kicks off from $549.
[sgbenchmark id=87 show=system]
Unlike Lenovo's ThinkPad tablets, the IdeaPad S10-3t doesn't get the company's SimpleTap UI; instead there's a copy of 3D desktop app Bumptop just in case Windows 7's touch-enhancements aren't enough for you, together with Lenovo's Natural Touch UI which automatically starts when the netbook is flipped into tablet mode. To be honest, while Microsoft have done plenty to make the OS more finger-friendly, there are still plenty of times – menus and settings pages particularly – when we found it easier to jab at the trackpad rather than the display. The 10.1-inch panel runs at 1024 x 600 resolution, like most netbooks, and has a particularly high-gloss finish that can lead to significant screen reflections.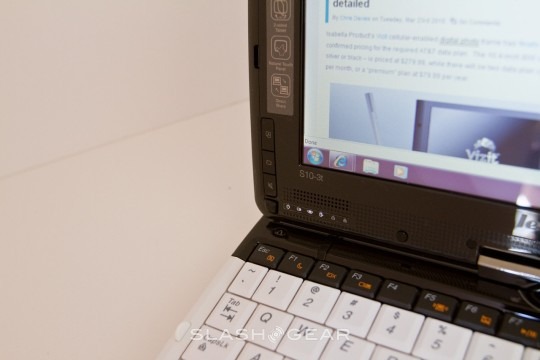 Design
Lenovo have sensibly added several buttons and controls around the screen bezel, making it easier to control when in tablet orientation, and there's even an accelerometer which flips the display automatically. Screen rotation does take a few seconds, however. To try to suit both portrait and landscape use, the 1.3-megapixel webcam is placed in the top right corner rather than dead-center, and the end result is that video calls can leave you looking off-screen. The capacitive touchscreen itself feels reasonably responsive, tracking both single taps and multitouch gestures like pinch-zoom; however, you're also at the mercy of the CPU for doing the appropriate software crunching, and that can lead to jerky image resizing depending on what apps you're asking the S10-3t to run.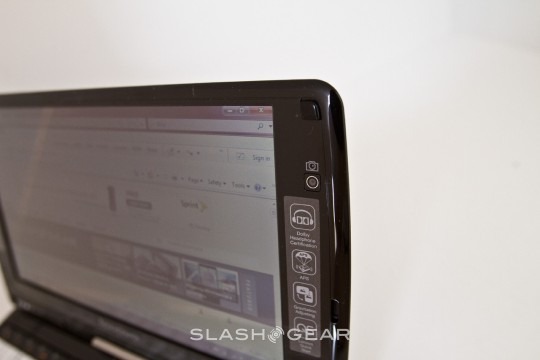 Performance and Benchmark
Geekbench benchmarking found the IdeaPad S10-3t scoring 978, less than 100 points more than an Atom N270 netbook running Windows XP with 1GB of RAM. In fact, the N470 is less than 40 points ahead of the N450 (as tested in a 1GB Windows 7 Starter netbook). In everyday use that translates to occasional lags in loading software and relatively mediocre multi-tasking; full-screen streaming video, such as 720p YouTube content, proved jerky, though the S10-3t's speakers could be cranked up to a reasonably loud level.
[sgbenchmark id=87 show=score]
Battery Life
Unfortunately, while the 4-cell battery our review unit is equipped with makes for a comfortable carrying experience, it doesn't do much for longevity. In general use, predominantly browsing over WiFi with some audio playback, the S10-3t managed just over four hours of battery life. Heavier emphasis on video playback, however, saw that plummet to a little over three hours. We'd expect the optional 8-cell battery to offer around double those times, though we doubt you'd be so inclined to use the S10-3t in tablet mode quite so much, which somewhat undermines its functionality.
Verdict
It's unfortunate, but the fact that the Lenovo IdeaPad S10-3t promises so much – multitouch, usability both while desk-bound and while mobile – makes it all the more disappointing when it falls short. The occasional periods of sluggishness that all netbooks encounter are somehow exponentially more frustrating when you're trying to interact via the touchscreen, and the choice of either battery life or holding-comfort is a disappointing one to have to make. Add in the bouncy keyboard and the annoying trackpad and it's not looking good.
We're not saying that there's no market for multitouch convertible netbooks, we just think the Lenovo IdeaPad S10-3t requires some compromises that would-be buyers should be aware of. It's certainly true that, for the price, the netbook offers a decent amount, and we'd be tempted to save a little more money and opt for the cheaper entry- or mid-tier versions; the difference between the two Atom processors is unlikely to have a great impact on overall performance. Despite the MRSP of $549, it's already possible to pick up an entry-spec S10-3t for $100 less than that, at which point the compromises start to feel a whole lot more acceptable. The IdeaPad S10-3t isn't the last word in touchscreen netbooks, but aggressive pricing certainly helps make what shortcomings it has more palatable.
Gallery