Lenovo Ideapad 300 15.6" Review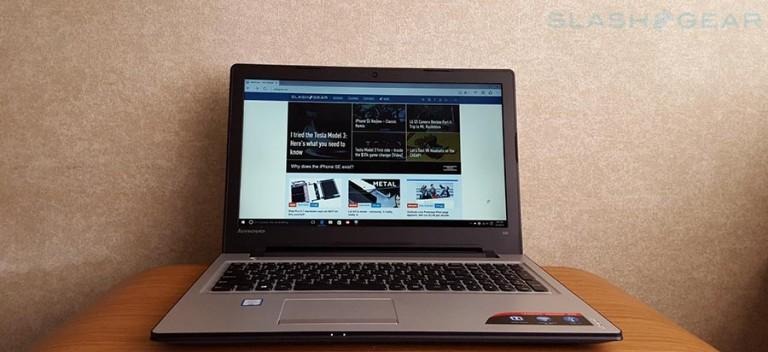 Lenovo is back with another Ideapad, and it's an interesting model. The laptop, at its lowest configuration, is very budget-friendly, but you don't necessarily have to make big compromises to hit that low price point. The 15.6-inch glossy display makes for a large overall laptop, one that presents its bulk well. How does the laptop hold up in everyday life, and will it meet your needs? Read our review to find out!
Hardware
The Lenovo Ideapad 300 is a budget-friendly laptop for those more concerned about functionality than portability. Yes, Lenovo has many lightweight, portable Ideapads — this isn't one of them, but that's not a bad thing. The Ideapad 300 offers some features you'd be hard-pressed to find on a competing model, such as a VGA-out port for use with the older monitor you may have sitting around and an optical drive. As well, it has a dedicated number pad and a generously-spaced keyboard...you feel like you have a bit of room to spread out, if you will.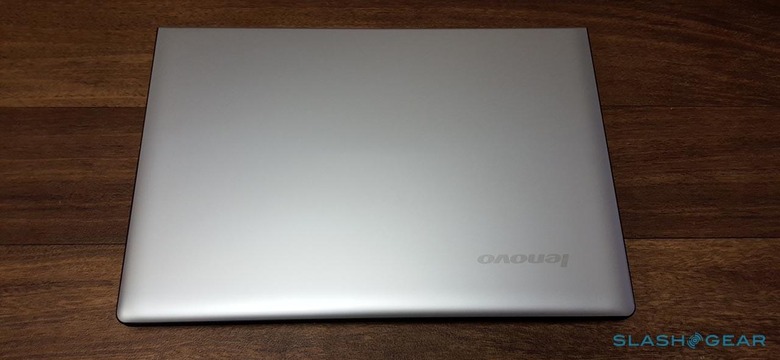 The laptop's lid is smooth — silver colored, in our case, but also available in black and red — with a low-contrast Lenovo logo in one corner. The bottom of the laptop contrasts the lid with a dark, textured body panel; there are four rubber feet in each corner, as well as vents and speaker grilles. The edges, meanwhile, are angular and dark with a noticeable lip on the front edge.
The ports are fairly extensive and inline with the wants of the laptop's main audience — the right side has a VGA port, a 4-in-1 card reader, one USB port, and an HDMI port, while the left side has an optical disc drive and two USB ports.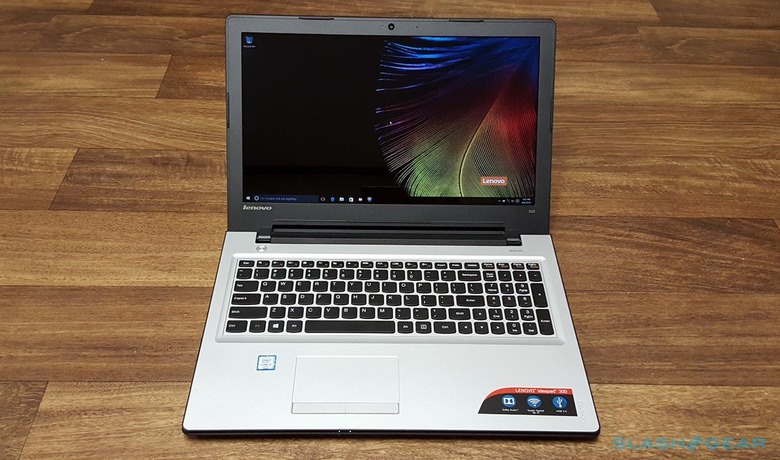 The internal design is pleasant, if not excessively plastic-y. The bezel around the display is smooth plastic, whereas the plastic around the keyboard is slightly textured with a cross-hatched pattern, and is the same color as the lid. The keyboard is low-profile and dark; the keys require a pleasant amount of force to press and don't feel loose. The trackpad, meanwhile, is about as wide as the spacebar and has two physical buttons; it works as it should, and you can't ask for much more than that.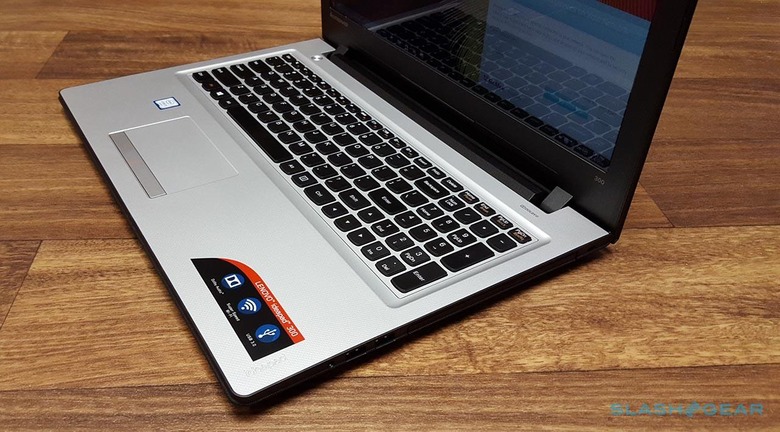 TECH SPECS

Processor: Up to 6th Generation Intel® Core™ i Processor; Up to Intel 4405U Processor

Operating System: Windows 10 Home

Graphics: Integrated Intel® HD

Webcam: 1MP HD with single Microphone

Audio: Stereo Speakers with Dolby® Advanced Audio™ certification

Battery: Up to 4 Hours Local Video Playback

Display: up to FHD (1920 x 1080)

Dimensions: 15.11" x 10.43" x 0.90"-0.92"

Weight: Starting at 5.07 lbs (2.3 kg)

WiFi: 802.11 a/c 1 x 1, Bluetooth® 4.0

Connectors: 1 x USB 3.0, 2 x USB 2.0, HDMI-out, VGA, 4-in-1 Card Reader (SD, SDHC, SDXC, MMC), Audio Combo Jack
Software and Performance
The Ideapad 300 ships with several Lenovo applications on it: OneKey Recovery, Companion 3.0, Photo Master, SHAREit, and REACHit. The latter two are arguably indispensable for those steeped in Lenovo's ecosystem; the others come in handy if you don't have alternative preferences. In addition to Lenovo's own software, there's a 30-day trial of McAfee included. The operating system is Windows 10.
Performance is as expected — our particular model features an Intel Core i5-6200U 2.30Ghz processor and 8GB of RAM. You can compare the GeekBench results below with that results of other comparable laptops in the SlashGear Laptop Reviews portal!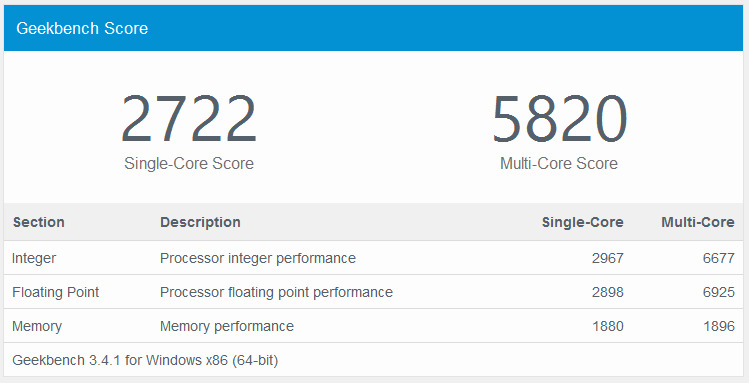 As far as battery life goes, we didn't expect much given the nature of the laptop, and you'd be well off to have low expectations. You'll get a solid few hours out of the system, depending on what you're doing, but you won't make it through a work day without having to charge. Lenovo's official specs say users can expect up to 4 hours of video playback on a charge. Your exact run time, of course, will depend on what you're using the laptop for.
Conclusion
For the target audience, Lenovo's Ideapad 300 is a pleasant offering — the inclusion of an optical drive and VGA are particularly welcome, as many people considering budget laptops aren't necessarily up-to-date with their other technological trimmings, and may have an older monitor and a large CD/DVD collection. Is the Ideapad going to be winning any awards? Of course not, but that's not Lenovo's intention — what we have here is a basic laptop that is inexpensive and entirely practical.
The Lenovo Ideapad 300 starts at $299 USD.