Lenovo IdeaCentre Q150 Review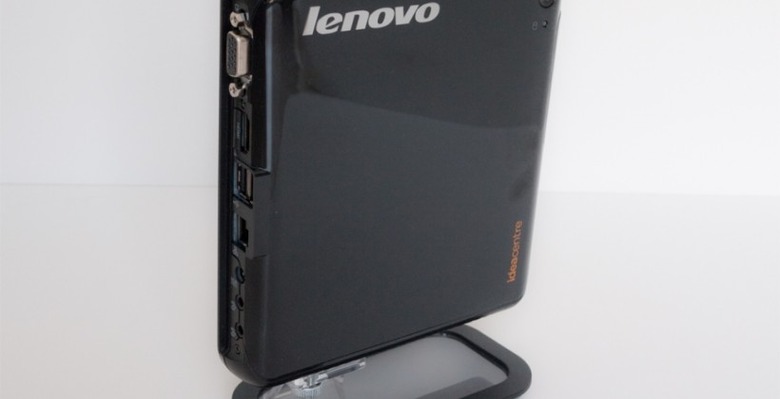 While ultra-compact nettops have been around for some time now, they're still yet to revolutionize the HTPC market as we were initially promised. Hoping to change all that is Lenovo with their new IdeaCentre Q150, packing NVIDIA's Ion 2 GPU paired with a low-power Intel Atom CPU. Lenovo say it's good for 1080p HD; does the real-world experience live up to the spec sheet? Check out the full SlashGear review after the cut.
The IdeaCentre Q150-40816AU bears the mark of Lenovo's latest updates, throwing out the old single-core Atom chip of its predecessor and replacing it with an Intel D510 with twin 1.66GHz cores. That's paired with 2GB of DDR2 memory, a 500GB hard-drive, NVIDIA Ion 2 DX10 graphics chipset (with 512MB of dedicated VRAM) and WiFi b/g/n. Ports, meanwhile, include HDMI, VGA, two USB 2.0, ethernet and audio in/out on the back, while there are another two USB 2.0 ports and an S/PDIF digital audio output on the front under a plastic flap. Lenovo supply a stand for propping the Q150 upright, or alternatively there's a VESA mount on one side so you can hide it behind your HDTV or monitor.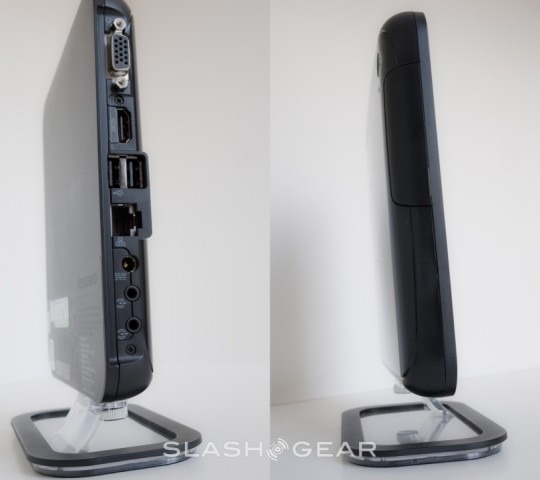 In the box, Lenovo supply a power brick and a wired USB keyboard and mouse set; however, the company also sent us their N5901 wireless keyboard. A distinctive, chubby T-shape, the N5901 has a full QWERTY thumbboard across the top and a trackball underneath, and is primarily intended for those wishing to use the IdeaCentre Q150 as an HTPC.
Setup of the Q150 is straightforward, since it's a regular Windows 7 Home Premium PC. Obviously there's no optical drive, and Lenovo save around 30GB of the HDD as a service partition (for re-imaging the PC should you want a fresh install), but generally it's a case of hooking up a monitor or other display and then getting to work. For HTPC use the front-mounted S/PDIF port seems ill-placed, seeing as it's unlikely to be the sort of thing you're regularly plugging in and unplugging, but most will likely use HDMI anyway, which carries both audio and video. We had no trouble connecting to a WiFi network to stream content both from the Q150 and from a standalone NAS.
Intel's Atom D510 processor may be a step up from earlier iterations, but we still weren't expecting dramatic performance from the low-power chip. We benchmarked the nettop using Geekbench, a synthetic test of processor and memory performance, and the IdeaCentre Q150 scored 1242. That's only a few points higher than we were seeing from Atom 330 machines, and is unsurprisingly akin to what you'd see from a netbook.
[sgbenchmark id=105]
In terms of real-world use, the Lenovo lived up to its multimedia billing. Previous machines using the Ion GPU were criticised for patchy performance, since things like Flash didn't support hardware acceleration and, as such, relied solely on underpowered CPUs. With Flash 10.1, however, the Ion 2 in the Q150 is responsible for HD decoding, and it manages it with minimal fuss. Full-screen Hulu looked great, as did local content. Regular Windows apps, however, were less impressive; with the GPU out of the equation, the Atom CPU struggled with anything more than a little multitasking. Try to do more than surf with a couple of windows open while playing music in the background and the Q150 starts to get a little sluggish.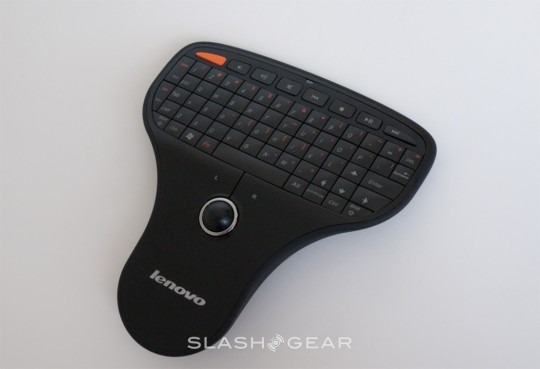 As for the Lenovo N5901 wireless keyboard, that uses a proprietary USB wireless dongle (which stows in a niche underneath) and is plug-and-play with Windows 7. As well as the QWERTY 'board there are dedicated multimedia keys, and the whole thing sits nicely in the hand; we wish Lenovo had used the same soft-touch plastic on the front as they have on the back, though, since the glossy finish is a real fingerprint-magnet. The keys themselves are slightly convex, making for easier typing, and while you wouldn't want to input anything of length, it's certainly sufficient for searches, Twitter messages, brief emails and URLs. The trackball, meanwhile, is usable, though we wish Lenovo had opted for a gyroscopic navigation system instead. Still, that would add to the price, which at $59.99 is reasonable.
Overall, there's a lot to like about the IdeaCentre Q150. Notable omissions are Bluetooth and any sort of memory card reader, though of course you could add either via USB. An integrated card reader would arguably be less than useful if your Q150 was mounted behind the TV, too. It's a quiet-running system, and thanks to GPU acceleration is capable of stutter-free 1080p HD local and streaming video; 500GB is plenty of space for a nettop, too. Currently priced at $399 – $50 more than the single-core model with mere Intel GMA 3150 graphics and a 160GB HDD – it makes for a capable HTPC; throw in a cheap USB TV tuner and you could record TV too, since Windows 7 Home Premium natively supports media center functionality. This isn't the machine for gaming or video editing, but then we doubt many would confuse it for such: instead it's a great little media PC that serves up high definition content with minimal fuss.