Lenovo enters PC-on-a-stick market with ideacentre Stick 300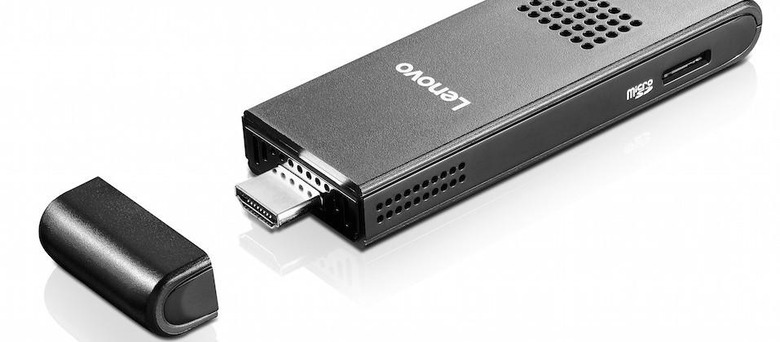 As micro-sized PCs on USB and HDMI sticks are becoming the new standard for entry-level computing and entertainment systems, Lenovo has announced its entry into the market. Dubbed the ideacentre Stick 300, the device plugs into a HDMI port on any monitor or television display, turning it into a Windows PC with more than enough power to browse the web, create documents, and enjoy media like photos and video. Lenovo says it will be hitting the US this fall, priced at a wallet-friendly $129.
The ideacentre Stick 300 will ship with Windows 8.1, but will also be eligible for Microsoft's free upgrade to Window 10. It's powered by an Intel Atom processor, comes with 2GB of memory and 32GB of storage, along with WiFi and Bluetooth 4.0 connectivity.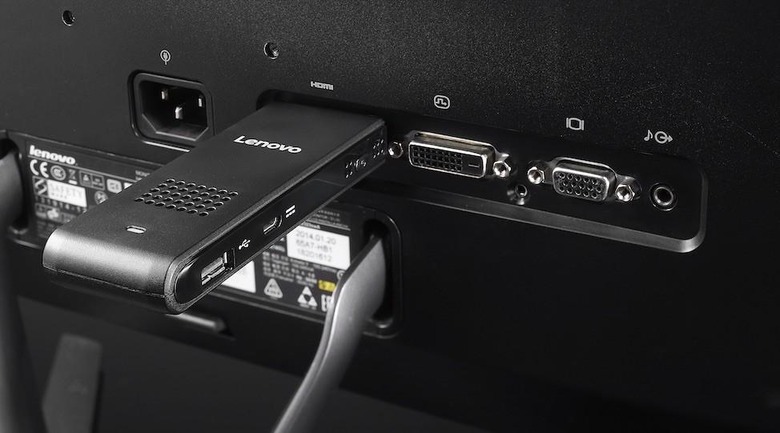 The micro PC will be much more useful as a real computer once it's paired with a wireless keyboard and mouse, as well a single HDMI port, a single micro USB port, and an SD card reader will help with connecting other devices. Lenovo is also including a 3-month trial of Microsoft's Office 365 software.
In the event you haven't used a PC-on-a-stick, or don't really see how they could be useful, image connecting one to a TV in the bedroom or office and having it act as an extra computer connected to the home network, or taking one on vacation and having a media hub on the hotel room's TV. The possibilities are nearly endless when you literally have a PC in your pocket.