Leica X Vario "Mini M" is world's first APS-C CMOS compact camera with zoom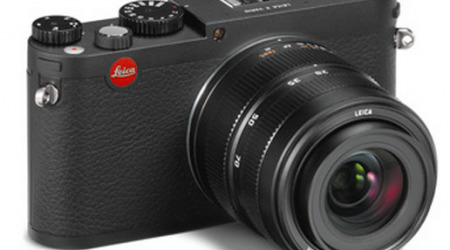 Previously known as the Leica Mini M, the newly unveiled Leica X Vario digital camera is a small unit that features an APS-C format 16.5-megapixel CMOS image sensor, which is said to be "unusually large" for digital cameras in this class. That aside, this little shooter packs a variety of features, including full HD video recording and carefully designed handling characteristics.
The Leica X Vario features focal lengths from 28mm to 70mm, making this the first compact digital camera to offer both an APS-C format, CMOS sensor and zoom. This is joined by full 1080p HD video recording at 30 frames-per-second. To keep the video's audio as clear as possible (Leica promises "crystal clear"), there's a built-in wind filter over the mic. In addition, videos are saved in MP4 format, which means they can be used in a variety of applications sans converting.
Leica boasts that the X Vario is carefully designed to be easy to handle, with intelligently arranged functions and menu that isn't unnecessarily complicated and time consuming. There's both manual and auto control modes, as well as a Live View mode that shows the effects of any changes made in real time via the camera's rather large 3-inch display.
The camera comes bundled with Adobe's Lightroom photography software, and can be used with either Mac OS X or Windows. Rather than including installation discs, the user would be provided with registration details in the camera's packaging, and would download the software online that is specific to their OS. The camera is likewise being launched with a variety of accessories, which are available for purchase seapartely.
The Leica X Vario is available for purchase now at retail stores either as a standalone unit or as part of a set that include a strap and protector for £2,250/$2,850. The various accessories range in price from £60 for the strap to £380 for the EVF 2 Viso-Flex, with the rest of the items (handgrip, lens hood, etc.) falling between those two.
SOURCE: Leica