Leica limited "Titanium" D-Lux 4 imminent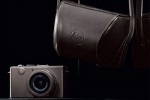 Rumors have been circulating of a very limited 500-pieces edition 10MP Leica P&S D-Lux 4 digital camera to be available worldwide. The package will include an exquisite titanium finish housing and titanium hued Leica logo D-Lux 4 with a matching Leica-stamped leather punch for $995. The technical specs are the same for the regular black finished D-Lux 4, and both essentially are Panasonic Lumix DMC-LX3 equivalent.
If you are a Leica fan, It would be a great collection for that piece of precious machinery, consider its limited run of only 500 units will be issued. But latest report said otherwise, there would be 10,000 units to be available coming this January. Look like there would be plenty of Leica to pass around.