Lecia M9 and X1 digital cams unveiled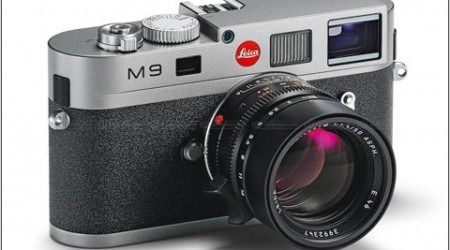 I like it when manufacturers cram high tech goodies inside of devices that look like they are from the old days of tech. Such is the case with the old school looking, but high tech digital cameras from Leica. The company announced the new M9 and X1 digital cameras today.
The M9 has an 18MP image sensor that allows the capture of full 35mm film format and can use all M lenses with focal lengths form 16 to 135mm. The camera measures 139 x 37 x 80mm despite its large sensor. The camera will come in a standard black finish and a steel-grey with leatherette finish. The shutter of the M9 has speed of up to 1/4000 of a second. The camera will ship today in the UK for £4,850.
The X1 looks very much like the M9 with its old school looks and compact design. The X1 is significantly smaller than the M9 with a 12.2MP image sensor. The cam has a 2.7-inch rear LCD and supports up to ISO 3200. Shutter speed is as fast as 1/2000 of a second and numerous flash modes are built-in. Images are stored to SD/SDHC cards and power comes from a lithium-ion battery. Dimensions of the camera are 60 x 124 x 32, and it weighs 286 grams. Pricing is undisclosed, but it will ship in January 2010.