Lean Chair is a laid back standing desk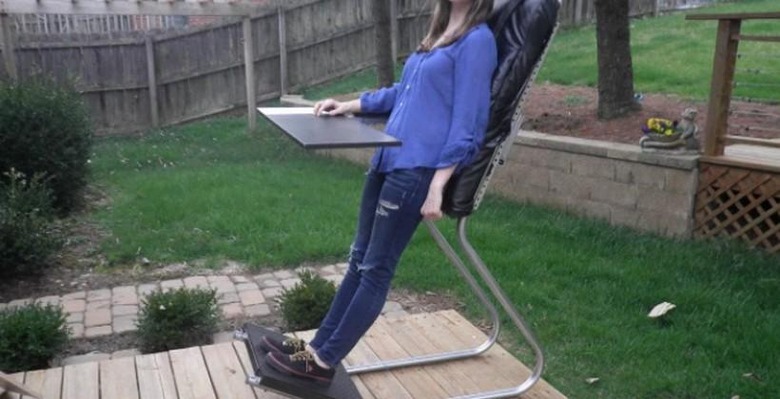 You don't have to talk hard online to find a bunch of stories about how sitting at your desk all day will kill you. This has led to multiple standing desk options being available that allow you to stand up to work. The problem with standing up to work for some people is that having all of their body weight on the knees and feet all day can cause pain, this is where the LeanChair comes in.
The LeanChair is a standing desk hybrid that leans you back a bit while you stand to work. The idea is that you get all of the benefit of standing to work with less weight on your knees. The designer of the LeanChair claims that by leaning you can get 25% of your bodyweight off your legs.
The swing away desk section of the LeanChair and accommodate laptops or a mouse and keyboard for gaming or using a desktop computer with the monitor on a different platform. The catch with putting your laptop on the desktop surface is that you will have to look down to see the screen, and that can be a literal pain in the neck.
The LeanChair is on Kickstarter seeking $25,000 and has raised over $59,000 as of writing and the project has 20 days to go. The LeanChair will cost you $275 or more with shipping expected in December 2015.
SOURCE: Kickstarter