Leak claims Nintendo 3DS will launch November 20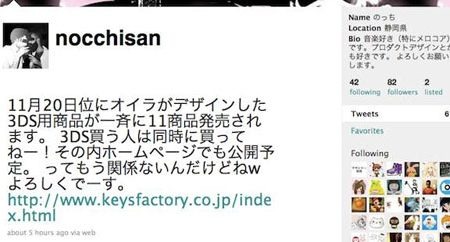 I can't read Japanese, but apparently this Tweet claims that the Nintendo 3DS will be launched on November 20. The tweet is from a Japanese product designer and Nintendo 3DS Blog reports that the Tweet reads, "On November 20th, the 11 goods I designed for use with the 3DS will go on sale simultaneously. Those of you buying the 3DS, please buy them while you're at it! This will be officially announced on the homepage eventually, lol. Best regards."
I am betting we all know one product developer who will never work for Nintendo again, assuming this isn't just a hoax for attention. Apparently, after the Tweet in the image was removed a different post replaced it stating, "OIRA is designed to place 20 11 11 3DS product will be released simultaneously for the product."
The leaked launch date rings true based on other information that we have heard about launch date for the 3DS. The 11-20 launch day would be a Saturday and if true, you had better be up early. This will be one of the hard to get items this holiday season.