Latest Fortnite update detailed: new game modes, settings, more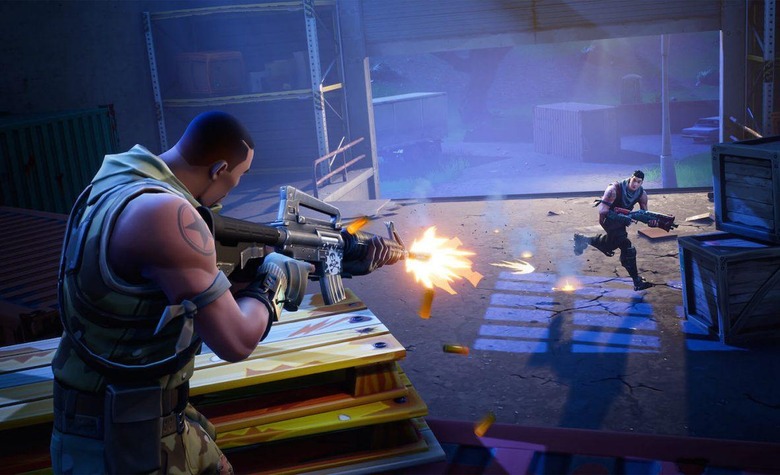 The growing popularity of Fortnite Battle Royale shows no signs of slowing down, with the game just recently topping the mighty PlayerUnknown's Battlegrounds' with a record of 3.4 million concurrent users. To help keep the momentum going — and keep things fresh for players — developer Epic Games has revealed a plethora of details on the game's new updates, which are set to include new modes of play, new settings options, and new items to use.
In the coming weeks, Epic says Fortnite players can expect a renewed emphasis on rotating playlists with limited time modes, or game modes that are only available to play for a set period of time before they're swapped out with something different. The next month is set to see five modes added — one being a new version of the 50v50 mode that debuted in December, alongside four all-new options — followed by at least five more modes shortly after.
Among the other new modes mentioned in Epic's blog post are games that see a reduction in map size, a reworked Blitz mode with shorter rounds, modes with team sizes in between 50v50 and squads, and the anticipated "The Floor is Lava" mode.
Another feature coming within the month is an optional 60 fps mode for console Fortnite players. The best part is that this setting will be available on all console hardware, meaning both the PS4/PS4 Pro and Xbox One/Xbox One X. Epic notes "this 60 fps mode is tuned for each console to maximize frame rate while minimizing loss of visual quality."
The developer adds that they are working to reduce the load times between waiting in the lobby and starting a match, however an exact solution in still in progress. Other, smaller adjustments coming in this month's update include adjustments to sounds with regard to where players' characters are looking, rather than the camera; new sounds for building structures; easier ways for friends to play together in custom matches; and a removal of SMGs — possibly permanently — in order to test and balance new weapons.
SOURCE Epic Games