Latest DOOM Eternal trailer prepares us for the battle to save Earth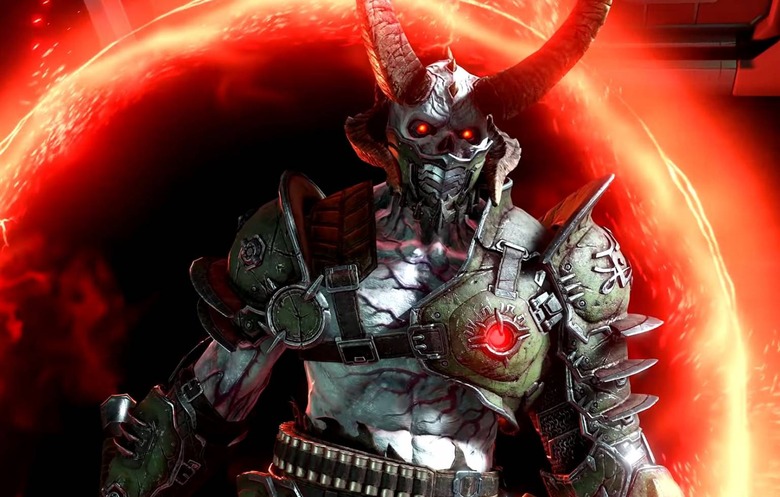 Barring some kind of surprise announcement at E3 2020 or something like that, DOOM Eternal could very well wind up being Bethesda's biggest game of the year. Currently, DOOM Eternal is slated for launch on March 20th, 2020, and today Bethesda is trying to build up some pre-release hype for the game by releasing a new trailer. If you're a fan of demon slaying, then you'll probably want to check it out.
That's because – like pretty much everything associated with DOOM – this second trailer for Eternal is all about demon slaying in over-the-top ways. More specifically, DOOM Eternal brings the conflict between Hell and humanity to Earth, and it'll be the job of players to stop that invasion in its tracks.
As the trailer shows, you'll have of plenty of weaponry at your disposal as you attempt to do that. Not only does the trailer show off a decent selection of the guns you'll be able to use, but it also reveals two new enemies: the Marauder and the Gladiator. It also shows off a bunch of glory kills and the new Crucible weapon, so it's well worth a watch for DOOM fans.
DOOM is, of course, one of the longest-running and most famous game franchises around. After Bethesda's parent company ZeniMax Media acquired id Software, the DOOM series was rebooted in 2016. Those efforts were well-received by gamers, which has brought us to today, quickly approaching the release of DOOM Eternal.
All in all, Eternal looks like it's shaping up to be another solid outing for the DOOM Slayer, but obviously we won't know that for sure until the game releases and we can actually play through it. We'll have that chance on March 20th, 2020, but while we wait for release date to roll around, we should probably expect another trailer or two.