Laser TV Will Be Shown At CES 2008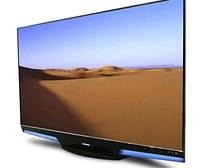 I believe there's an old saying about how as one door closes, another opens. Just as we were beginning to say our final goodbyes to rear projection, a new generation is born and it plans to make its debut at CES after a two year gestation (plans for the Laser TV were announced at CES in 2006).
The Laser TV from Mitsubishi is a 1080p HDTV that uses three lasers instead of one to divide the colors into individual lasers. Mitsubishi claims that this will create 90% of the colors visible to the human eye. LCD and Plasma TVs only show 40%, which is a huge difference. The three laser concept is said to give a sharper, as well as more colorful, image to the viewer. Mitsubishi isn't the only company working on this, apparently, Coherent and Arasor are also in the makes for similar devices.
After hearing this, I'm glad we've held out on buying another TV, it's good to have choices and this one seems like it'll be a contender. It definitely deserves a closer look.