Lamborghini unveiled a pair of special cars at Monterey Car Week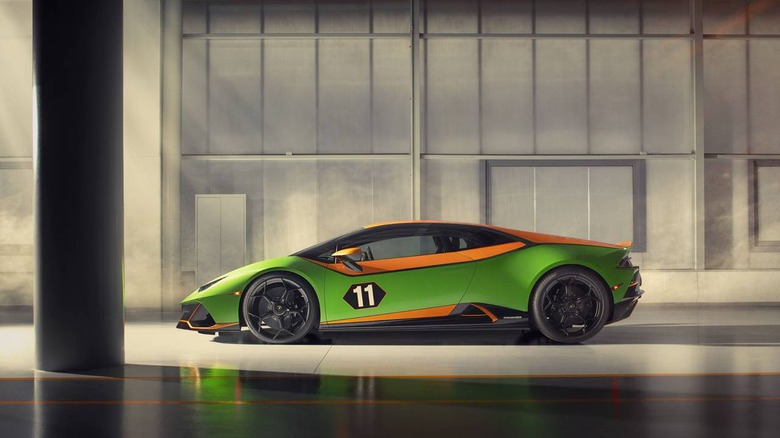 Lamborghini is on hand at Monterey Car Week, and at the show, it is unveiling a pair of special edition cars along with talking up new colors for the Urus SUV. The new cars that Lamborghini is showing off include the Aventador SVJ 63 Roadster, a limited edition production version of the iconic roadster. That car will be produced in a limited run of 63 units to commemorate the founding of the company in 1963.
The car will have eight exclusive design expressions with each of the eight options offering unique combinations of exterior color and interior that are unique to this car. The car will feature a matte or shiny carbon fiber upper part that includes the roof, engine cover, engine air vents, windscreen rim, and wing mirrors.
Lambo also uses a new matte titanium finish on the Leirion forged rims, and the car has a special SVJ 63 livery. The car on display is in matte gray and has Alcantara in Grigio Octans, Grigio Cronus, and Archancio Dryope and carbon fiber and CarboSkin. The other rides is the Huracan EVO GT Celebration.
This car is an homage to the Huracan GT3 Evo that won the 24 Hours of Daytona and 12 hours of Sebring for two consecutive seasons. The design is meant to remind of the livery used on the racing car with green and orange graphics. Three other colors can be combined for the livery with a total of nine options.
The car can also ship with a Lamborghini Squadra Core shield on the roof with Italian and US flags and laurel wreaths. The interior also has unique colors. Lambo has also announced that the Urus SUV will soon come in new colors. One new color is Arancio Borealis.