Lamborghini Parcour off-road concept demoed (and crashed)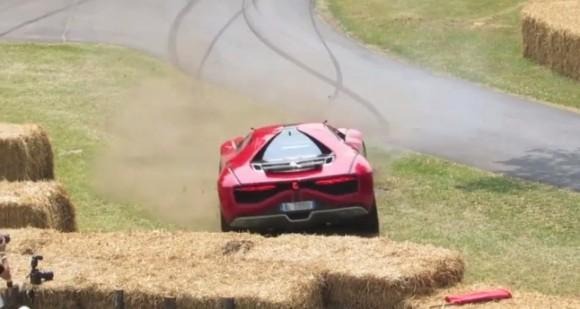 The 2013 Goodwood Festival of Speed was jam-packed with all sorts of racing events, including the infamous hill climb that saw two cars crash. However, those weren't the only accidents to happen over the week. Lamborghini's latest concept, called the Parcour, was demoed on the track and actually ended up crashing, damaging the rear end of the car.
The Parcour is an off-road vehicle of sorts that sports the supercar styling you see on many exotic cars, combined with larger wheels and higher road clearance that you see on SUVs. The car looks a little weird at first, but it seems to work for the most part, except for when the car loses control and slams into some hay bales, causing damage to a multi-million dollar prototype.
The Parcour seen in the video below is just one of the two models that have been built, and while the company is downplaying the severity of the damage (saying that it would just need minor repairs and would be back on the road in no time), the car needed to be put on flatbed truck and towed away.
The Parcour was originally unveiled at the Geneva Auto Show earlier this year, and it sports a 550-horsepower, mid-mounted V10 engine that can get the car off-roading pretty easily. The tires don't look to be anything off-road worthy, but it probably doesn't take long to switch the wheels and tires out for something a bit more rigid and rugged.
Of course, the crowd's reaction is pretty priceless. You hear them cringing knowing that an expensive prototype is about to run right into a stack of hay bales, but then they start clapping immediately, either for a genuine sigh of relief that the crash wasn't worse, or a sarcastic applause of "good job, driver!".