Lamborghini debuts Aventador J for extreme speed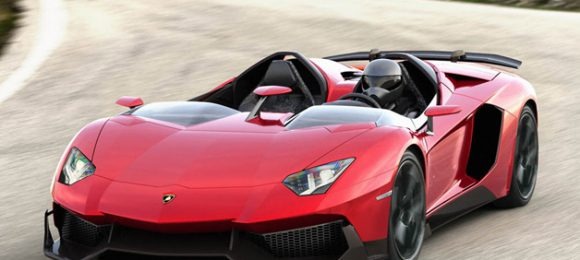 Lamborghini is debuting the new Aventador J roadster at the Geneva Motor Show this week. The vehicle features a radically open design that's made with pure speed in mind. In fact, the car is so open, it doesn't include a roof nor a front windshield, meaning drivers will have to wear a helmet in order to ride the two seater, which has been likened to a "sportsbike made for two."
The Aventador J features the same 700hp 6.5 liter 12 cylinder engine as the Aventador LP700-4 coupe, but has eliminated almost everything unnecessary for boosting speed, such as climate control and a navigation system. The company has also decreased the weight of the vehicle through the use of a new carbon fiber fabric called "Carbonskin." The supercar can reach speeds over 300kph or 186mph.
Lamborghini is haling the vehicle as the most radically designed open super sportscar in the company's history and says the model is a one-off, meaning it's a one-of-a-kind art piece. However, it will be available for sale following the Geneva Motor Show and it will truly be the one and only masterpiece, not even the Lamborghini Museum will have a copy.
[via AutoBlog]