Lamborghini Aventador J reminds us that we're poor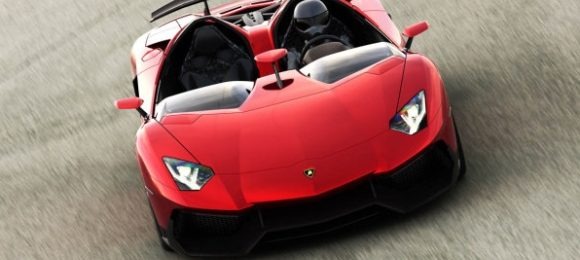 Lamborghini have unveiled their new flagship car under the Aventador moniker, aptly titled the Aventador J. Why the J? It's a reference to the Appendix J regulations which are intended for racing class cars. It has the same engine as the original Aventador, but a radically different design.
Underneath the hood of the Aventador J you'll find a 6.5 litre V12 engine capable of 690 brake horse power. There's also a seven speed gearbox and pushrod suspension. In terms of chassis, the Aventador J keeps the vertically opening doors, but loses a classic windshield and roof, instead opting for a split cockpit. The body is comprised entirely of carbon fibre to keep the weight down, with alloy wheels that have carbon inserts to provide additional cooling to the brakes.
The car is lighter than the original Aventado, and designed to handle better at high speeds. While the car is road legal, Lamborghini are only making one, and it will cost you a pretty penny indeed: a cool £1.75 million, which is around $2.75 million. The regular version of the Aventador is already shipping, for a more modest $379,700.