LaCie Thunderbolt 2 storage solutions flaunt speed and capacity for 4K workflow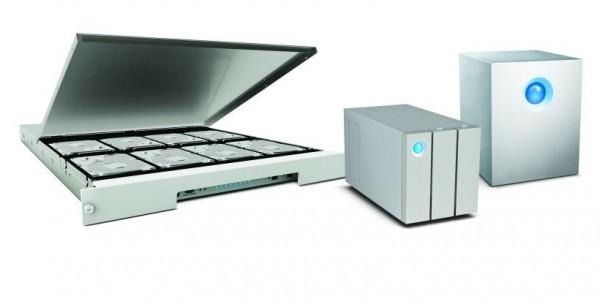 Modern day consumers' penchant for high-quality video and computer-generated graphics require not only powerful workstations but also storage devices to match. Addressing a market hungry for such equipment, LaCie has unveiled three new storage solutions at the National Assocation of Broadcasters (NAB) show that puts the best of Thunderbolt 2 technology and Seagate's drives together.
The 8big Rack is LaCie's first rackmount storage product. This rack can fit up to eight of Seagate's 6 TB hard drives running at 7200 RPM (revolutions per minute). It also boasts of data transfer speeds of 1330 MB/s via Thunderbolt 2. All of these in just a 1U size rack, meaning that it is only around 1.75 inches in height.
The new 5big, as you might have guessed by now, lets you cram up to five 6 TB 7200 RPM Seagate drives for an astounding 30 TB of storage. Compared to its previous incarnation, the new 5big offers 20 percent more storage and delivers data at 1050 MB/s, making it perfect for doing 2K or even 4K video post-production without a hitch.
The LaCie 2big offers the same speed and storage promise though in a lesser scale, fitting only a maximum of two 6 TB drives and with transfer speeds of up to 420 MB/s. One interesting feature of this box is its design, which allows access to the hard drives from the front, making it easy to hot-swap them as the need arises.
All three LaCie storage solutions have several features in common. Hardware RAID 5/6 ensure that your data is protected against disk failure but doesn't compromise transfer speeds. But more interestingly, All three feature two Thunderbolt 2 ports and can be daisy chained together in combinations of six racks or boxes. Considering a Mac Pro has six Thunderbolt 2 ports, one can connect as much as 36 8big Racks for an insane 1.7 PB (or 1,728 TB) of storage.
The LaCie 8big Rack will be available in 4 or 8 disk configurations. The LaCie 5big will come in 10, 20, and 30 TB sizes while the 2big will have 6, 8, and 12 TB options. No availability dates or pricing details have been announced yet.