LaCie Rugged eSATA 500GB hard-drive on sale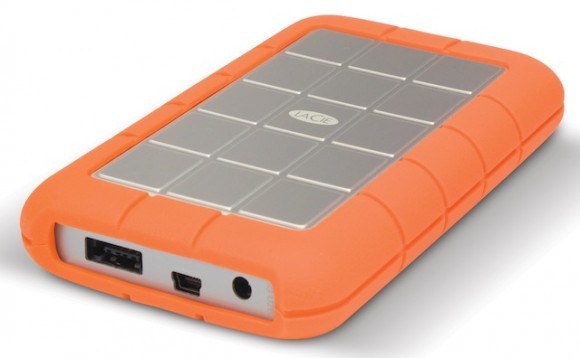 LaCie have unveiled a new rugged external hard-drive, and it's apparently the first on the market with a Power eSATA port.  The LaCie Rugged eSATA not only supports transfer speeds of up to 90MB/s, but – if used with a powered USB-eSATA combo connection – can hook up with a single cable.
Of course, if you don't have a Power eSATA port on your laptop you can still use the LaCie drive.  In the box there's a Y-cable which connects to a USB and a regular eSATA socket, pulling in power from the former and using the latter for data.
LaCie have a list of compatible machines here so you can check to see if your notebook is suitable.  The LaCie Rugged eSATA hard-drive is available now, priced at $159.99 for 500GB.
Press Release:
LaCie Rugged eSATA: Mobile Storage for Fast Data Transfer

Power eSATA interface allows you to work faster
Rugged casing is ideal for protecting valuable data on the go
Up to 90MB/s through Power eSATA
Compatible with standard eSATA ports

LaCie today announced the Rugged eSATA, the first mobile external hard drive on the market that features a Power eSATA interface. The Rugged eSATA offers major storage capacity and a cost advantage over eSATA SSD solutions, and is one of the only portable, bus-powered eSATA solutions on the market.

Bus-powered when connected to a USB-eSATA combo port, the LaCie Rugged eSATA combines superior transfer speeds of up to 90MB/s in a truly mobile form. The USB-eSATA combo interface, also known as Power eSATA, features a slightly different connector than eSATA and is frequently found on late-model laptops. The drive is also compatible with standard eSATA ports when the included USB power-sharing cable is connected.

"We are thrilled to integrate power eSATA technology into our best-selling Rugged mobile hard drive," said Anne-Sophie Marchand, Consumer Product Manager. "This solution brings dazzling transfer speeds to customers on the go, while still ensuring compatibility with standard eSATA and USB 2.0 connectors."

Housed in the award-winning Rugged casing designed by Neil Poulton, the LaCie Rugged eSATA features a unique scratch-resistant aluminum shell, internal anti-shock absorbers, and a shock-resistant rubber bumper to better protect files against everyday blunders.

Availability

The LaCie Rugged eSATA will be available in 500GB capacity through the LaCie Online Store, LaCie Reseller+ and LaCie Storage Partner starting at the suggested retail price of $159.99 (VAT included). For more information, visit www.lacie.com.