La Bastille - Tetris On The Wall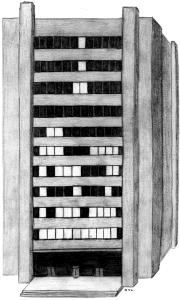 La Bastille is a very-large-scale integrated art installation created by Technology House at Brown University. The product of over five months of planning, construction, and installation, La Bastille is the largest art installation ever to appear in Rhode Island, partially visible from Narragansett Bay and from Interstate 95.
When it was running, it was also the world's largest fully-functional Tetris game.
Containing eleven custom-built circuit boards, a twelve-story data network, a personal computer running Linux, a radio-frequency video game controller, and over 10,000 Christmas lights, La Bastille transforms Brown's fourteen-story Sciences Library into a giant video display which allows bystanders to play a game of Tetris which can be seen for several miles.