Kyocera DuraForce PRO with Sapphire Shield launches at Verizon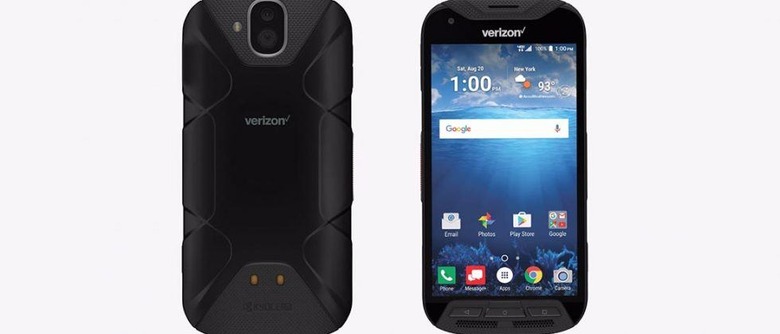 The Kyocera DuraForce PRO with Sapphire Shield has launched at Verizon, giving Big Red's subscribers a new durable phone option. Unlike most Kyocera phones, the DuraForce PRO is fairly pricey at $408 USD, but it does have some notable features, including an IP68 waterproof and dustproof rating and the Sapphire Shield display. The handset is targeted at outdoorsy users, military members, and more.
Ultra-durable handsets aren't anything new, though they are relatively scarce compared to the glut of more fragile phone options. The DuraForce PRO with Sapphire Shield display, according to Kyocera, 'meets military standards for the harshest conditions.' This is the kind of phone you'd want if you're being deployed, if you work in construction or other outdoor jobs, or you frequently take your handset into risky environments like on the lake or up a mountain.
The phone's 5-inch Sapphire Shield display is exclusive to Verizon, giving the carrier's subscribers a little something extra compared to others. According to the carrier, this display is 'virtually scratchproof.' As well, the waterproof construction means you can take underwater shots if you're so inclined, or at least avoid panicking if you drop your phone in a puddle. The durable nature means the phone is somewhat hefty at 8.1 ounces.
The handset features 3GB of RAM and 32GB of internal storage, which can itself be expanded with a microSD card up to 200GB in capacity. The handset supports Verizon's 4G LTE network and other network types; the carrier lists it as compatible with mobile networks in more than 200 countries.
Other features include a 13-megapixel rear camera and a 5-megapixel front camera, a standby battery time up to 15 days and a usage time up to nearly 25 hours. The battery is not user removable, as we'd expect from a waterproof phone. The unit runs Android Marshmallow 6.0.1, supports HD Voice, and utilizes an MSM8952 octa-core 1.5/1.2GHz processor.
While the phone's full upfront cost is $408 USD, Verizon offers it with a monthly device cost of $17 USD.
SOURCE: Verizon