Kyocera DuraForce PRO Ultra-Rugged Smartphone Review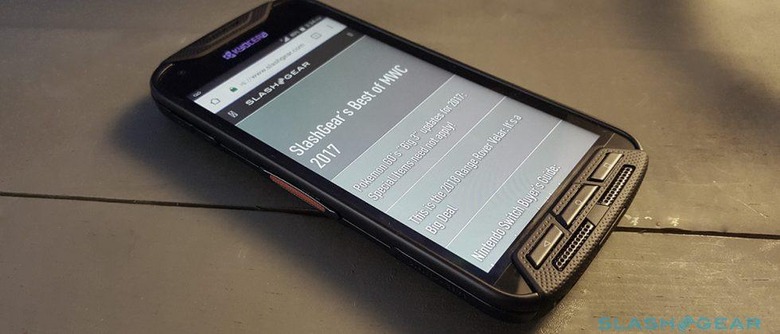 The Kyocera DuraForce PRO ultra-rugged smartphone has launched at three big carriers, and it promises to offer everything the outdoorsy, adventurous mobile user needs. Ultra-durable design? Check. Super-wide-angle HD action camera? Check. Waterproof, dustproof, shockproof, and drop-proof? Check, check, check and check. The phone makes some pretty big promises on paper, but does it hold up to use and abuse in the real world? Read on to find out!
The DuraForce PRO is readily identifiable as a Kyocera phone thanks to its design, which brings with it elements found in many previous handsets from the maker. Design is a matter of taste, of course, but one would be fair in describing this DuraForce PRO model as less than attractive, though such ultra-durable phones rarely have designs to write home about. Most notable are the trio of physical, rectangular buttons near the bottom of the handset. This is joined by a partially textured rear panel with an armor-like layer on top.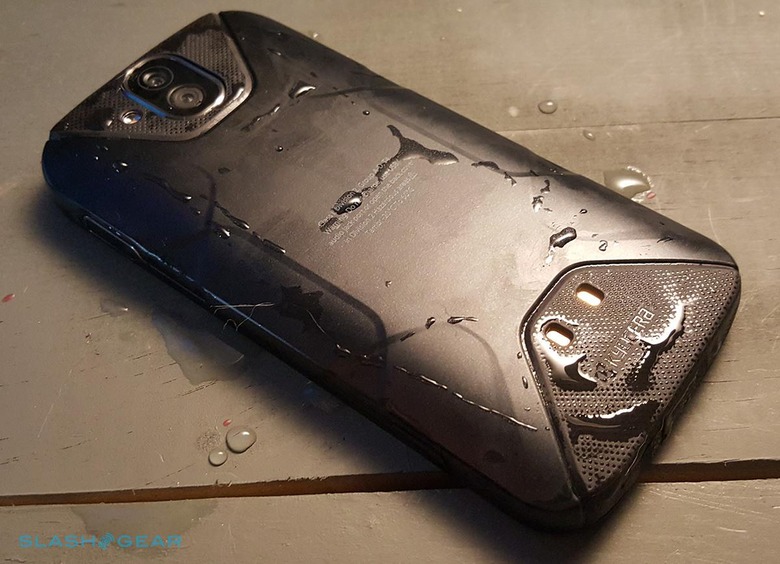 Looks aside, the DuraForce PRO boasts a large 5-inch Sapphire Shield display with a Full HD 1920 x 1080 resolution. This is joined by a Qualcomm Snapdragon MSM8952 chipset, 3GB of RAM, and 32GB of internal storage space. If that's not adequate, the phone also features a microSDXC card slot for expansion up to 256GB.
Speaking of the waterproof durability, the company says its phone can be submerged in up to 6.5ft of water for up to half an hour at a time. We didn't take it for a spin in the pool (it is winter, after all), but we did let it sit in some cups of water, and it handled the dunking without issue. The underwater mode serves to color correct for the typically blue environments found in most pools and clearer lakes.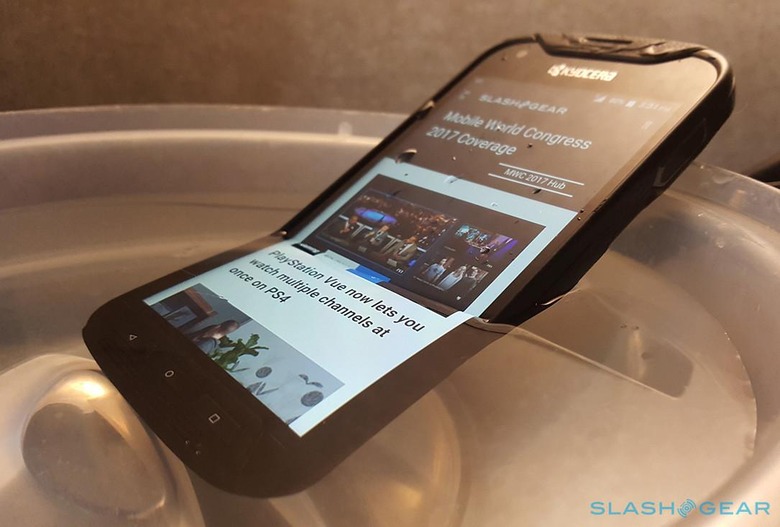 As far as the durability goes, Kyocera says the phone is MIL-STD 810G rated for mists, vapors, dust, shock, extreme temperatures, low pressure, solar radiation, fog, salt, blowing rain, humidity, temperature shock, icing, freezing rain, and immersion. That's quite the list of scenarios, and your phone will probably only ever experience a fraction of those (unless you make a habit of entering low pressure and salty environments).
If you're unfamiliar with the MIL-STD 810G rating, you can read all about it straight from the Department of Defense itself here. The TL;DR for the impatient, though, is this: the 810G rating is commonly used for mobile devices and indicates a notable degree of ruggedness across many different categories. However, there's no single certification authority that confirms whether a product meets the standard, and so you're going to have to trust the company's own word.
There are scenarios in which it's pretty impractical for us to test the DuraForce PRO — I don't have readily available access to a pressure chamber, for example — but we did put it through the wringer as far as outdoor usage goes. By that, I mean I dropped it on purpose, first on carpet and then on hard floor, and then once in a muddy yard for good measure. It appeared handle the drops with nary a scuff.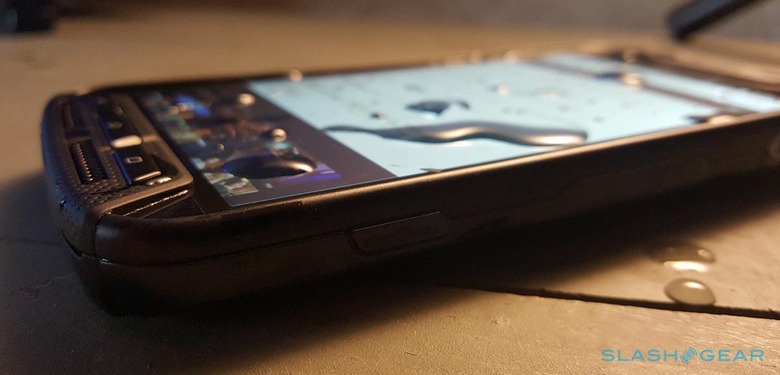 While outdoor enthusiasts are one primary customer base for the DuraForce PRO, another is those in combat or construction environments, which are likely to be loud. Kyocera has taken steps to address this possible usage scenario (that is, talking in noisy places); the phone features a pair of 100+ dB dual front speakers for really cranking up the volume.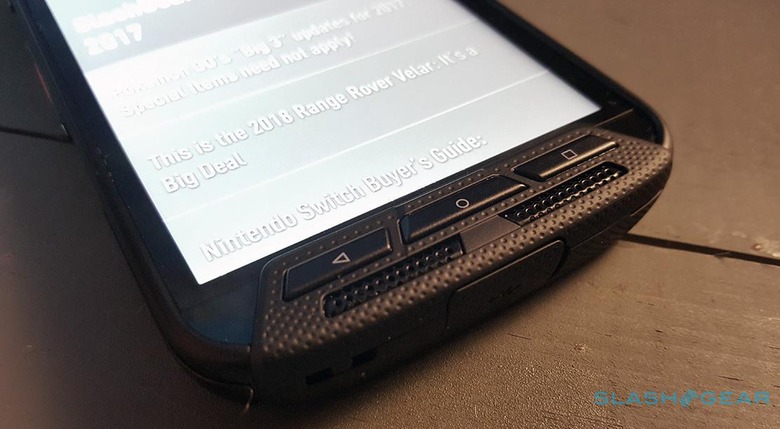 When doing this in a quiet room, the DuraForce's speakers at full volume are insanely loud. So much so that a morning alarm at full volume will send you flailing out of bed. You'll not have any trouble hearing the phone ring from inside a bag, pocket, or noisy room. Movies and videos are almost too loud to tolerate at max volume when holding the phone at a normal distance from one's face. The front-facing speakers — and the resulting highly directional audio — help keep the noise contained to whatever direction the phone is pointing, so others around you shouldn't be too disturbed by the audio (though they'll certainly be able to hear it).
Another notable — and important — feature is wet touchscreen operation, which means you can use the screen even if it or your fingers are wet. You can also use the screen while wearing a glove, at least according to Kyocera. In practice, I found both features to be effective. There was no issue using an ordinary pair of thin winter gloves, nor did I have issues using the display with modest droplets of water. Larger droplets of water, though, did cause the display to react and made it difficult to perform touch actions, so the feature's efficacy largely depends on how much water is on the screen.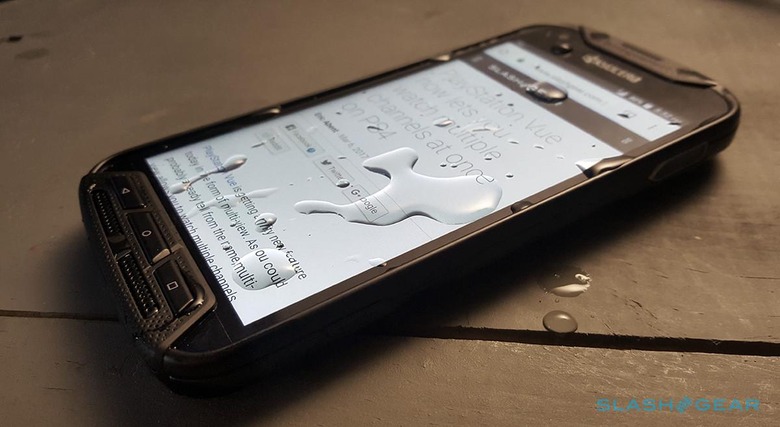 Safety is also given a solid focus thanks to the inclusion of a fingerprint sensor, enabling users to unlock their phone using hard-to-obtain (for snoops) biometric data. The fingerprint sensor is located on the power button, and works exactly as you'd expect. There was no issue registering my fingerprints (the thumb print is the easiest to position on the sensor); unlocking the phone using a fingerprint is nearly instantaneous.
The DuraForce PRO has a built-in (that's to say, non-removable) li-ion battery with a 3240mAh capacity. Kyocera says users will get up to 19 days in standby and up to 20 hours of usage on a charge, though that figure will be heavily influenced by how you're using the phone — constant browsing, playing games, and talking indeed drains the battery faster, as we'd expect. During testing, I found the phone has excellent battery life.
Downloading multiple apps, transferring more than 200MB of photos, talking on the phone for 20 minutes, browsing Reddit for a while, and snapping a ton of photos took the battery from 88% charged to 79% charged. That's pretty great.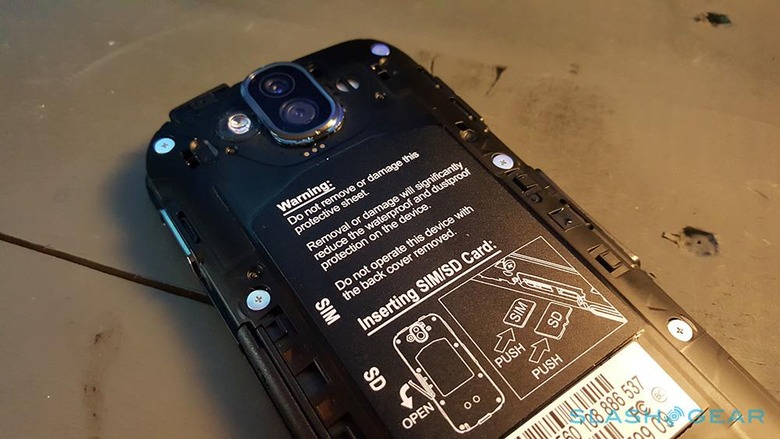 Camera
This phone boasts a built-in "action camera" as one of its main features, something that pairs well with its ultra-durable designation. The rear camera sports a 13-megapixel sensor with Super Wide View 1080p/30fps video recording — this is said to have a 135-degree field of view, which of course also applies to still shots. The front-facing camera is a less notable 5-megapixels.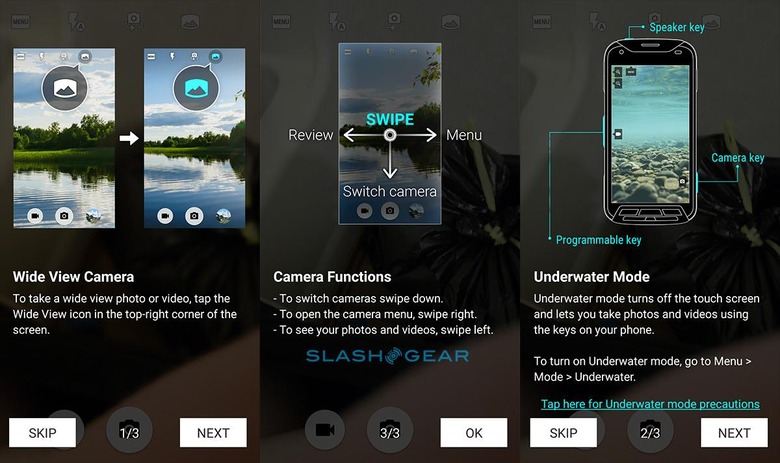 The phone's camera app includes a bunch of shooting modes, including Auto Scene Detect, an Underwater Mode, panorama, time lapse, live full capture and playback, various color effects, slow motion, continuous shooting, and a scene select menu. The underwater mode in particular is very welcomed, as it indicates Kyocera didn't tack on the waterproof feature to mark a checkbox and protect against light rain — the phone is made to be deliberately used underwater.
Camera performance is generally good but not great. Outdoor shots look fine for everyday casual use, and indoor shots are adequate enough if you're not planning on doing much with them. Outdoor shots are noticeably improved by the HDR feature, as shown below: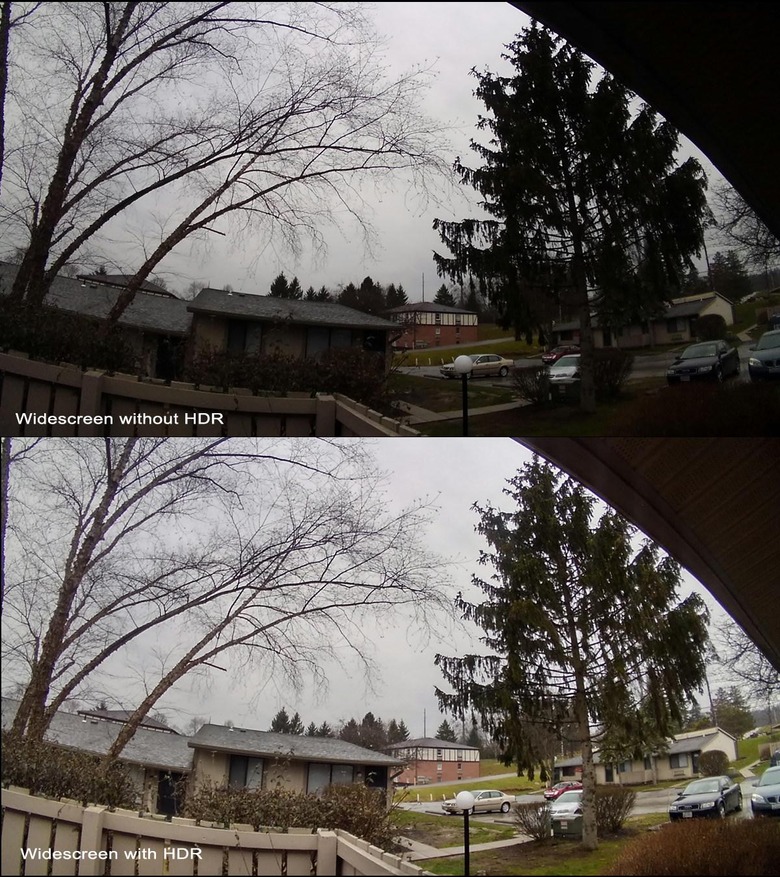 The wide-angle feature, which can be toggled on with a single tap, is very much welcomed and is a great way to capture a great deal of space in a single photo sans stitching. The lens has a noticeable wide-angle/fisheye effect, which is to be expected. When used outdoors or in full light, the shots are great — you can capture an entire room with a single image, for example. You can see an example of the lens distortion below: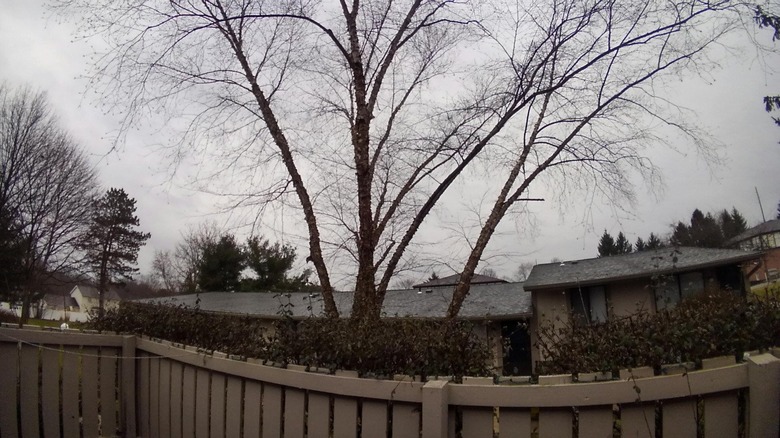 While outdoor shots look perfectly acceptable, indoor shots are another matter — without flash, you can expect to see a huge amount of noise in photos even in moderately high levels of ambient light. As the indoor shot shows, the wide-angle lens is great for capturing an entire room, but the sensor itself paints the image over with noise: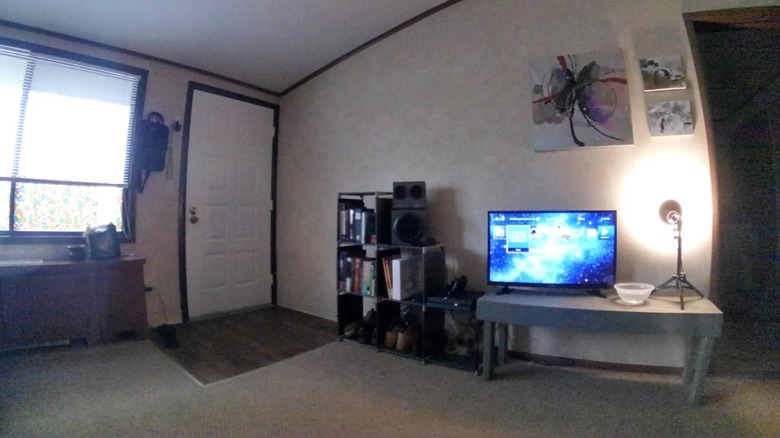 The camera's not without its upsides, though, and one surprising upside is its macro performance. In my experience, the DuraForce Pro is better able to capture macro shots than the initially-more-expensive Galaxy S6 I compared it to. The image below was casually captured after only a second or two of focus adjustment: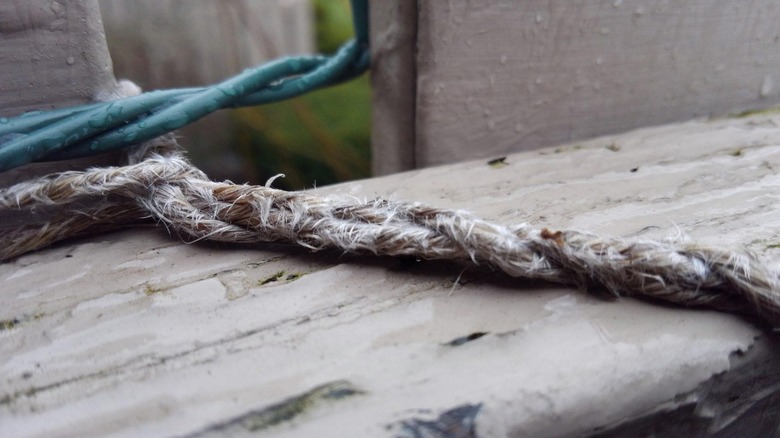 Performance
Performance is, according to AnTuTu benchmarking, adequate for everyday usage. The benchmark rankings show the phone falling fairly low on the list of notable handsets, being decently below the iPhone 6 as perhaps the most recognizable phone for comparison. There's no issues using the phone casually throughout the day. There's also no issues playing casual games like, for example, Candy Crush. But the phone did get warm and stutter a couple times under heavy use (many apps open, quick toggling, streaming, and interrupting with calls).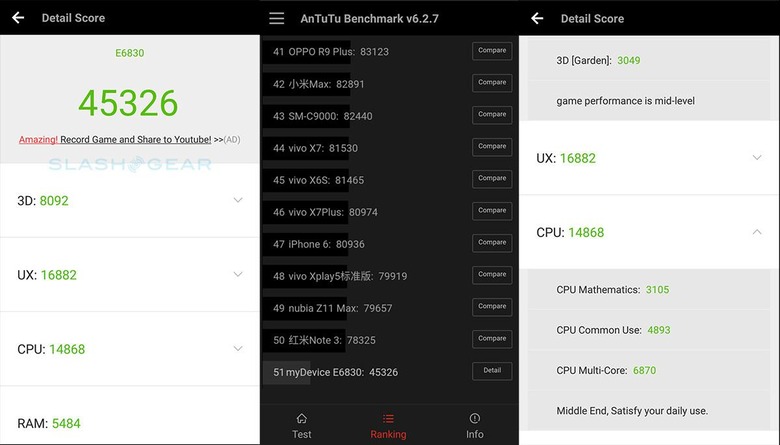 Overall, I have no complaints about the performance when used casually. If you're looking to make phone calls, use Google, send messages, quickly edit photos, play simple games, make calls, use navigation, etc, the DuraForce PRO is certainly up to the task. If you're interested in doing more intensive things, though, like playing high-end games, you'd do well to expect the handset to get warm to the touch and hesitate at times.
Wrap-up
It's readily apparent that Kyocera put a lot of thought into this phone — it truly is an ultra-durable unit, but one that, at times, feels premium. You don't have to sacrifice on the security front, for example, thanks to the fingerprint sensor. The phone is truly waterproof, unlike some competing 'waterproof' models, and the screen is crisp, bright, and highly saturated.
Kyocera packed a bunch of other features including the DuraForce PRO. There are two speakers instead of one, and they're very loud at max volume. The phone is durable, but not just a little durable: record videos in a pool, drop it on the ground, use it in a steaming sauna, let it get dusty...all things it can handle. Even better, owners can leave their action camera at home and won't feel like they're settling (as long as they're shooting outdoors).
If you don't mind the phone's design and you need something that won't easily succumb to the elements or everyday life, you can't go wrong with the Kyocera DuraForce PRO. Price sits at about $400 USD depending on carrier.