Kuvee Smart Wine Bottle Keeps Wine Fresh For 30 Days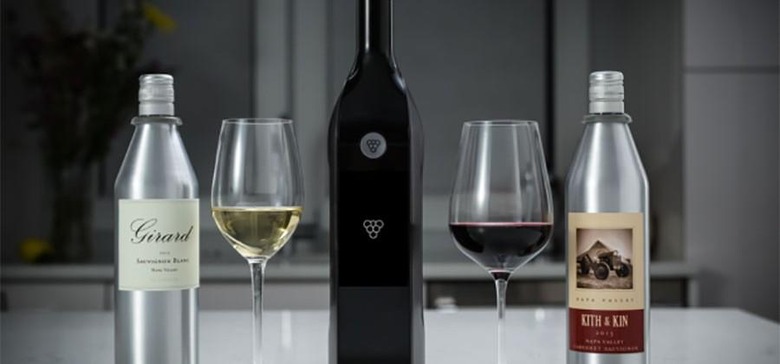 People who like wine, but don't drink it fast enough to keep it from going bad once opened end up pouring lots of it down the drain. A new project has hit Indiegogo that claims to keep you from having to pour out your wine, at least for a month. The Kuvee smart wine bottle claims to keep the vino fresh for 30 days letting you enjoy a glass at a time as you feel the need to self medicate.
The Kuvee smart bottle is actually two different odd wine bottles that work together. The flat-sided black bottle is designed to slide over the top of the silver aluminum wine bottle. The larger black over bottle is designed to allow you to quickly eject and insert another wine variety and keep pouring.
The aluminum bottles that actually hold the wine are 750ml and promise to ship to multiple states starting in October. You can purchase more wine directly from the Kuvee Bottle. The catch is that you have to purchase the wines from a retailer that offers Kuvee wines. The Kuvee bottle has an LCD on the outside that updates the wine label to match whatever you put inside.
The bottle does have to be charged and has a RFID reader, IR temperature sensor, and is WiFi connected. It's made from aluminum, plastic, and glass. The project is on Kickstarter seeking $50,000 and has raised over $58,000 at writing. A pledge of $199 gets you a Kuvee Smart Bottle and a voucher for four bottles of wine. Shipping is set to start in December 2016 to end users with the bottles heading to vineyards starting in October.
SOURCE: Indiegogo