Kumho Maxplo morphing tire changes shape with driving conditions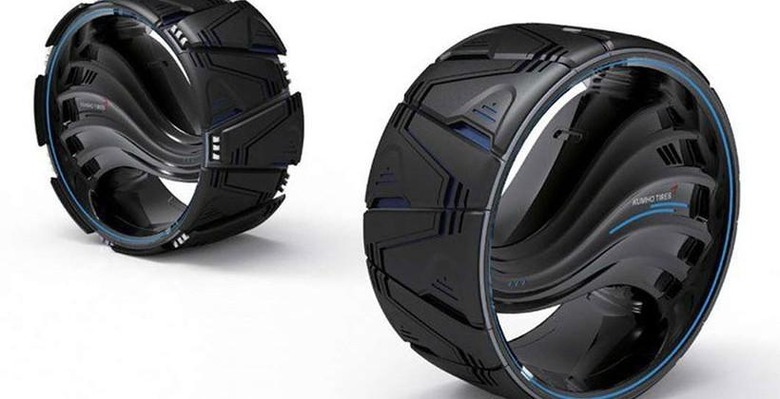 Tires are a very important part of any vehicle because they are the sole contact between the car and the road. Different tires are needed in different conditions, this is why drivers in many cold weather states have to swap to special winter tires during snowy months. Kumho has a new concept tire called the Maxplo that is designed to change its shape depending on driving conditions.
The tire can change to the road conditions be it mud, snow or water. The tire can be a normalish looking tire when road conditions are smooth and traction is decent. When roads are wet, the tire has special grooves that channel water away to prevent hydroplaning.
If the tire goes off road, the large tread blocks that normally touch on the tire widen apart to increase the footprint of the tire and increase traction. In the event of snow or ice on the road, the tire has spikes that can come out of the treadblocks. In concept form the tires also have a hydrogen-powered electric hub motor.
If the concept tires were real, they would measure 700 x 700 x 250mm and weigh in at 26.4 pounds. Don't count on seeing this concept tire in stores as it is here. Kumho says that some of the concepts in this tire might make their way into tire design over the next few years. It's a safe bet it would be the more basic features like the grooves for channeling water, not tires that change shape.
SOURCE: Gizmag