It's A Car, No It's A Toy, No It's COMPUCAR!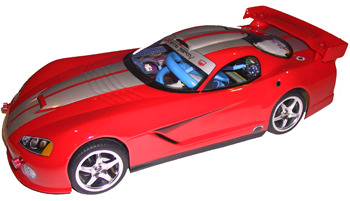 Have you ever get tired of PC that looks just like, well PCs. Apparently you dont have to feel that way anymore if you get a CompuCar. It looks just like a model car where you can display proudly beside your monitor.
"Compucars are smaller in length and width than an average keyboard. 7.5" wide, 18" long, and 7" tall. Compucars are roughly 1/3 the size of a normal desktop computer. Compucars feature the best components available. Each car is cooled with a 80mm stealth case fan and a low profile copper cpu heatsink and fan."
The basic specs of CompuCar are :
2.5" or 3.5" SATA Hard Drives up to 400GB
80mm Ultra Quiet Cooling Fan (used in cooling computers 3 times this size).
Silent Low Profile CPU Cooler (whisper quiet). Genuine Intel P4 processor w/Hyper Threading (up to 3.8GHZ).
Fanless 200w Power Supply for an even more silent running computer
Custom hand-wrapped wiring (you choose the color)
Slim Line – Slot Loaded CD-RW/DVD or DVD Writer (no tray, just slide the cd/dvd in)
Industry standard port plate on one side of chassis
Real rubber tires (several choices of tread patterns including flame tread)
Rubber guards on all chassis edges to protect the body
Cold-rolled Steel Chassis with black powder coat that is scratch resistant and VERY strong
DDRII PC2-4200 RAM up to 2GB
**Not Shown** Each Compucar has a set of internal cool cathode lights that light up the entire inside of the computer when the power is on.