Kodak Seeks $1B In Royalties From Apple, RIM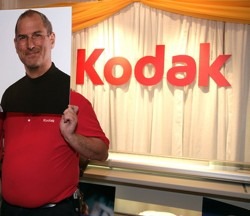 Kodak is seeking more than $1 billion in royalties from electronics giants Apple and RIM over a patent in digital camera technology the companies employ in the cameras of their mobile devices. The International Trade Commission is going to announce whether it will review an ITC judge's earlier decision that ruled in favor of Apple and RIM and said that the companies did not violate patents.
The patents in question deal with low resolution image previews. Kodak has already received close to $1 billion in a settlement from Korean tech companies LG and Samsung related to the same patent. The judge that ruled in the LG and Samsung case was a different ITC judge than the one from the Apple and RIM case. The ITC can't enforce monetary damages, but it can block imports that infringe on U.S. patents. That is more than enough reason to compel companies to settle.
Kodak initially sued Apple back in January 2010 over the patents and alleging that Apple's iPhone infringed on their patents. Apple came back with their own countersuit about several digital imaging patents they alleged Kodak of violating. An ITC judge ruled in favor of Apple and RIM in January of this year and said that the patent in question was invalid because it was an "obvious variation of an earlier invention."
Kodak CEO Antonio Perez told Bloomberg that his company "deserves to win," but we'll just have to wait and see how the ITC rules. Kodak has been struggling mightily with the rapid decline of the camera film market. In the past year Kodak has lost almost half of its market value and revenues fell to $7.2 billion, nearly half the amount it made in 2005. The company is making income mostly from its patent portfolio nowadays. It licenses its digital imaging technology to around 30 companies, which include Motorola, LG, Sony Ericsson, and Nokia.
[via Daily Tech]