Kodak outs Playfull Waterproof Video Camera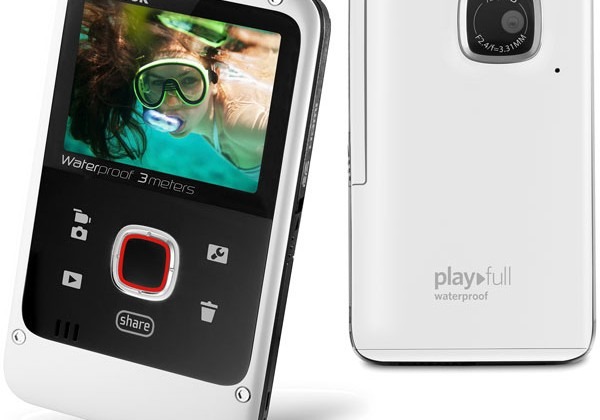 Kodak has announced a new and small handheld video camera today that is called the Playfull Waterproof Video Camera. As you can gather from the title, the thing will survive water. The camera is water resistant enough to be submerged for underwater recording. Kodak says the camera can survive at up to 10-feet deep. The camera is compact and records to SD/SDHC memory cards.
The memory card slot holds up to 32GB cards and you can get the camera with a SD card or without. The camera has a small LCD on the rear and controls for settings, playing video, deleting files and changing from still photo to camcorder mode and vice versa. Power comes for an internal lithium polymer battery.
The camera has 18MB of internal storage in addition to that SD card slot. The camera is also dust and drop proof. The battery is charged and the camera content can be transferred via an integrated USB connector to your computer. Still shots are only 1MP and it will record 720p HD at up to 30 fps. The rear LCD is 2-inches wide and it has 2x digital zoom. The camera with a 4GB SDHC card is $119.95 or $99.95 for the camera alone and it will launch this fall.