Kodak Ektra "camera-first" smartphone is finally in the US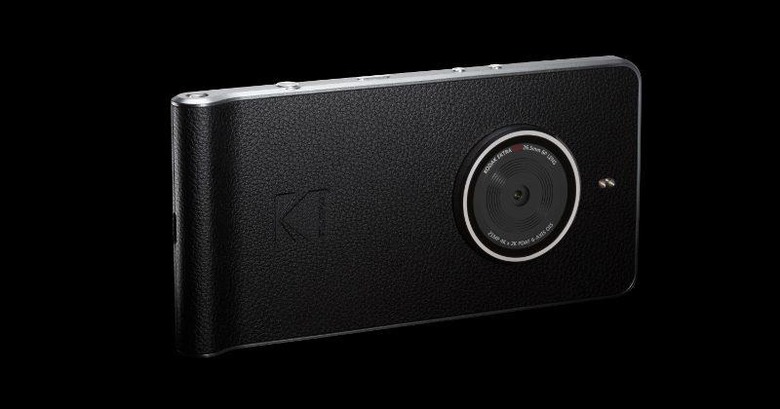 Kodak is a name you would immediately associate with cameras but with this generation's obsession with smartphone, it couldn't but help dip its toes into that market as well. That product is the Kodak Ektra which is finally making its way to the US. But with nearly half a year's time since it was first announced, the Ektra faces a very tough battle against the market's top contenders for the best smartphone camera.
Reviews are pretty mixed, and so are the phone's specs. Even by late 2016's standards, the Kodak Ektra is a bit dated as far as smartphones go. The MediaTek Helio X20 running inside is hardly the latest and is matched with only 3 GB of RAM. The 5-inch display, though handy, reaches only 1920x1080 pixels. While good enough for most, that does mean that you won't be seeing the photos and videos you just captured in all their glory.
The camera sounds great, at least on paper. It has a 21 megapixel fast focus sensor, an F/2.0 lens, phase detect autofocus, optical image stabilization, and dual LED flash. That said, early reviews of that camera seem to hint that the hardware is hampered by a mediocre camera app, despite offering the bells and whistles of an "advanced" manual mode.
One thing going for the Kodak Ektra is its design. At least if you go for that look. It definitely looks like a digital camera first and a smartphone second, including a protruding grip that photographers are comfortable with. Kodak is even making available leather cases that are designed for cameras rather than phones, including a pink one from fashion designers Pop & Suki.
The Kodak Ektra smartphone will at least be priced accordingly, selling for only $399, unlocked and SIM free. That's quite a drop from its initial $549 price tag. It is, however, going up against the likes of the HTC U11, the Google Pixel, and the Samsung Galaxy S8, all of whom occupy top spots in DxOMark's famous list.